Mountain Dew Announces Limited-Edition Baja Blast Hot Sauce
Looking to add the heat with a bit of Baja Blast? Mountain Dew will release a new hot sauce next week with their famous flavor.
---
Mountain Dew has revealed a brand new item coming out next week as they are releasing the limited-edition Baja Blast Hot Sauce. This is being created for National Hot Sauce Day, happening on January 22nd, as they have teamed with iBurn to make a sauce that mixes some traditional ingredients in a hot sauce with the taste of their famous green soda flavor. It's basically the dream of anyone who wishes they had the taste of Baja Blast on the Taco Bell they just ordered the drink from. So how do you get your hands on this? It's not being sold in stores at all! The only way you can get your hands on one is to enter a contest on the company's website. We got more info on how this sauce came about for you below. Good luck winning yourself a bottle!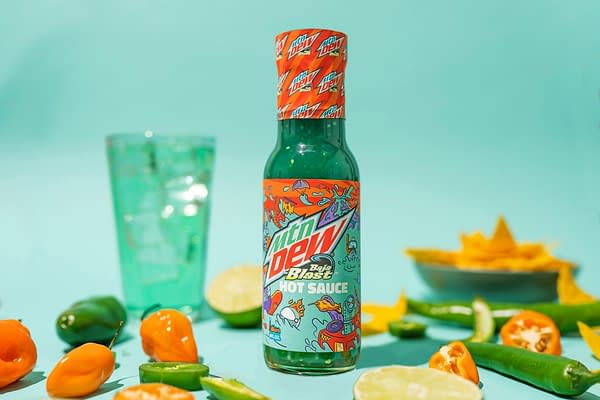 "Baja Blast and Hot Sauce fanatics rejoice! MTN DEW is seizing the opportunity to unite these two unrivaled fanbases with the exclusive and very limited drop of MTN DEW Baja Blast Hot Sauce. Get ready to be blasted to the tropics! The MTN DEW Baja Blast Hot Sauce merges the iconic tropical lime flavor of the fan-favorite MTN DEW Baja Blast with the heat from habanero peppers, green chilies, and jalapeno peppers for the test straight from Baha Island. To create the one-of-a-kind sauce, MTN DEW partnered with the famous Houston sauce shop iBurn, led by James "Hot Sauce Boss" Beck. This special sauce marries Baja Blast's beloved tropical lime flavor with a spicey medley of tomatillos, habanero peppers, green chilies, and jalapeno peppers. A sauce this hot can only be made in the most exclusive of batches–only 750 bottles of MTN DEW Baja Blast Hot Sauce will be available to win via MountainDew.com. Each bottle contains 15 calories per serving.