Women Of Myth: Excerpts From Simon & Schuster Illustrated Book
Check out excerpts about Lilith & Lagertha from Women of Myth, Simon & Schuster's new illustrated guide, ahead of its February 21st release.
---
We have excerpts and artwork from an upcoming release from Simon & Schuster's Adams Media imprint, Women of Myth, written by Jenny Williamson and Genn McMenemy with illustrations by Sara Richard. Get inspired with 50 fascinating stories of powerful female figures from mythologies around the world. From heroines and deities to leaders and mythical creatures, this collection explores figures of myth who can inspire modern readers with their ability to shape our culture with the stories of their power, wisdom, compassion, and cunning. The collection is available now for pre-order ahead of its February 21st release.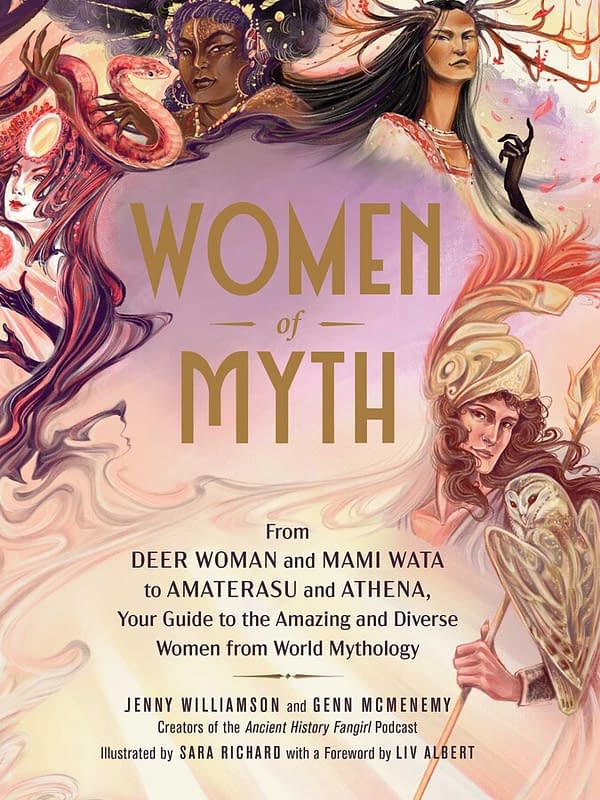 Adams Media
On sale: February 21, 2023
$17.99 | 256 pages | Hardcover
ISBN: 9781507219416
Celebrate these game-changing, attention-worthy female characters with this collection of engaging tales. Others in Women of Myth include: La Llorona; Pele; Atalanta; Sky-Woman and Clídna. The collection is available for pre-order ahead of its February 21, 2023 release date.
Excerpts from Women of Myth:
Lilith (

Bad Girl of Ancient Jewish Lore)

Overview:
Lilith is a demoness from Jewish and ancient Mesopotamian lore. She appears in ancient Sumerian, Babylonian, Assyrian, Greek, Jewish, and Christian sources—she's even in the Epic of Gilgamesh. Lilith is sometimes referred to as "Lamia" in Latin; this version of her name appears in both Latin and English versions of the Bible. The oldest depictions of Lilith are fragmentary and disputed. Ancient Mesopotamian cultures appear to have had a class of female demons called liliths, associated loosely with serpents, owls, and evil or diseased winds. Lilith also appears in a variety of Jewish texts, including the Talmud, Kabbalistic writings, and the Dead Sea Scrolls. She's mentioned in one line of the Hebrew Bible (Isaiah 34:14); her name was translated into "Lamia" in the Vulgate Latin version of the Bible in the fifth century A.D. and later carried over to English translations of the Bible.
In ancient Rome, people inscribed her name on ritual bowls and buried them beneath thresholds to keep out malicious spirits. They also wore amulets inscribed with her name, intended to stop her from doing evil to the wearer. Lilith has been reclaimed in modern times as a feminist symbol—as the original independent woman who refused to submit to a man and was cast out of family life as a result. A prominent Jewish feminist magazine, Lilith, takes its name from her. Lilith and characters inspired by her have been depicted many times in popular culture, including in C.S. Lewis's Chronicles of Narnia, Neil Gaiman's Sandman comics, Cassandra Clare's Mortal Instruments series, Andrzej Sapkowski's The Witcher series, Qui Nguyen's play She Kills Monsters, and many other novels, plays, TV shows, movies, comics, and creative works.
Lagertha (

Legendary Viking Shield-Maiden)

Overview:
Lagertha is a legendary Viking shield-maiden (see sidebar) who eventually became the ruler of Norway. She was also, briefly, the wife of Ragnar Lodbrok ("Hairy Breeches"), another prominent figure in Viking legend who appears in Icelandic sagas, Old Norse poetry, and pseudo-historical chronicles.

In 1789, the Norwegian and Danish novelist Christen Pram wrote a historical drama about her, Lagertha, based on the original account by Saxo Grammaticus. A couple of years later, ballet choreographer Vincenzo Galeotti created a very successful ballet of the same name. Lagertha is also a main character in the TV show Vikings, where she is depicted as a badass warrior, a chieftain and general, and Ragnar's first wife—who later becomes a queen herself.
Excerpted from WOMEN OF MYTH by JENNY WILLIAMSON and GENN MCMENEMY. Copyright © 2023 by Simon & Schuster, Inc. ILLUSTRATIONS by Sara Richard. Used by permission of the publisher. All rights reserved.