WWE Hall-of-Famer and man who poops 20 times per day Bill Goldberg didn't take to Twitter Wednesday to challenge fellow WWE Hall-of-Famer and President of the United States to a wrestling match where he would kill him, according to a representative of Bill Goldberg. It was, in fact, the work of computer hackers, says an official statement given to TMZ.
The Official Goldberg twitter continues to be a target for opportunistic hackers with bad intentions who are seeking notoriety and revenue. Team Goldberg will continue to address this issue while Goldberg is in ATL with Tu Lam working on his show 'Knife or Death' for the History channel.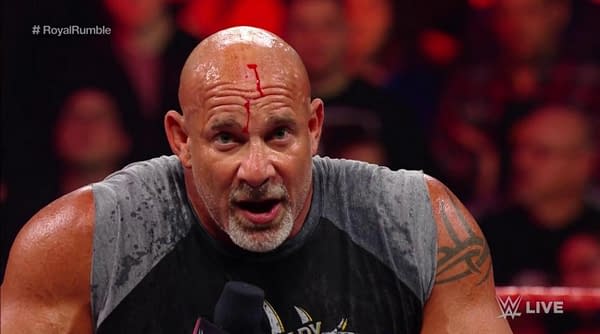 Website WrestleZone posted screenshots of the now-deleted tweets, which accuse the president of threatening Goldberg's wife before inviting Trump to "go into the ring" with "no secret service just you and me." Calling the president a "spatastic shit head," the tweets claimed Goldberg would "fucking kill you."
Goldberg, having apparently regained control of the account, then tweeted:
Obviously I was just hacked……😡

— Bill Goldberg (@Goldberg) August 22, 2018
TMZ reports that Goldberg was contacted by the secret service following the tweets.
It's unclear whether Goldberg's abnormally high frequency of pooping played any role in the vulnerability of his Twitter account. Back in 2017, Goldberg revealed on a podcast:
I am nothing but a machine now. I get up in the morning. I eat. I train. I eat. I go to the bathroom about 20 times intermittently throughout the day because I'm shoving 15 to 20,000 calories in my body and it doesn't know what's going on. At 50 years old, it has no idea.
Goldberg's representatives said they will help authorities catch the hackers.
Enjoyed this article? Share it!