AEW Announces New House Show Touring Program, AEW House Rules
Ripping off WWE's idea of running untelevised house shows, Tony Khan announced a new "intimate" weekend touring program, AEW House Rules.
---
As if drawing huge crowds in big arenas around the country wasn't enough, now Tony Khan has taken his crusade to RUIN THE CHADSTER'S LIFE to another level by launching AEW House Rules, a new weekend touring program for AEW bringing "intimate" events to select markets around the country. The Chadster is absolutely livid to learn that AEW is once again ripping off The Chadster's beloved WWE by copying their idea to run untelevised house shows. And don't think that The Chadster doesn't see that Tony Khan is using the word "intimate" in this press release in order to make fun of The Chadster's well-known sexual impotence. The Chadster is onto you, Tony Khan! Auughhh man! So unfair!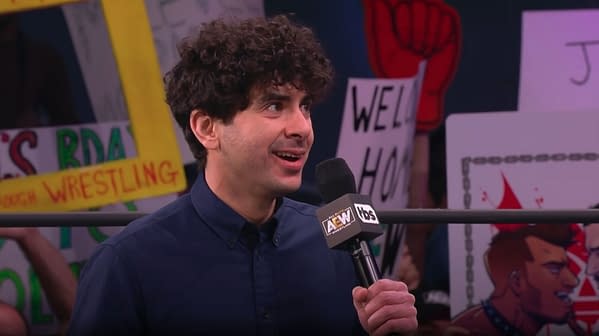 Tony Khan even personally sent The Chadster this disgusting press release rubbing it into The Chadster's face!
AEW CEO, GM and Head of Creative Tony Khan today announced the launch of "AEW House Rules," a live event series taking place on select weekends in markets across the country. Continuing the promotion's meteoric rise and following the success of "AEW: Dynamite" on Wednesdays on TBS and "AEW: Rampage" on Fridays on TNT, fans can expect an up close and personal experience at local venues along with a spectacular and engaging environment.

These non-televised, live events will showcase an electrifying mix of matchups featuring the stars of AEW. Each event offers an even more immersive experience for fans, including customized merchandise, unique ways to engage with featured talent and in-show interactions different from what is featured on televised AEW programming.

The first AEW House Rules show will take place on Saturday, March 18 in Troy, Ohio, at the Hobart Arena and will feature Ohio's own Jon Moxley, Claudio Castagnoli, Dr. Britt Baker, Darby Allin, Orange Cassidy, and many more. Tickets for all AEW House Rules shows start at $20 plus fees and can be purchased at AEWTIX.com starting Friday, Feb. 3 at 10 a.m. ET. Further show dates will be announced in the coming weeks.
Tony Khan even admits that he stole the idea in the press release. "As a lifelong fan of professional wrestling who grew up attending house shows, AEW House Rules is an exciting next step in our journey, giving fans a new level of access to top-tier professional wrestling," said Khan, all but admitting the stole the idea from WWE. "We're always looking for meaningful ways to engage with our fans, and AEW House Rules will be a great way for them to connect with our incredible talent and experience AEW in an intimate setting."
And The Chadster knows who had to help him with it. That no-good scoundrel, Double J, Jeff Jarrett, who executed a similar campaign to Tony Khan's obsession with The Chadster years ago in TNA! Sure enough, Jarrett's fingerprints are all over this one.
"The extraordinary success of AEW changed the landscape of professional wrestling as a whole, not only by providing a fresh new product, but also by raising the bar in a manner that many deemed impossible a few years ago," said Jeff Jarrett, AEW's Director of Business Development, in the press release. "Now as we expand to live house shows, fans can expect an innovative approach and get up close with the best talent in professional wrestling. In addition to satisfying the passions of diehard fans, we're excited about creating new fans of all ages through these entertaining events."
"I'm looking forward to teaming with Jeff Jarrett to oversee the expansion and growth of our live event touring schedule," said Rafael Morffi, AEW's VP of Live Events. "AEW House Rules ramps up our commitment to creating positive, memorable experiences for fans at our shows, and we're thrilled to kick off the initiative on March 18 in Troy, Ohio."
The Chadster doesn't know who this Rafael Morffi is, but it's clear that he has absolutely zero respect for the wrestling business and everything that Vince McMahon has ever done for it if he's willing to participate in a scheme like this. Rafael Morffi, you on The Chadster's radar now, and The Chadster will be keeping a close eye on your activities from now on.
With AEW's focus on small communities like Troy, Ohio, it's clear to The Chadster what the real purpose of AEW House Rules is. Tony Khan is planning to book a house show right in The Chadster's backyard, in the The Chadster's hometown of Punxsutawney! Well, if Tony Khan thinks that The Chadster is going to sit idly by and allow him to invade The Chadster's territory, he has another thing coming. The Chadster is going to march right down to City Hall tomorrow and demand that the mayor declare this a WWE-only town! The Chadster will stop Tony Khan in his tracks, and that's the bottom line 'cause Chad said so!