AEW Dynamite is a little more than halfway over, and it's been a great show so far. We saw a great tag team match between SCU and FTR. We saw a hoss fest in Wardlow vs. Luchasaurus. We saw Penelope Ford accidentally punch Ricky Starks in the face in a brawl with Hikaru Shida after Shida's squash match. We saw Sonny Kiss and Joey Janela fail to practice social distancing at a Florida gas station. We saw Colt Cabana actually get a win, thanks to Brodie Lee. Oh, and Britt Baker has a popemobile now. You can read about all of that in part one of our report. Now let's see what happens on the rest of Dynamite.
Jim Ross introduces a video package about the AEW tag team division. It's a comedic look at the awkward relationship between Hangman Page and Kenny Omega, compared to the friendship of the Best Friends. The video makes the case that the Best Friends are on a roll going into Fyter Fest to challenge for the tag team titles. But Page and Omega are on the same page these days after an arguably rocky start as a tag team. They may not be best friends, but they're the best wrestlers. We'll find out who's better at Fyter Fest. Commercials.
After the break, it's time for some action! Just kidding, it's another video package. This one promotes Brian Cage vs. Jon Moxley for the AEW Championship at Fyter Fest. Moxley would have been here in person tonight, but he's been in contact with somebody who has been in contact with somebody with COVID-19. That first somebody is almost certainly Moxley's wife, Renee Young, and the second somebody is one of the three to two-dozen people who have tested positive for COVID-19 in WWE. Moxley stayed away from Dynamite to be responsible tonight. But Brian Cage is here.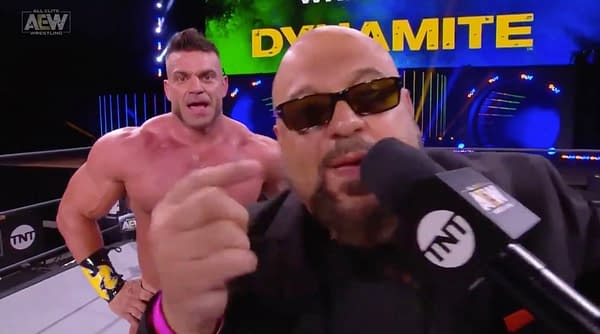 Cage comes to the ring for a squash match, with Taz joining the commentary team. Joe Cruz is the skinny jobber who Cage absolutely annihilates. At least, that's what the announcers say, but the only Joe Cruz I can find online is some Tracey Smothers looking dude who last wrestled in 1983 when the guy in the ring was just a sparkle in his dad's eye. I'll just have to take their word for it. After the match, Taz comes to the ring and cuts a promo on Jon Moxley on his couch at home. Taz says Mozley has a "bullshit excuse" for not coming in. Oh no, is Taz a coronavirus denier?! Say it ain't so, Taz! Taz says Cage is gonna win the championship at Fyter Fest, and Taz implies Cage is more dangerous than the coronavirus. Can Moxley top the path of Cage? Damn! Now that's how you sell a match! Dynamite goes to commercials.
Dynamite returns with Brodie Lee and Colt Cabana backstage. Cabana is feeling good after Lee helped him get a win earlier tonight. Lee tells him winning feels good, and Lee can help Cabana feel like that all the time. Lee challenges SCU to a match with Lee and Cabana at Fyter Fest. Cabana is reluctant at first but gets on board.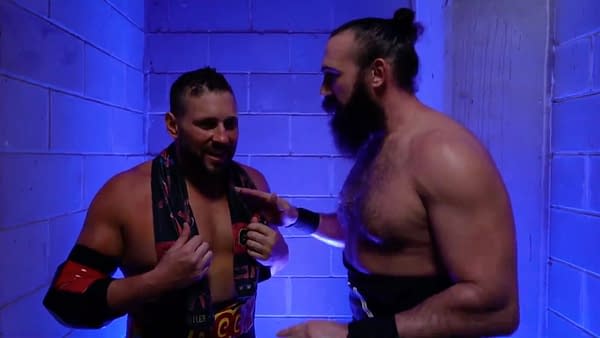 The announcers run through the Fyter Fest card. I'm not typing all that out. Just Google it! It does look like a good card, though, assuming wrestling doesn't get shut down in Florida before it happens. Tony Schiavone receives another note from Britt Baker, who is enclosed in a plexiglass case on the back of her golf cart in hopes of avoiding another incident like last week. Speaking of which, the note is a message for Big Swole, which says, "I might have been in the dumpster for nine and a half to ten hours, but you're still the biggest piece of trash on this roster." Swole shows up, but she can't get at Baker in the cage. Baker taunts her, and Swole agrees to go away. But what she really does is grab a garbage can, climb on top of the golf cart, and dump it on Baker's head. Baker is, as you would expect, not happy.
Santana comes to the ring with Ortiz to fight Matt Hardy. It was supposed to be Sammy Guevara in this match, but, well, read about that here. Hardy is doing his broken gimmick tonight, apparently the result of a Twitter poll. JR talks about signing Matt and Jeff Hardy to their first contracts back in the day. It's hard to pay attention to the match because the announcers start yelling as Britt Baker throws trash at them. Tony whines that it isn't their fault what happened to her. But I definitely notice Ortiz cheating to allow Santana to gain control over Hardy before Dynamite goes to commercials.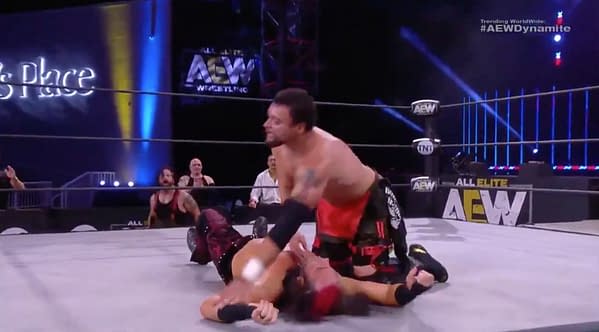 Ortiz continues to cheat during picture-in-picture. When Dynamite comes back to full screen, Santana continues to dominate. It's cool to see Santana in a singles match. I can't recall if I've ever seen him wrestle solo before. It's also cool to see Matt Hardy treated like a formidable wrestler after he was made to look like a geek in WWE. Hardy eventually makes a comeback, and he manages to win the match after reversing a pin attempt. After the match, Ortiz jumps in with his bar of soap in a sock and beats on Hardy. Santana and Ortiz hit Street Sweeper before Private Party comes out to make the save.
It was a good match and cheers to these guys for putting it together on short notice. Hardy has changed his style well to cover up for whatever physical limitations he has at this stage of his career. That they were able to spin it into a future angle between Private Party, with Hardy as a mentor, against Santana and Ortiz is the icing on the cake. Time for more commercials, and then it must be the main event time.
Orange Cassidy comes to the ring to confront Chris Jericho. Jericho comes out alone. Jericho talks about the "why did the chicken cross the road" joke. He says Orange Cassidy is like that joke. The more Jericho sees him and his act, the more annoying he becomes. Jericho has always thought Cassidy was stupid and an embarrassment to the business. He says he complained to Tony Khan and the EVPs when they hired Cassidy, but they claimed people love him. Jericho says Cassidy has grown on him a bit, and Jericho praises him for getting over by being himself.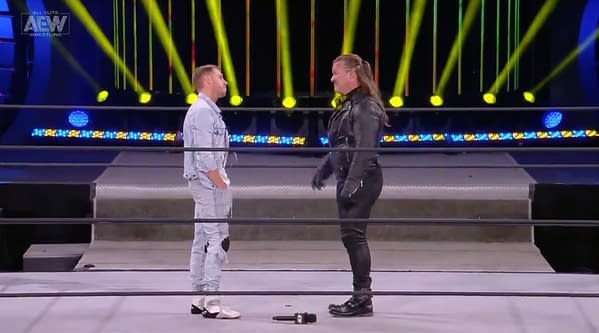 But Jericho says his appeal is because he's like the fans. Lazy. A Slacker. And he doesn't have what it takes to make it to the top. Jericho says that if Cassidy tries "any of that bullshit kick me in the shin" offense, he's gonna kick his ass. Cassidy will need a man-sized miracle to beat Le Champion. Jericho says the Orange Cassidy phenomenon will be over because Jericho is gonna make him run out of juice.
Cassidy snatches the microphone, but he doesn't say anything. Instead, he puts it on and hits his shin kicks. Jericho is far from amused. Jericho takes Cassidy's sunglasses off and breaks them, then throws the pieces as Cassidy. Cassidy explodes, tackling Jericho and laying into him. Jericho runs outside, but Cassidy follows, and they brawl through the barricades and into the crowd area. The brawl continues into the first tier of stands. Jericho ends up taking out Cassidy with a camera jib, which looks like it cut open Cassidy's ear. Cassidy runs down the stairs of the stands, and Superman punches Jericho over some railing and through a table. Orange Cassidy (who got a new pair of sunglasses from somewhere) stands tall as Dynamite goes off the air.
This was an excellent episode of Dynamite. Good matches all night, and while the main event wasn't a match, Jericho was entertaining as always, and the extended brawl at the end came off well. Hopefully, pro wrestling doesn't get shut down in the next week before Fyter Fest happens, because there's a lot of matches I want to see there.
Enjoyed this article? Share it!