AEW Suspends Sammy Guevara Indefinitely Without Pay
AEW has suspended Sammy Guevara without pay for comments he made about WWE star Sasha Banks; the company revealed in a statement on Twitter on Monday. A podcast interview from 2016 in which Guevara "joked" that he wanted to rape the WWE star resurfaced on Sunday as his tag team partner Chris Jericho playfully feuded with Banks over ratings, prompting Guevara to apologize and Banks to respond. After both wrestlers issued statements, AEW announced the suspension of Guevara. After Guevara completes sensitivity training, AEW will reevaluate his future with the company.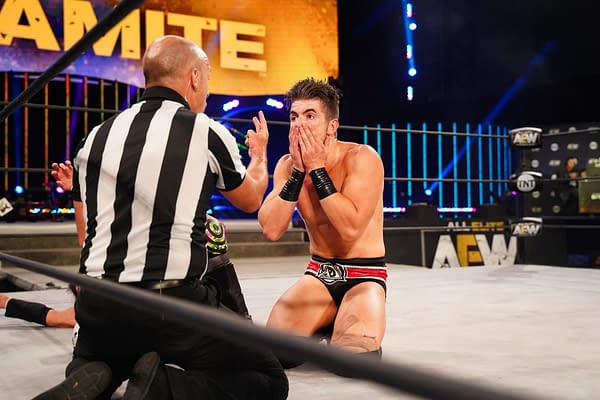 "AEW insists on doing our part to create a world of understanding and respect for humankind," the company said. "We therefore strongly condemn the extremely offensive and hurtful words of Sammy Guevara. As such, effective immediately, Sammy is suspended without pay until further notice. Sammy has agreed to undergo extensive sensitivity training and, upon completion, his future status within the company will be reevaluated. During his suspension, his salary will be donated to the Women's Center of Jacksonville."
Minutes before AEW announced Guevara's suspension; the 26-year-old wrestler issued an apology on Twitter. "I've made stupid, inappropriate, and extremely offensive comments in my past," Guevara wrote in his apology. "In my idiotic mind, I thought I was being funny in using words and terms that represent nothing but horror and pain. I am truly sorry for my hurtful words and actions, and I will never forgive myself."
Banks followed Guevara's statement with one of her, revealing the two had spoken privately. Banks wrote, "Earlier I spoke with Sammy, he apologized, and we had an open discussion. Words like the comments he made, jokingly or not, have absolutely no place in our society! I don't condone or tolerate this kind of behavior. What one thinks is just a side comment can have a massive impact on someone else's life and can send the wrong message. We have to hold ourselves accountable for our actions and the words we say, and I hope this situation shows him that. I hope from this point on, in order for growth and change within our community to take place, we all can continue to have these conversations. No person, man, woman or child, should ever be subjected to a feeling of fear or any unsafe environment. We all have to do better not just for ourselves, but for generations to come."
Guevara is the second wrestler AEW has issued a statement on amidst the #SpeakingOut movement, which has seen dozens of allegations of sexual misconduct sweep the professional wrestling industry. AEW also announced they would reevaluate the future of Jimmy Havoc after he was accused of sexual assault and abuse. Competitor Impact Wrestling is believed to be done working with wrestlers Joey Ryan and Dave Crist after allegations were made against them, though the company has not made an official statement to that effect, and episodes featuring Ryan were removed from the YouTube channel of web show Being the Elite. WWE fired wrestler Jack Gallagher on Friday. However, another prominent wrestler, Matt Riddle, made his debut on WWE Smackdown on Friday despite allegations against him, which he denied. NWA announced the resignation of Vice President David Lagana and cessation of operations pending management restructuring in response to sexual assault allegations against Lagana. The status of several other wrestlers working for WWE's NXT UK brand remains unknown, and more accusations could continue to come out in the coming days.