AMC is making some slight adjustments to their upcoming slate of spring and summer horror, so make sure to adjust your "scare cards" accordingly. The second season premiere of NOS4A2 is being moved from it's original June 1 premiere to Sunday, June 21, at 9 pm ET/8 pm CT, but will still be simulcast on BBC America. The first season of Shudder's horror anthology Creepshow is seeing its stay extended. Set to hit AMC's airwaves on Monday, May 4, at 10 pm ET, the series will now air over six consecutive Mondays (through June 8). Originally, the first season of the horror streamer's series was set to air back-to-back episodes over the course of three weeks, wrapping up on May 18.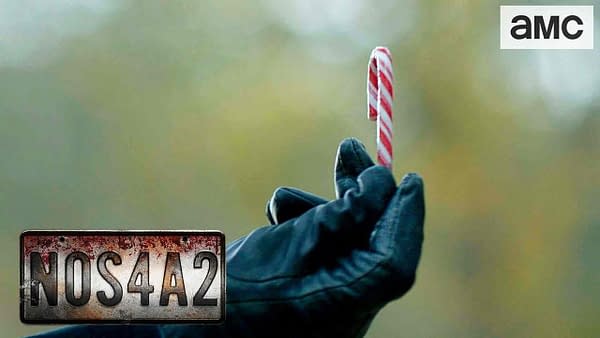 In NOS4A2 season 2, Vic (Ashleigh Cummings) remains committed to destroying Manx (Zachary Quinto) once and for all. Forced to face his own mortality, Manx is desperate to enact revenge on Vic by setting his sights on the one person who means the most to Vic: her eight-year-old son, Wayne. Manx's quest for horrific revenge will send him on a high-speed collision course with Vic that will force both of them to confront past sins, and only one of them can walk away from it alive.
Based on best-selling author Joe Hill's novel, and executive produced by series creator/showrunner Jami O'Brien (Fear the Walking Dead) and Hill, NOS4A2 stars Quinto, Cummings, Jahkara Smith, Olafur Darri Olafsson, Ebon Moss-Bachrach, Virginia Kull, Jonathan Langdon, Ashley Romans, Jason David, and Mattea Conforti. Produced by AMC Studios in association with Tornante Television, NOS4A2 is executive produced by Hill, O'Brien, and Tornante Television's Lauren Corrao.
Creepshow season 1 includes David Arquette (​Scream films), Adrienne Barbeau (​The Fog), Tobin Bell (​Saw films), Big Boi (​Scream: The TV Series), Jeffrey Combs (​Star Trek, Re-Animator), Kid Cudi (Drunk Parents), Bruce Davison (​X-Men), Giancarlo Esposito (​Better Call Saul), Dana Gould (​Stan Against Evil), Tricia Helfer (​Battlestar Galactica), and DJ Qualls (Supernatural), and more in adaptations of stories by Stephen King, Joe Hill, Joe R. Lansdale, Josh Malerman, and others. Nicotero's Oscar, BAFTA, and Emmy award-winning Make-up Effects studio KNB EFX Group serve as creature creators.
Creepshow is produced by the Cartel with Monster Agency Productions, Taurus Entertainment, and Striker Entertainment: Stan Spry, Jeff Holland, and Eric Woods are executive producers for the Cartel; Nicotero and Brian Witten are executive producers for Monster Agency Productions; Robert Dudelson, James Dudelson, and Jordan Kizwani are executive producers for Taurus Entertainment; Russell Binder is executive producer and Marc Mostman co-executive producer for Striker Entertainment.
Enjoyed this article? Share it!