'American Gods' Season 2 Finale "Moon Shadow": The Power of Fear, A Glimmer of Hope [SPOILER REVIEW]
Welcome back to Bleeding Cool's weekly review of STARZ's American Gods season 2 – and now we've reached the end… and the beginning… more like the end of the beginning… with season finale "Moon Shadow."
When the end credits rolled on last week's episode, things were looking dire for the old gods. Mad Sweeney's (Pablo Schreiber) servitude to Wednesday came to an end – at the business end of Gungnir. But with Mad Sweeney being the Irish warrior god-king that he is/was/may never have been, he wasn't going out quietly: speaking truths about Wednesday (Ian McShane) to a now tormented Shadow (Ricky Whittle) and taking Wednesday's prized spear off the playing field. Meanwhile, Laura (Emily Browning) and Mama-Ji (Sakina Jaffrey) have a heart-to-heart over Laura's potential future as a destroyer – with Mama-Ji revealing her true self to drive her point home.
But none of that compares to what New Media (Kahyun Kim) has planned for them, with her power unleashed by Mr. World (Crispin Glover) in this week's season finale "Moon Shadow" – and Mr. World's not above using the power of fear and belief to launch a righteous offensive against Wednesday's team.
American Gods Season 2, Episode 8 "Moon Shadow": In the aftermath of Sweeney's death, Wednesday has disappeared and Shadow is tormented; those that remain witness the power of New Media as she is unleashed; the nation is in a state of panic brought on by Mr. World.
Directed by Christopher J. Byrne and written by Aditi Brennan Kapil and Jim Danger Gray, "Moon Shadow" met all of the requirements on our season finale checklist. By the time the credits rolled and Shadow's bus pulled back onto the road, it wrapped-up some important storylines while keeping just enough of them still dangling. What's more, it made sure to put a number of our favorites in questionable situations moving forwad, and offered some clues as to what's still to come.
With that said, the true highlight of the episode is thet way it drove home Mr. World's so effectively demonstrated point at the beginning: Fear is powerful because it can turn the imaginary into reality – and neither man nor god is immune to it. Even newly-upgraded Tech Boy/Quantum Boy (Bruce Langley) saw a level of truth to that when alluding to Mr. Xie (Andrew Koji) of the gods being created in man's image – with all of his faults, insecurities, and sins – for man to have something to project their fears onto.
It was something that stuck with me after I first screeened the episode and then watched again when it aired, the layers of fear we see in play during a fast-moving and more dire-feeling finale than season one's scorched earth finish were far-reaching. Here are just a few of them:
● For those who have a hard time understanding how so many people fell for Orson Welles' original "War of the Worlds" radio broadcast, I strongly recommend the first five minutes of this episode. With technology and broadcasting being so new, there was both a fear and trust in it that made what happened almost feel inevitable. Bonus: some incredible spoken "word fu" from Glover in a tone that would make the hairs on your arms shiver even if he was reading Dr. Seuss.
● Xie's fears that he's lost his "divine technological intervention," only for him to be given all that he could want – and then we see what happens when one dares too close to the sun with flammable wings.
● The scene between Laura and Shadow, as each runs away from each other as a way of not having to confront their fear of losing one another – that maybe Wednesday has been their only reason for being as a couple.
● Laura fears what the loss of Mad Sweeney means to her on a personal level – that their bond was always about more than just his coin, and now that reality has become crystal clear. Though at the end of the episode, it appears Laura is taking control of her fear – and Mad Sweeney's body.
● Shadow fears the truths that are starting to flood his mind – that he's being used by someone who's a lot closer to him than he's been wanting to see for some some time now. With both real and metaphorical hatchet in hand, Shadow cuts loose from his fears to fight back against New Media's assault – taking back a level of control and demonstrating a slight but important crack in World's plan.
● With Salim (Omid Abtahi), you have the perfect example of fear via media: ready to believe anything that the news puts in front of him, even in the presence of what he's seen gods do. It's also fear that drives Jinn (Mousa Kraish): after his constant, season-long pushing away of Salim, it takes a moment of fearful uncertainty for him to express his love for Salim – and yet through his own fear, Salim's love and faith in Jinn never wavered.
● Even the usually in control (except when he needs to not be) Mr. Nancy (Orlando Jones) showed a few slight glimpses of fear, covered up slightly by his style and snark: during his chess match with Mr. Ibis (Demore Barnes) when he mentions how Shadow's ignornace to the the bigger picure is giving the new gods power; and at the end, when he goes from sounding hopeful to a tone of concern over what's still to come.
Yet within that fear, we have Bilquis (Yetide Badaki) – who is the most in control of her fears by using the distractions of war to begin cultivating a faith and belief system that might just be the bridge between god and man. But can she stay off the radar long enough to make that happen – to prove that Love answers to something higher than either old or new gods.

We were forged in God's image, but the Gods are also made in ours — and in Season Two the battle moves inexorably toward crisis point as the destinies of gods and men collide. While Mr. World plots revenge for the attack against him in Season One, Shadow throws in his lot with Wednesday's attempt to convince the Old Gods of the case for full-out war, with Laura and Mad Sweeney in tow.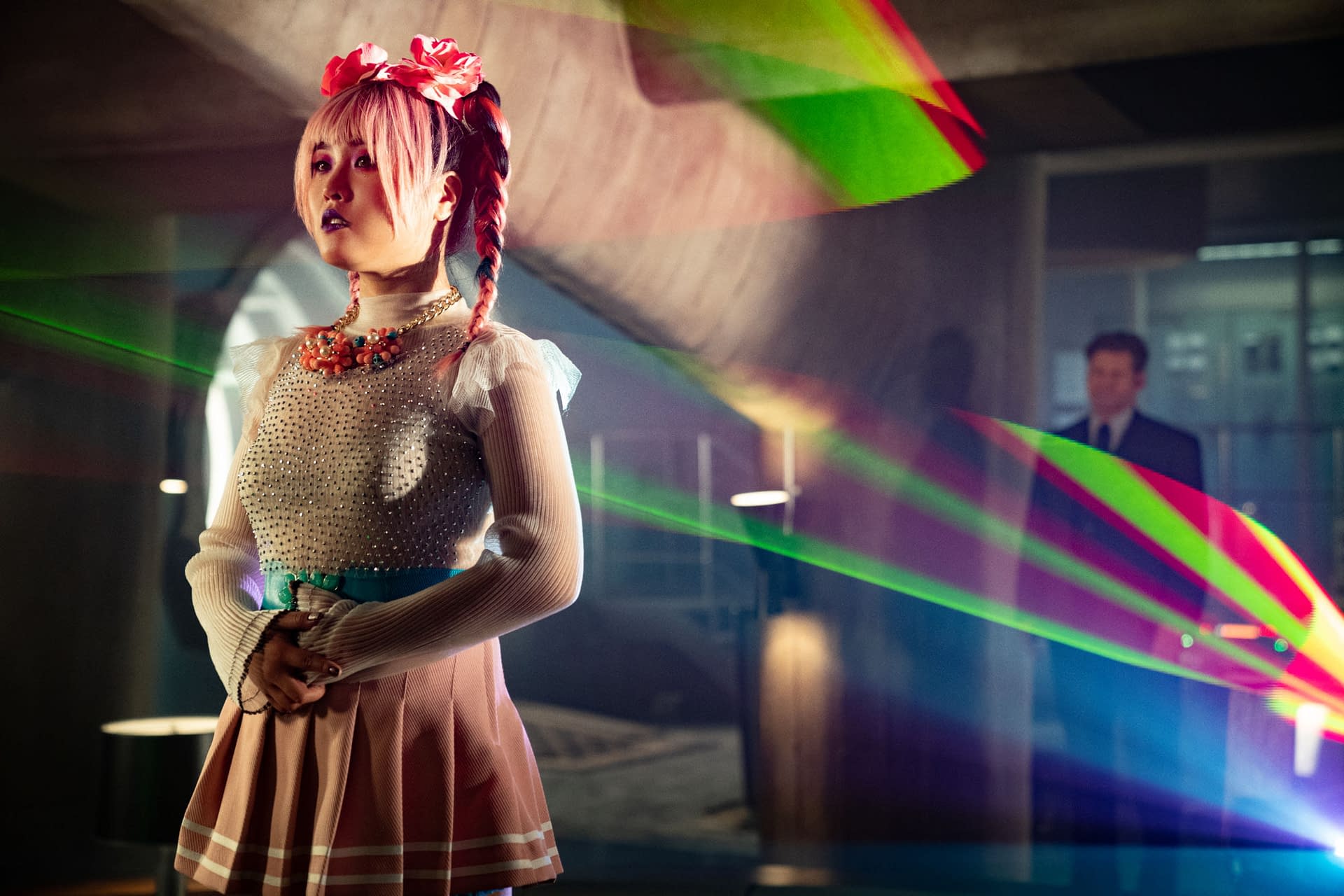 A council at the House on the Rock explodes into chaos, sending deities both Old and New on quests across America that will converge on Cairo, Illinois: forcing Shadow to carve out a place as a believer in this strange new world of living gods — a dark world where change demands commitment, and faith requires terrible sacrifice.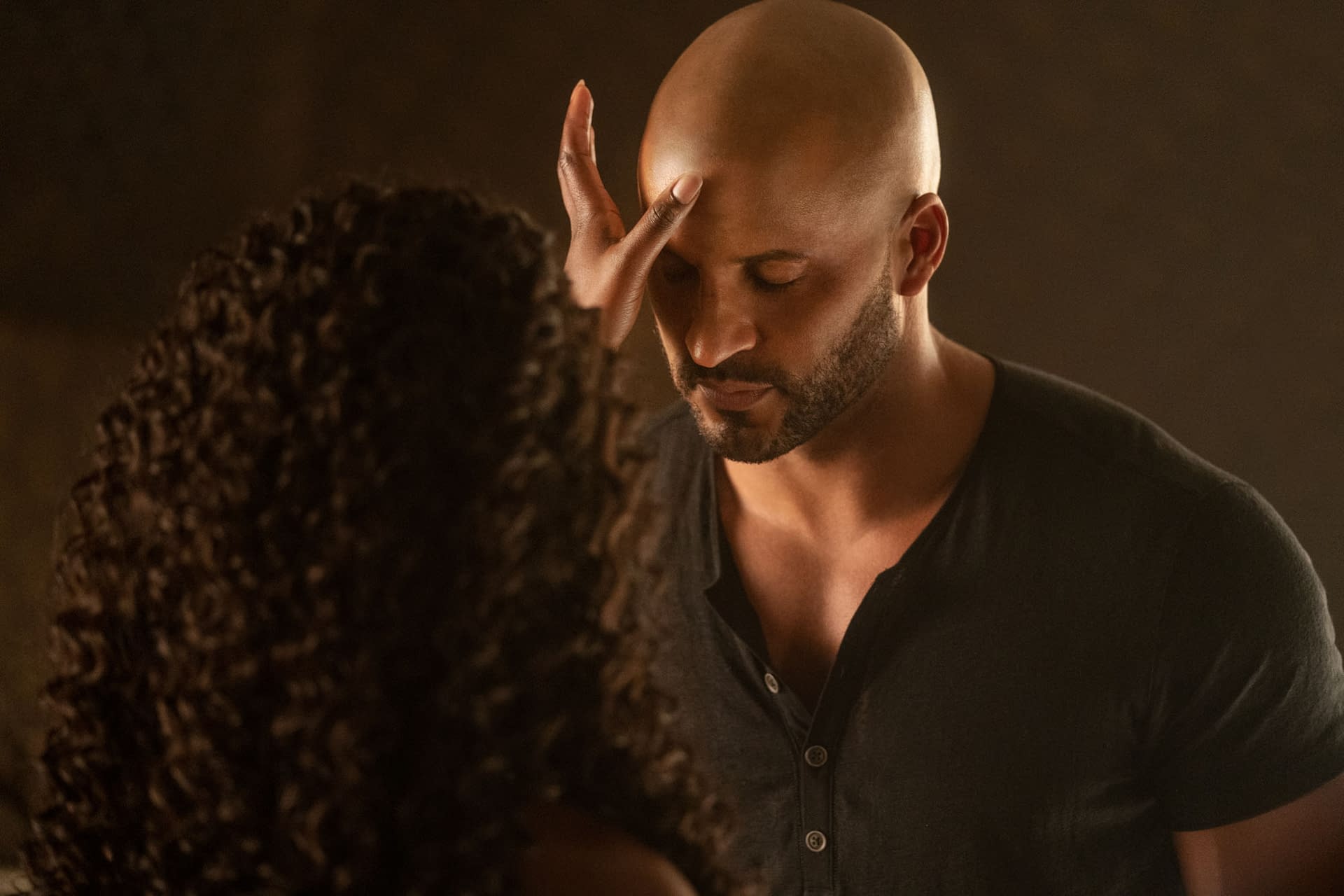 American Gods stars Ricky Whittle, Ian McShane, Emily Browning, Pablo Schreiber, Crispin Glover, Yetide Badaki, Bruce Langley, Mousa Kraish, Omid Abtahi, Demore Barnes, Peter Stormare, Sakina Jaffrey, Dean Winters, Devery Jacobs, Kahyun Kim, Derek Theler, Laura Bell Bundy, and Christian Lloyd.