'Arrow' Season 7, Episode 13 "Star City Slayer" Review: A Bit Predictable, but Doesn't Disappoint [SPOILERS]
Welcome back to Bleeding Cool's season-long review of the CW's Arrow, as we take a look at the 13th episode of the seventh season, "Star City Slayer."
For the first time in a long time, the writers have done a great job in setting up the mystery of the Star City Slayer over the past few episodes. Creating that sort of mystery and giving it time to breathe and grow instead of just plopping in another villain-of-the-week has been fun to watch, even if the outcome was predictable.
https://www.youtube.com/watch?v=EnkqUZSlX1A
Arrow stars Stephen Amell as Oliver Queen/Green Arrow, David Ramsey as John Diggle/Spartan, Emily Bett Rickards as Felicity Smoak, Echo Kellum as Curtis Holt/Mr. Terrific, Katie Cassidy as Laurel/Black Siren, Rick Gonzalez as Rene Ramirez/Wild Dog, Juliana Harkavy as Dinah Drake/Black Canary, Colton Haynes as Roy Harper, Kirk Acevedo as Ricardo Diaz

Greg Berlanti, Marc Guggenheim, Beth Schwartz, and Sarah Schechter executive produce. Bonanza Productions Inc. produces in association with Berlanti Productions and Warner Bros. Television
For the first time in a long time, the writers have done a great job in setting up the mystery of the Star City Slayer over the past few episodes. Creating that sort of mystery and giving it time to breathe and grow instead of just plopping in another villain-of-the-week has been fun to watch, even if the outcome was predictable.
All that said, let's spoiler-jump into the episode!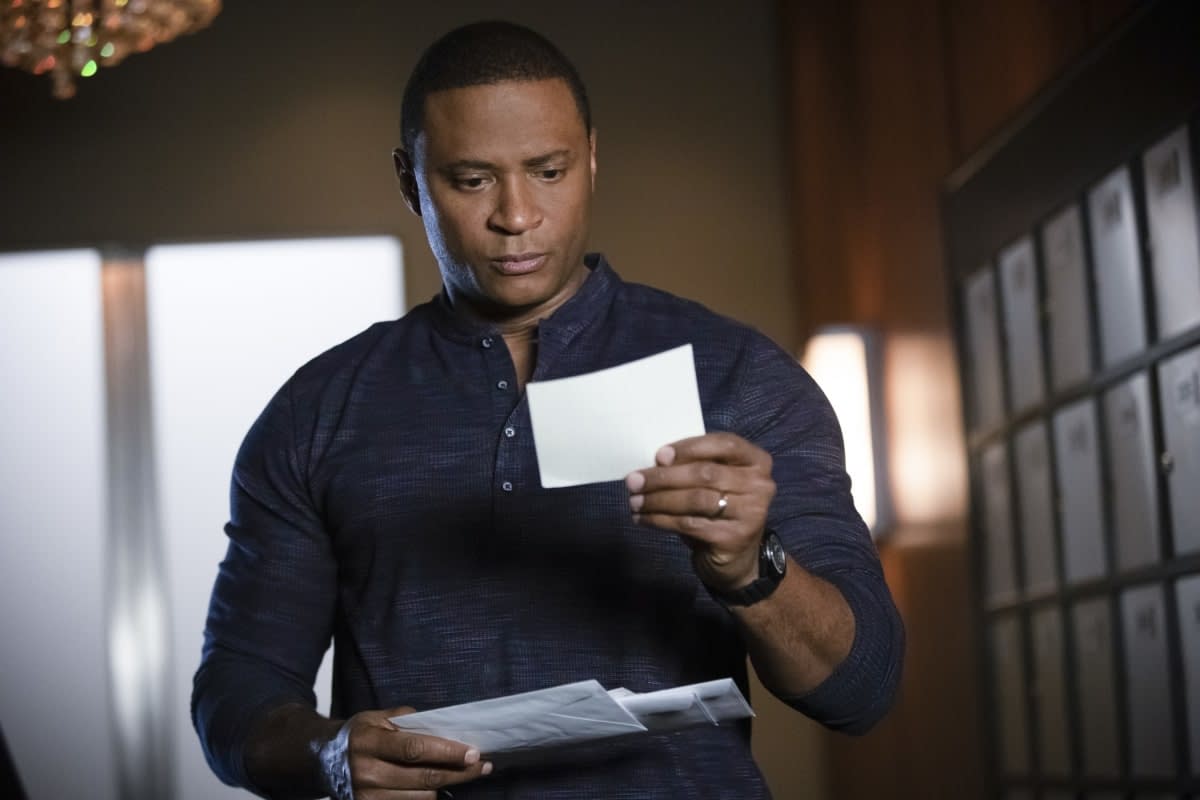 The Star City Slayer has targeted Dinah, Diggle, Rene, Curtis, and Laurel with his ominous typed warnings. With Laurel away in Washington, D.C., Diggle and the rest of the JV squad track the Slayer to a creepy old abandoned house where he has had the paralytic shipped to that he uses to incapacitate his victims. The set piece was fun and suitably unnerving, even if it didn't make any sense. Diggle follows a fresh blood trail to a messy bathroom, but we're never told of an occupant being killed in that house. Curtis finds an old piano, and when he presses a key, a Monkey Shines toy doll falls from nowhere (the ceiling, maybe… I guess?). Rene follows the sound of a music box playing in a cupboard. Why? How? Because?
The upstairs team does find one thing of note. The cupboard contains a Slabside Prison jumpsuit, so we know the Slayer served time. Down in the basement, Dinah finds the Slayer's conspiracy board, and while it looks good on screen, what exactly was being connected isn't clear at all. What is clear from the scrapbook Dinah finds is that the Slayer has figured out that Oliver is the Green Arrow and is going after him next.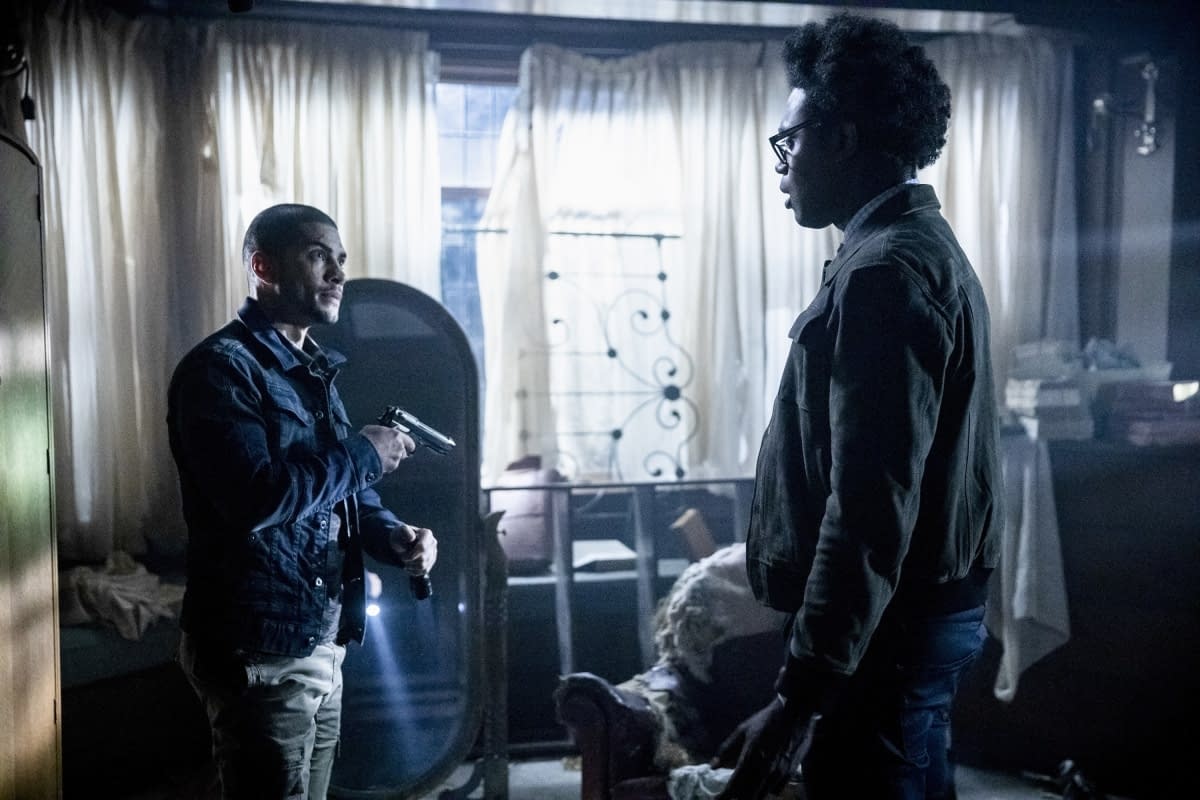 Dinah turns and gets her throat slashed by none other than the Slayer…
Stanley Dover, Oliver's BFF from Slabside!
The rest of the gang finds Dinah in time, but she is bleeding out from the attack. With no time to wait for an ambulance, Curtis uses an experimental cauterizing technique and technology to stop the bleeding until an ambulance can arrive. Dinah manages to gasp out "Oliver" and point Diggle to the scrapbook.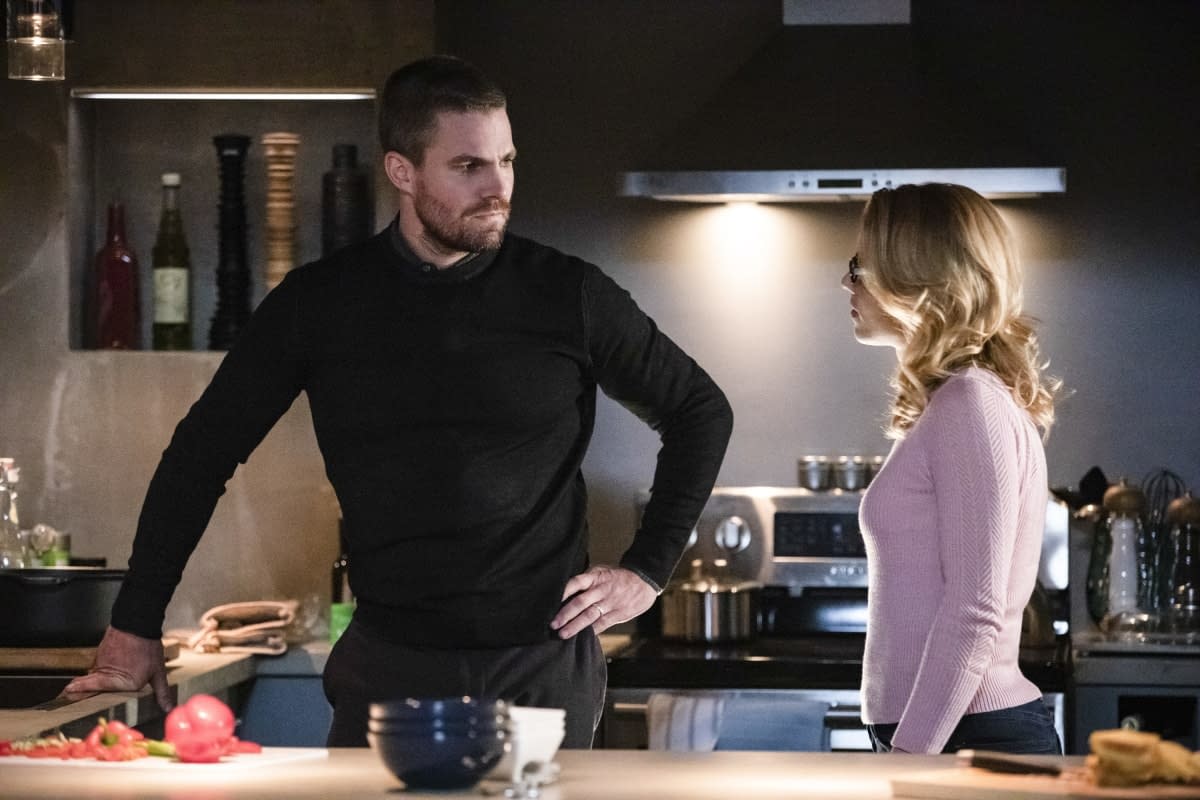 Back at home, Oliver is struggling to handle William, who'ss angry at Oliver for never listening to him and never considering William's feelings. All of this rage stems from Oliver turning himself in at the end of last season, which William is still not over. With Oliver struggling through this whole "dad of a teenager" thing, William activates the nuclear option and calls his maternal grandparents to come get him and let him live with them in Central City (which is no safer than Star City, as he would know if he stopped pouting and turned on CW once in awhile).
Oliver refuses to give up custody without a fight – though William's grandparents point out there's no way in hell Oliver will win. Oliver insists that William's the one not listening to him.
Why can't William see that Oliver's only doing what he thinks is best for William?
I mean, he made pancakes and chili.
What more does this kid want?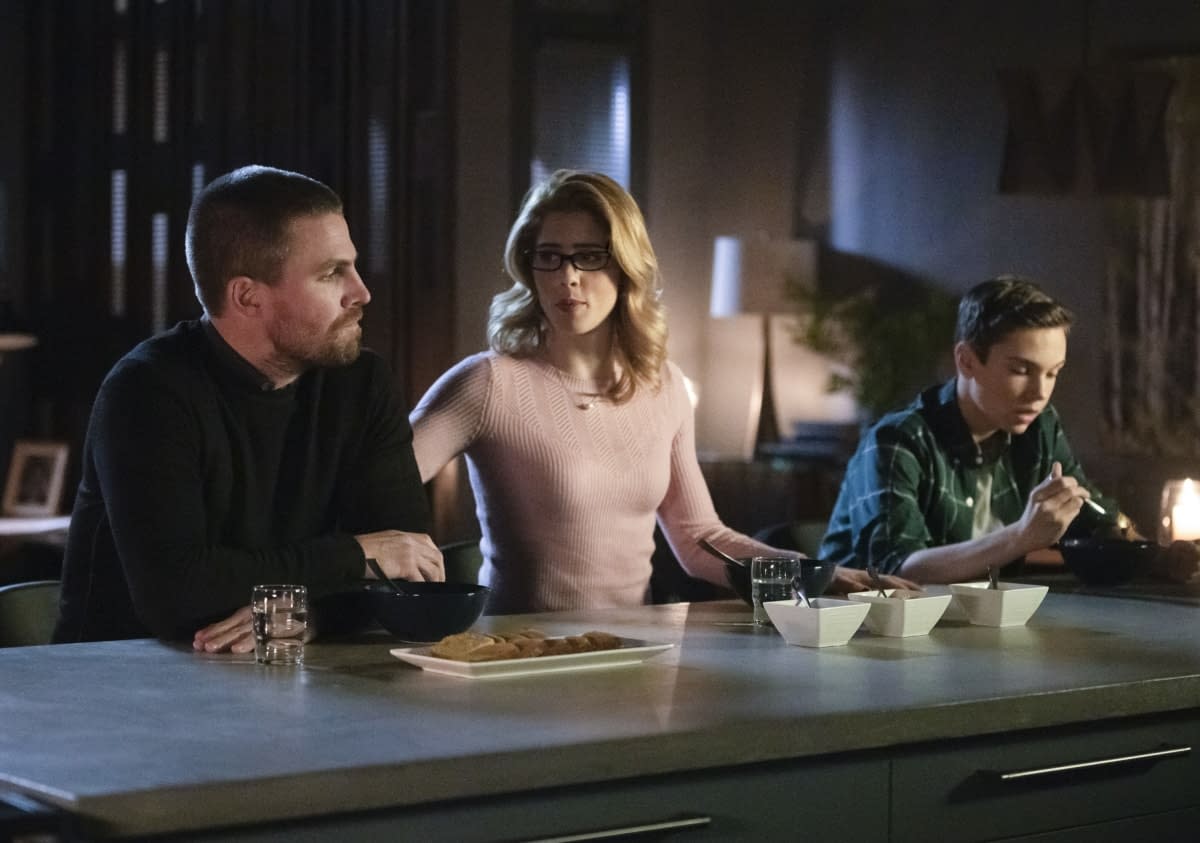 After slashing Dinah's throat, Stanley administers a vaporized form of the paralytic through the ventilation at Oliver and Felicity's apartment. You'd think that with the fancy security system Felicity built and installed that she would have thought to put in a back up power supply. Stanley is glad that they're all together now.
That other team? They don't know Oliver like Stanley knows Oliver. I mean, Stanley and Oliver showered together at Slabside, right? They're tight.
Subtlety isn't usually the "Arrowverse's" strong suit, so Stanley's monologue hits Oliver and the viewers over the head with the episode's theme. Stanley's father used to drug Stanley with the paralytic, then punish Stanley when he was not listening. His father claimed that he was doing what was best for Stanley. Whether Oliver realizes it then or after the paralytic wears off and he teams up with William for a bottle smash power move on Stanley's noggin, he's acting like Stanley's father.
After everyone is checked out at the hospital – including having a copious amount of blood drawn, as Felicity all but screams out (again, subtlety) – Oliver asks William whether he wants to live in Star City and be a constant moving target for some whack job or live with his grandparents in Central City, which is filled with metahumans.
Smartly, William decides to get out of town while he still can.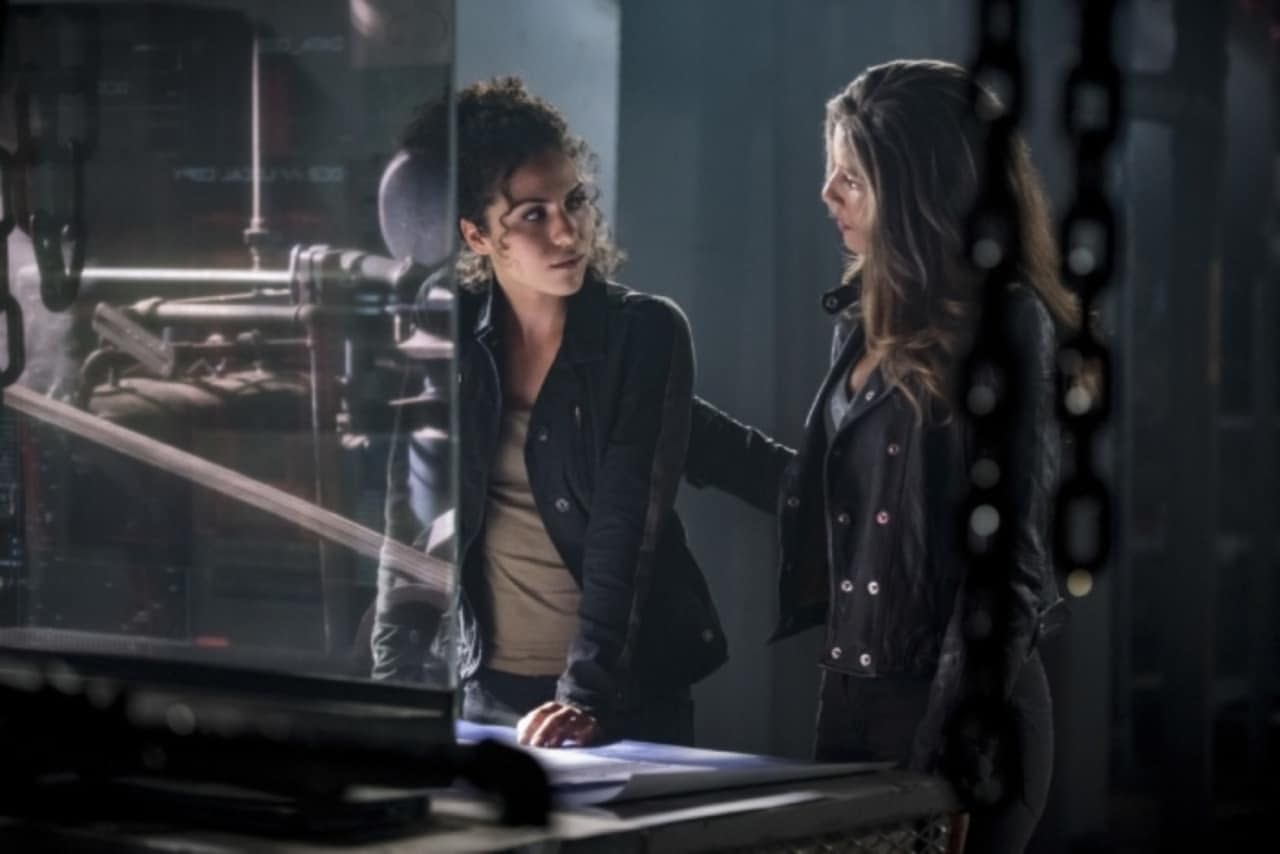 In the dystopian future, Zoey can't locate the missing bombs using the Archer program. Will says that's because they're not in place yet. Felicity must have hid them off the grid. Roy takes the team to the abandoned Arrow Cave that is not yet renovated in the current era storyline. There, the four are darted and knocked out by Blackstar… mimicking how Will was paralyzed by Stanley.
Blackstar wants the access codes to the Archer program. Will says no; she killed Felicity, she's just going to kill them as well and blow up Star City. Blackstar says that 1) Felicity's not dead, and 2) she's not going to blow up the city because – surprise! – she's the "Emiko" to Will's "Oliver."
That's right, folks! All that blood that was drawn at the hospital shows that Felicity is pregnant.
In the future, Felicity and Oliver's daughter is Mia Smoak aka Blackstar: Will's ass-kicking half-sister.
Other future clues:
● Now we know how future Dinah got that scar across her neck. Thanks, Stanley.
● Dinah taught Zoey how to fight, not Zoey's father, Rene.
● Conner, Blackstar's sidekick, is Conner Hawk. Diggle's son. But not the Conner Hawk from DC's Legends of Tomorrow season 1 episode "Star City 2046". Apparently, that future no longer exists. I blame that one on Barry and the post-Flashpoint timeline. That's the arc that turned baby Sara Diggle into John Diggle, Jr.
https://youtu.be/69nyZbR97rM
What did you think of Arrow "Star City Slayer"? Did you enjoy the slow-play to the Slayer reveal over the past few episodes? What other questions about the flash-forwards do you want to see addressed before the season ends?
The CW has us on an Arrow break until Monday, March 4, at 8 p.m. ET/7 p.m. CT – so let us know your thoughts about the season below!