'Arrow' Season 7, Episode 16 "Star City 2040": Future Imperfect [SPOILER REVIEW]
Welcome back to Bleeding Cool's continuing look at the seventh season of the CW's Arrow. This week's episode takes us almost exclusively to "Star City 2040," where Will and Mia disobey the direct order from Felicity and head into the Glades to save her. Can Arrow work without its title character, or will this episode demonstrate why the CW and Stephen Amell made the right move in choosing to end the series?
https://www.youtube.com/watch?v=C8tYGs5sE54
Arrow s07e16 "Star City 2040": FLASH FORWARD TO THE FUTURE — Mia Smoak (guest star Katherine McNamara) and William (guest star Ben Lewis) venture into the Glades on a dangerous mission. There they run into Dinah (Juliana Harkavy), Roy (Colton Haynes) and Zoe (guest star Andrea Sixtos) who deliver some devastating news. The flash forwards share highlights from Mia's childhood with Felicity (Emily Bett Rickards). James Bamford directed the episode written by Beth Schwartz & Oscar Balderrama.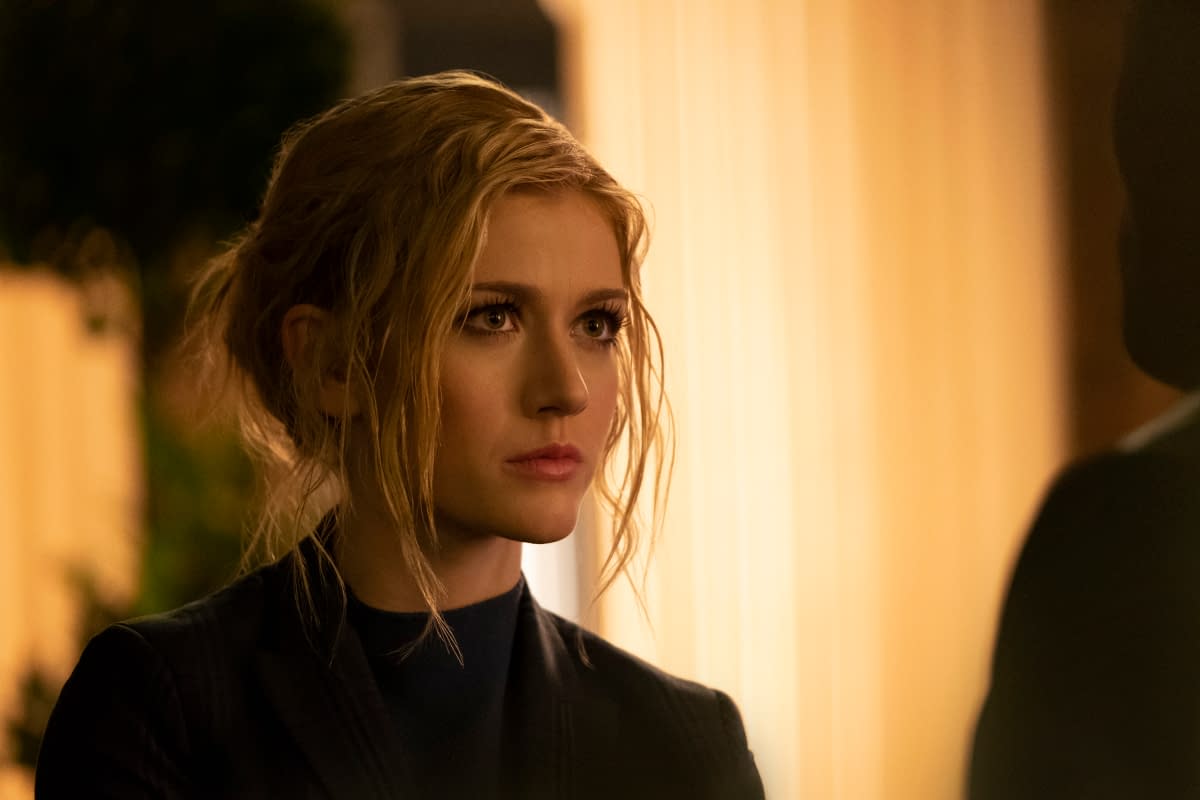 We start off with Felicity giving birth to Mia at a cabin in the woods – in secret, apparently, as no one else on the old Team Arrow even knew that Felicity was pregnant. Makes me wonder how they're going to hide her pregnancy the rest of this season and into the next, as Arrow has tended to play out in "real time." At the very least, the show's episodes tend to line up with real world holidays – the seasons tend to end in May in Star City and premiere in the fall in Star City.
But I digress…
Mia is trained by Oliver's ex-wife (don't think we haven't forgotten season three, no matter how badly we'd all like to) Nyssa. The day that Mia finally defeats Nyssa is the day that Nyssa gifts Mia with her own bow. Now she's ready to take up the mantle of vigilante hero. The catch? When Mia find out that Felicity has been secretly hacking and acting as a vigilante, Mia decides to run away to Star City and forge her own path – hating vigilantes as a proxy for hating her mother.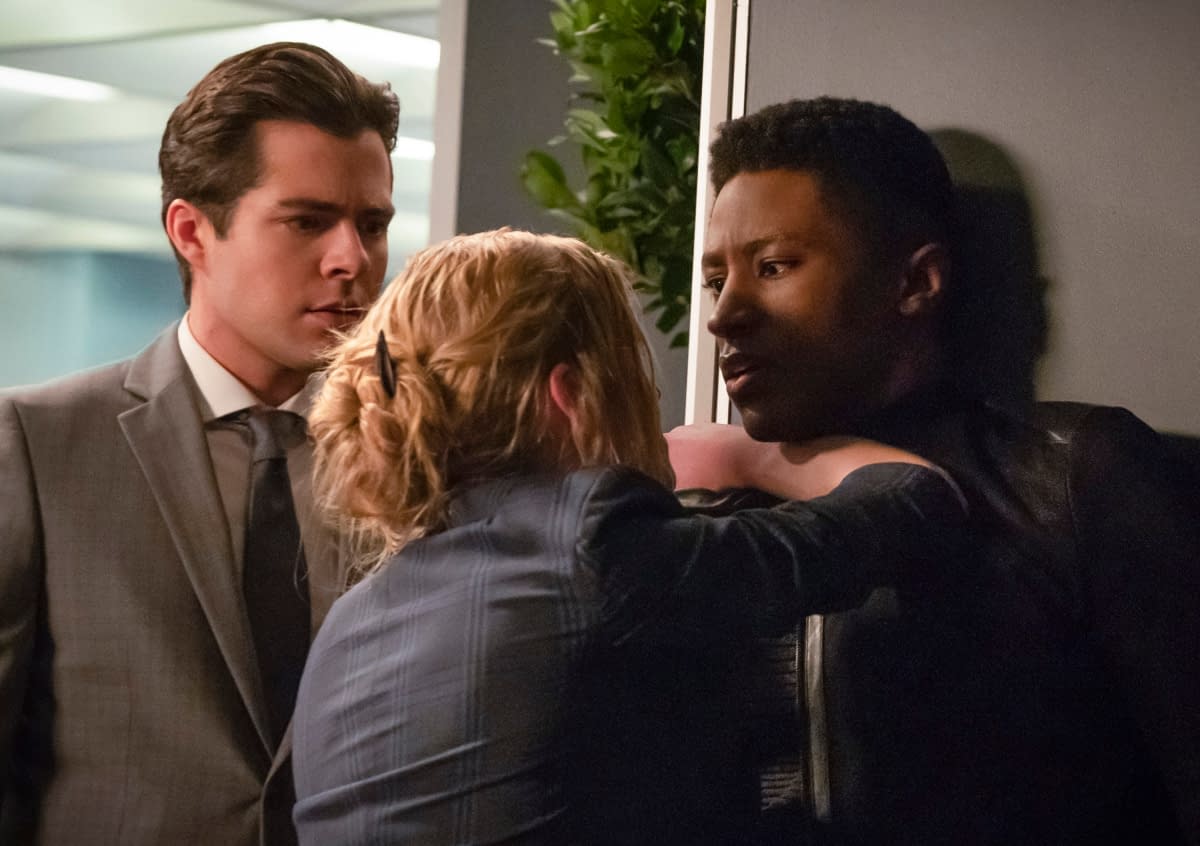 Mia and Will head to the coordinates in the message that Felicity left them, hoping to find and save their mother. Meanwhile, Roy, Dinah, and Zoey attempt to locate the bombs designed to level Star City. Rene tries to stop them, saying that Galaxy One is an altruistic company that is going to give the people of Star City at least a 5 minute warning before leveling their homes and businesses. Understandably not buying Rene's story, the team make their way to the coordinates.
Inside the facility, Conner saves Mia and Will's bacon by revealing that he is a member of Knightatch, the 2040 version of ARGUS. Mia's upset because no one seems to be able to tell her the truth about anything. Conner provides the plan and the tech to get the three of them to the sublevel of the Galaxy One building where Felicity just has to be kept. Or the bombs. Or both.
Conner did drop some information on us. He says that he knows how hard it is being the son of heroes because his adopted parents (I'm presuming Diggle and Lyla) were never around for him growing up. If this is Bronze Tiger's son, as revealed in the previous episode, how and why do Diggle and Lyla end up adopting him? Also, where's John Junior? And is Conner going to become the Green Arrow in this timeline?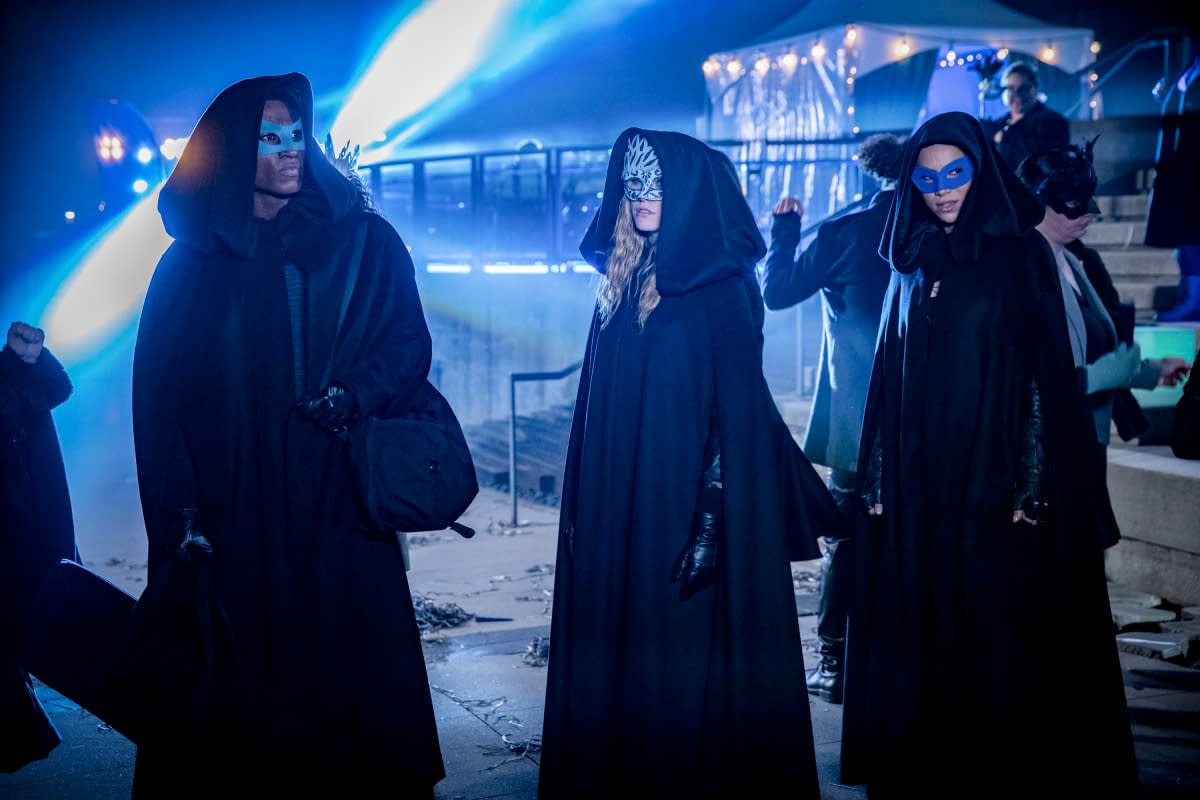 The two groups – Will, Mia, and Conner and Roy, Dinah, and Zoey – make it to the Galaxy One building where they find and rescue Felicity. Rene arrives – somehow, through all that security and DNA analysis and whatnot – to tell them that the bombs have been moved into place around Star City and are going to be set off tonight without first evacuating the city. The team leaps into action, disguising themselves at the Glades's masquerade party for the rich and famous, in an attempt to find the CEO of Galaxy One and steal his box that controls the bombs so that the team can deactivate the weapons.
Mia find the CEO, takes out his security detail, and fires an arrow through the box just seconds before the bombs go off, thereby saving the city. As a result, Rene places a $10 million bounty on Felicity, Roy, and Dinah's heads as a way to stay undercover in Galaxy One so he can dismantle it from the inside. The team celebrates the win. Mia and Felicity begin down a path toward reconciliation.
The episode's final scene shows us why Felicity is so determined to destroy Galaxy One's Archer program…
She's the one who invented the system in the present-day storyline.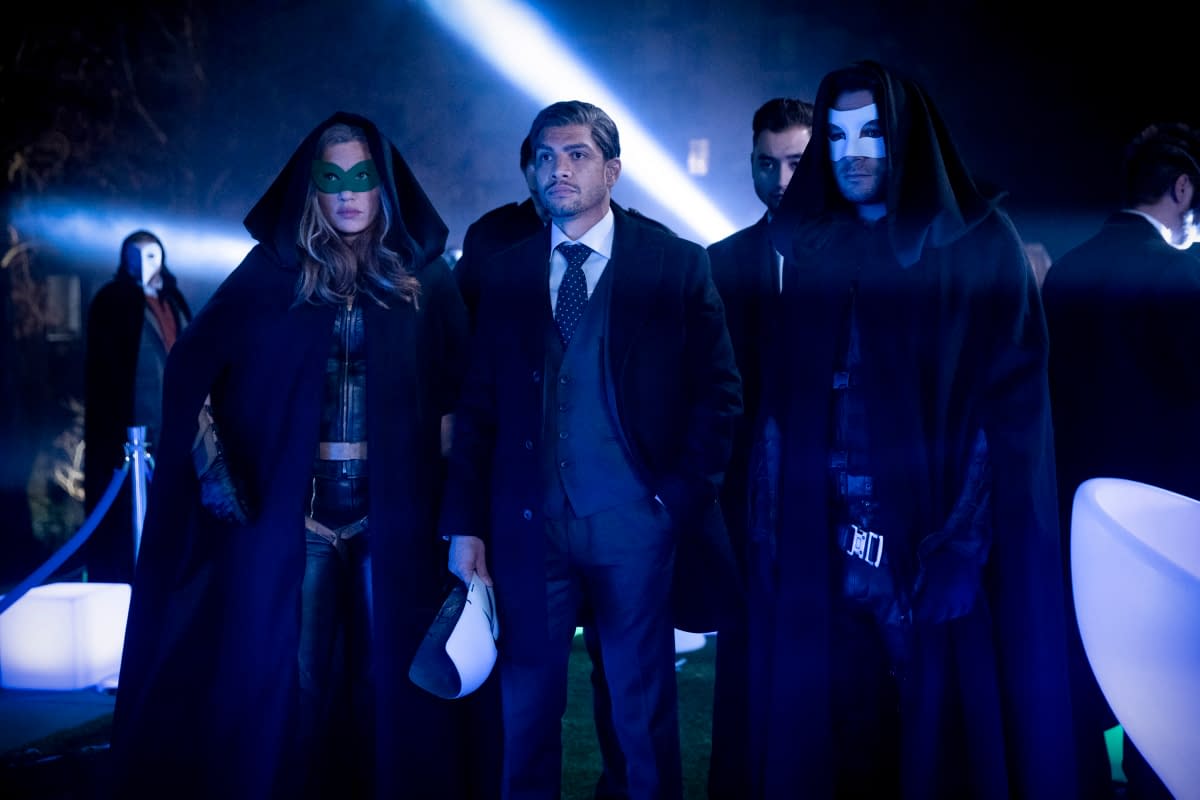 This episode was a nice break from the typical format of the show. It moved along fine. There wasn't anything egregious about any part of the episode. So why didn't I like it? Truth be told, I'm not invested in the 2040 story.
Not. At. All.
It's not due to the performances. I like seeing Roy back. Mia is a bad-ass and fun to watch. There's just too much blank space between where the current-day story takes place and when the future storyline happens. It feels like little more than an excuse to put dome old lady makeup and wigs on a few characters and make some cracks about how what's contemporary now will be old 20-some years from now. I'm not invested in Will's journey, because I know we're not going to see it. I don't care that Star City and the Glades have flip-flopped wealth and status because the writers aren't telling us how that happened, only saying "vigilantes bad" because that's what's convenient for the plot and for Mia's story.
If the writers don't care to take the time to make me care about these characters, I'm not going to manufacture empathy for them out of the blue.
Except for Conner Hawke. I do want to know his story. Too bad it doesn't look as though we're going to get it.
Arrow airs Mondays at 8 p.m. ET/ 7 p.m. CT on CW, and continues next week with "Inheritance":
https://www.youtube.com/watch?v=ZZ1hljBxeTE
Arrow s07e17 "Inheritance": LAUREL TEAMS UP WITH OLIVER — Laurel (Katie Cassidy Rodgers) learns about some damaging information that affects Emiko (Sea Shimooka). Always looking to protect his sister, Oliver (Stephen Amell) invites Laurel to help investigate, which makes Felicity (Emily Bett Rickards) happy as her friend is now working with the team. However, when things go awry, Felicity is forced to make a choice between the team and Laurel. Patia Prouty directed the episode written by Sarah Tarkhoff & Elizabeth Kim.
CW's Arrow stars Stephen Amell as Oliver Queen/Green Arrow, David Ramsey as John Diggle/Spartan, Emily Bett Rickards as Felicity Smoak, Echo Kellum as Curtis Holt/Mr. Terrific, Katie Cassidy as Laurel/Black Siren, Rick Gonzalez as Rene Ramirez/Wild Dog, Juliana Harkavy as Dinah Drake/Black Canary, Colton Haynes as Roy Harper, and Kirk Acevedo as Ricardo Diaz. Greg Berlanti, Marc Guggenheim, Beth Schwartz, and Sarah Schechter serve as executive producers.