'Arrow' Season 7, Episode 20 "Confessions": There Can Be Only One (Half-Sister)! [PREVIEW]
Someone's running around putting arrows in bodies on the next new episode of CW's Arrow "Confessions" – which in a lot of ways sounds like the theme of every other episode of Arrow. Only this time… it's a villain putting arrows in bodies in an attempt to frame Oliver.
So… sounds just like a flashback to the first season of Arrow?
https://youtu.be/opF0C0dFED4
Arrow s07e20 "Confessions": ARSENAL RETURNS TO HELP THE TEAM — When they learn of an upcoming attack on the city, Team Arrow calls Roy Harper (Colton Haynes) to help them stop the Ninth Circle. However, things go awry and there is massive collateral damage. As Captain of the SCPD, Dinah (Juliana Harkavy) investigates what happened in an episode that takes on a true crime narrative and tone. Tara Miele directed the episode written by Onalee Hunter Hughes & Emilio Ortega Aldrich.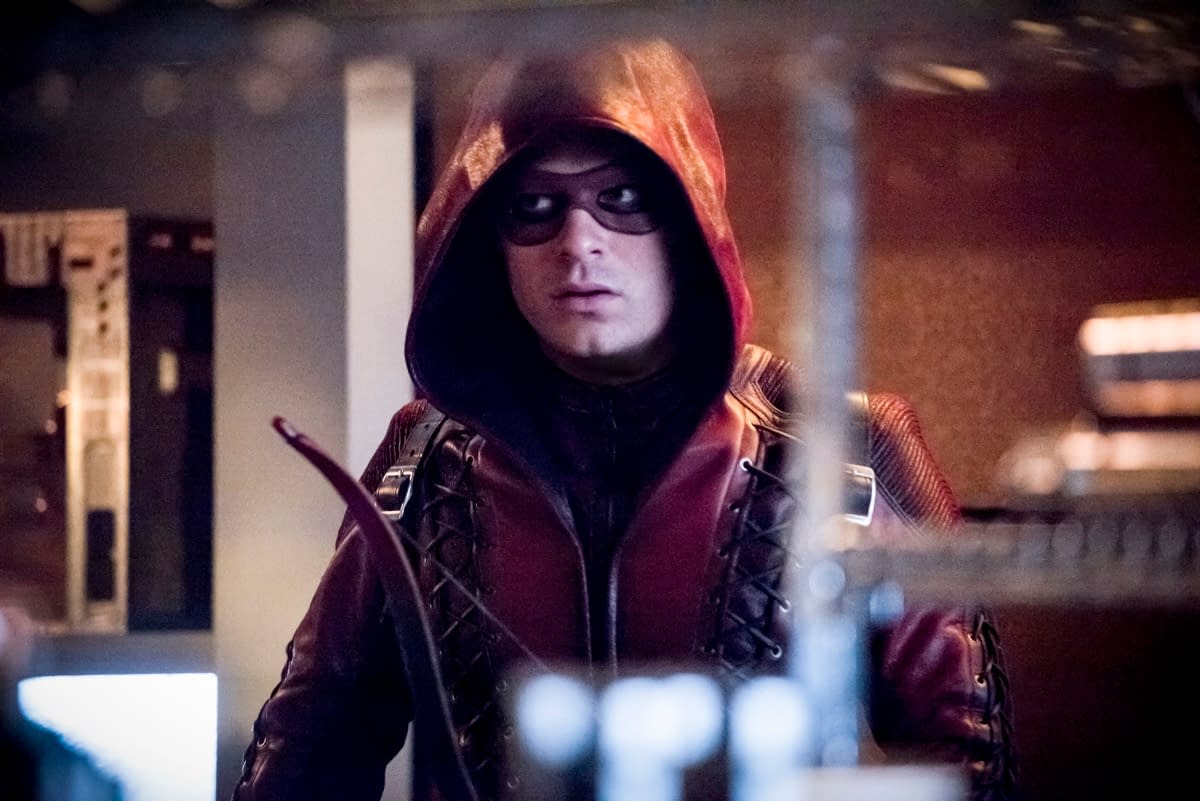 The big news is that Roy's back, which would be way more dramatic if he hadn't appeared in the season premiere and scattered throughout the flash-forward scenes. The last time we saw him in the present day storyline, Roy was leaving with Thea to start a new red leather-free life together. With the images from this week's episode below showing Roy stalking Emiko, is it possible that Emiko killed Thea – leaving only one half-sister standing?
Arrow airs Mondays at 9 p.m. ET/ 8 p.m. CT on the CW.
CW's Arrow stars Stephen Amell as Oliver Queen/Green Arrow, David Ramsey as John Diggle/Spartan, Emily Bett Rickards as Felicity Smoak, Echo Kellum as Curtis Holt/Mr. Terrific, Katie Cassidy as Laurel/Black Siren, Rick Gonzalez as Rene Ramirez/Wild Dog, Juliana Harkavy as Dinah Drake/Black Canary, Colton Haynes as Roy Harper, and Kirk Acevedo as Ricardo Diaz. Greg Berlanti, Marc Guggenheim, Beth Schwartz, and Sarah Schechter serve as executive producers.