"Something that I think is so wonderful about the Arrowverse, in general, is that every single character… has their own hero's journey," Katherine McNamara related as she and co-star Juliana Harkavy mused on the finale and future of Arrow in an interview exclusive to Bleeding Cool. "We need heroes more now than ever," Harkavy chimes in, speaking to our current situation and the quarantine they both find themselves in.
As we sat and discussed the release of both the Arrow complete series box set and Season 8 of Arrow, we contemplated how far we'd come, and how much more there is to tell. Of course, the conversation was going to include the future of their proposed spinoff, Green Arrow and the Canaries, which they shot a backdoor pilot for Episode 9 of the last season. While there's no confirmed pick-up of the series, speculation is high that this is still happening.
Looking at The Future of the Arrowverse
Harkavy mused on what this could look like, "I'm excited to just build what we already have and to have these like incredible women with incredible history… So I'm excited to explore that and write new stories, especially this one." She added, "They've left it so open. It's beautiful. Dinah would love nothing more than to walk into the sunset with the hopes of saving a new city. And we actually have the freedom to do that right now. It's a very literal thing."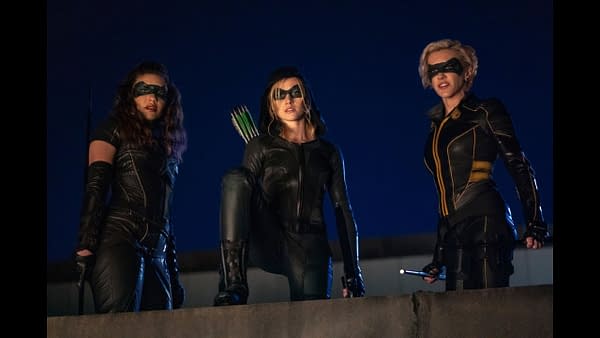 McNamara felt a strong legacy from the history of the show, and one which intersects with her character's legacy as well. "Stephen [Amell] created this massive legacy. We're picking it up and hopefully moving it forward if we're lucky enough to be picked up. But it's kind of amazing just to think about the fact that even though this show may not continue, our characters still exist in that future."
As to what that looks like exactly, the future is wide open, but McNamara teases that it could largely about living up to the legacy of her parents. "So you've got to see the possibility of a future, whether or not we actually see that play out. The series is one thing, but we got kind of an idea. We have each character in it, and for me in particular, she's got this sort of new reality shift with these two lifetimes, these two sets of memories. These two sets that she can use to rise to the challenge and live up to the legacy that her father has had left for her– as well as 'reality' for me."
Harkavy agreed, "I'm just I'm so excited for the whole thing. I have faith that when the time is right and everybody is safe, then it'll be time to tell the story and like we'll be like in a really good place when it does happen."
No More Perfect Time to Binge an Eight Season Legacy Than During Home Lockdown
In some ways, it's a perfect time for an eight-season box set to come out, as well as a Season 8 season set (which also includes a special disc with all five "Crisis on Infinite Earths" episodes). Never has there been a better time to binge-watch your favorite shows, and with all the changes of which shows are available on which streaming platforms, it's a good time to rethink owning copies of your favorite shows. For fans of Arrow, these should be definite candidates for ownership.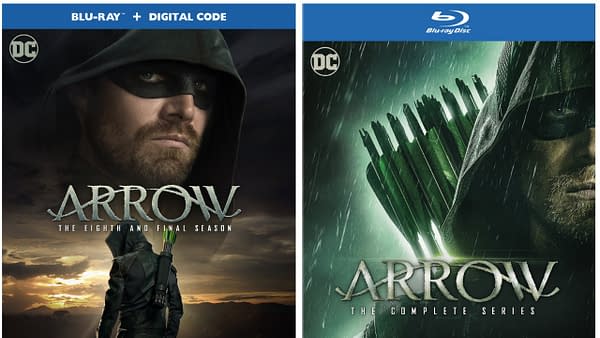 We also discussed what else they were binging, and the answers ranged from Juliana getting outside and being active and running (in a socially distant and responsible manner, of course!) but also watching stand-up comedy on YouTube to both of them upping their baking games. McNamara bragged about "my specialty" of butterscotch oatmeal cookies and how upon noticing her fresh fruits was about to go bad, made a blueberry peach crumble. Harkavy upped the ante by talking about taking matzoh and topping it with homemade caramel, chocolate, sea salt, and other toppings. Truly, these are treats worth binging.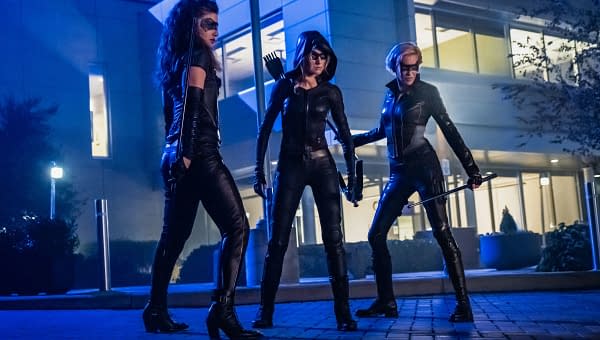 But in terms of other media, they both admitted to branching out into other media. McNamara has been enjoying lots of podcasts, especially Joel McHale and Ken Jeong's Community podcast, as well as getting to the books she hasn't had a chance to get to with such a busy filming schedule. She also calls it "a bit of a separation" in her tv habits, either watching reality shows Married at First Sight or Love Island or more heady dramas like Ozark and Mindhunter.
Harkavy, on the other hand, has been binging music. Herself a talented musician, she showed off her talents in the backdoor pilot. Would we like to see more singing in future episodes? "Yes. Yes. Yes." She brought up her ideas as they were developing the pilot, "I would like us all to sing together. You know, the three of us [including McNamara and co-star Katie Cassidy] sing and are musical. And I just think, why wouldn't we use that?"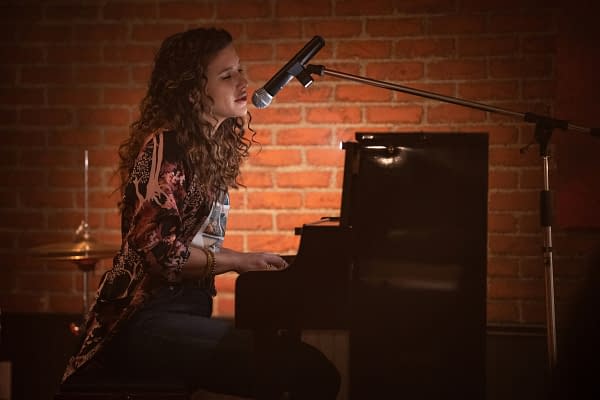 McNamara agrees, "Let's do an entire musical episode! The Flash did it!"
So What About Arrow Stood Out?
McNamara had a very specific favorite scene which was a giant emotional climax for her. She explains, "Each episode was a love letter and was hearkening back to what made Arrow so special and to its legacy. And I always call the Lian Yu episode [Purgatory] the "last episode of Arrow in its original form" because of this." And one of the last scenes in that episode was between me and Oliver, where they finally–finally– released emotionally." She explained the arc of several episodes had been the two sort of dancing around each other and pushing and pulling away, "And finally, they had this wonderful tearful release and they hug for the first time and the last time. It's such a touching moment. I had such a blast working with Stephen and that scene was sort of the culmination of all of it for me."
"Well, I got chills," Harkavy injected. Her favorite was a quieter moment near the end of their pilot, "I was quite emotional towards starting around like episode eight and I was like 'It's the end.' So just the very end of our pilot we toasted and said: "To the teacher"– that felt very real. And it gave me a lot of hope that there would be a teacher and that it wasn't the end."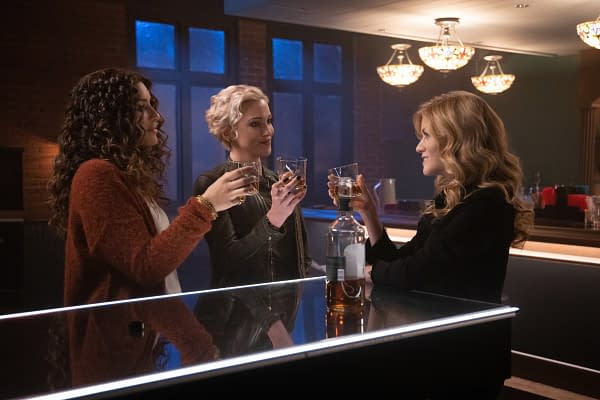 Both agreed that Arrow created a giant legacy, now an entire expanded Arrow-verse, and are excited to take their own next steps within that legacy themselves. After all, McNamara quipped, it would be a pretty big waste of a really cool custom superhero suit that they'd made just for her if they didn't. We'll see you on the other side, Canaries.
Enjoyed this article? Share it!