Arrowverse "Elseworlds": LaMonica Garrett Talks The Monitor's Look, Motivation
With the CW's Arrowverse's three-night "Elseworlds" crossover less than two weeks away (The Flash "Elseworlds, Part 1" airs Sunday, December 9; Arrow "Elseworlds, Part 2," airs Monday, December 10; and Supergirl "Elseworlds, Part 3," airs Tuesday, December 11), LaMonica Garrett's The Monitor/Mar Novu looks to be the catalyst for Dr. John Deegan's (Jeremy Davies) reality-altering ways – but everyone has their good side, right?
https://youtu.be/8ebyWI3sljg
In an interview with the fine folks over at CinemaBlend, Garrett discusses where The Monitor/Mar Novu lands on the "good guy"/"big bad" morality scale – but not before addressing how his version of the character compares to his comic book counterpart in 1985's Crisis on Infinte Earths (though first introduced in 1982's The New Teen Titans #21):
"Well, physically they nailed it. They got it on point. Marv Wolfman, he tweeted out, 'Just the look of him and he fits the part.' Now I got to do my job, but I think this Monitor, before he was on Crisis [on Infinite Earths], he was in the shadows. He was a weapons dealer for different villains.

So I think the writers did a great job bringing in the backstory on The Monitor without going back billions of years when him and Anti-Monitor we're fighting on the moon and Oa and doing stuff like that. The other Monitors, there have been bad monitors. There've been, you know, like Mandrakk. There have had been evil Monitors. There've been good Monitors. There's the version of Nix Uotan. This Monitor, I think the significance of him is just what he does and what he's been a part of and what he's about."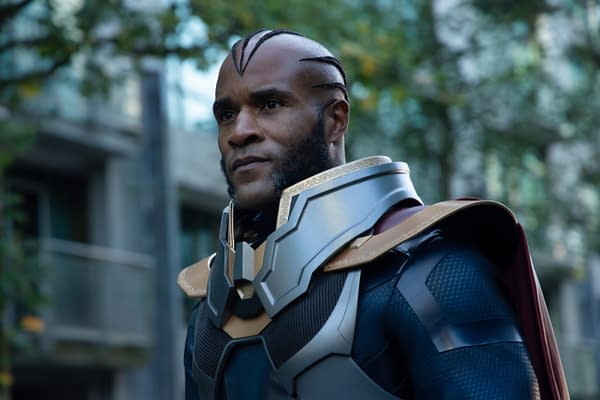 So is The Monitor/Mar Novu a "good guy" or a "big bad"? Just like in the comics, Garrett doesn't find his Monitor easy to label and believes his character's actions should be looked at from a "big picture" perspective:
"I think that's the fun with like watching it to see what he is going to do. And I think with the Monitor, you can't classify him as good or evil because he's done bad things, but he does it for a purpose in the comic books. He's about that balance.

So like I said, on Teen Titans, he was in the shadows, he was doing stuff, he was a weapons deal for villains. Like, why would someone who's good that wants to see all the good in the world, you're giving weapons to super villains. But in the end he sacrifices himself to be the biggest hero in the DC mythology. Like, he set the table for continuity. He did the most heroic thing. So how do you classify that? But I think what you just asked is what people are going to really dig, and watching it throughout the crossover, those questions will be answered."

If you're reading this then you probably don't need the reminder – but just in case, this year's event also brings us Ruby Rose as Kaye Kane/Batwoman, John Wesley Shipp as The Flash (???); Tyler Hoechlin as Superman/Clark Kent and Elizabeth Tulloch as Lois Lane – and possibly some cool surprises.
https://youtu.be/a058h7VoIh8
"Elseworlds, Part 1" — (8:00-9:00 p.m. ET)

EPIC ELSEWORLDS CROSSOVER KICKS OFF TONIGHT — When Barry Allen (Grant Gustin) and Oliver Queen (guest star Stephen Amell) wake up one morning and realize they have swapped bodies with each other, the two set off to find out what disturbed the timeline to cause such a shift. However, things quickly go from bad to worse when they present their case to Team Flash and the gang doesn't believe them. Barry and Oliver realize they need Supergirl's (guest star Melissa Benoist) help and travel to Smallville on Earth-38 where they end up meeting Kara's cousin, Clark Kent (guest star Tyler Hoechlin), and intrepid reporter, Lois Lane (guest star Elizabeth Tulloch). LaMonica Garrett guest stars as The Monitor. Kevin Tancharoen directed the episode written by Eric Wallace & Sam Chalsen.
https://youtu.be/q3AvlYhZtM4
"Elseworlds, Part 2" — (8:00-9:00 p.m. ET)

THE ELSEWORLDS CROSSOVER CONTINUES IN GOTHAM CITY WITH BATWOMAN (RUBY ROSE) — With Oliver (Stephen Amell) and Barry (guest star Grant Gustin) still stuck in the other's bodies, the two get a lead on John Deegan (guest star Jeremy Davies) and head to Gotham City with Supergirl (guest star Melissa Benoist) to figure out why their reality has changed. While there, they meet the mysterious Kate Kane (guest star Ruby Rose) who provides them with information that leads the group to Arkham Asylum. James Bamford directed the episode with teleplay by Marc Guggenheim and story by Caroline Dries.
https://youtu.be/rc4oMTTrbo0
"Elseworlds, Part 3" — (8:00-9:00 p.m. ET)

THE BATTLE CONCLUDES — Supergirl (Melissa Benoist), The Flash (guest star Grant Gustin), Green Arrow (guest star Stephen Amell) and Superman (guest star Tyler Hoechlin) engage in the battle of their lives. Jesse Warn directed the episode with story by Marc Guggenheim and teleplay by Derek Simon & Robert Rovner. https://youtu.be/-ojXMRuSC_w