Avatar: The Last Airbender: How Anime Fans Can Make a DIY Appa Card
This time I decided to try something new. With tension increasing everywhere we all need a little escape to keep our minds busy and distracted from reality at times. I thought: why not combine my biggest love, Art, with my newly found love for Avatar: The Last Airbender and create a little DIY card for a friend who is celebrating a birthday in the midst of solitude. However, a birthday is not a necessary event for us to reach out to those in our lives who are facing a hard time.
One of my favorite things to do lately is picking a random person in my life to do a little drawing or DIY craft for. Also, I recently got into Avatar: The Last Airbender, since I fell for so many characters I have been yearning to do some I must do all the fan art of most of them. I usually get very nervous, but we all need a bit of a distraction, and art never ceases to make me smile. Also, DIY crafts are my favorite way to bring smiles to those around me. It is so easy to customize little details to suit their personalities or fandoms. This one is for the friend who convinced me to re-watch Avatar: The Last Airbender all the way to the end.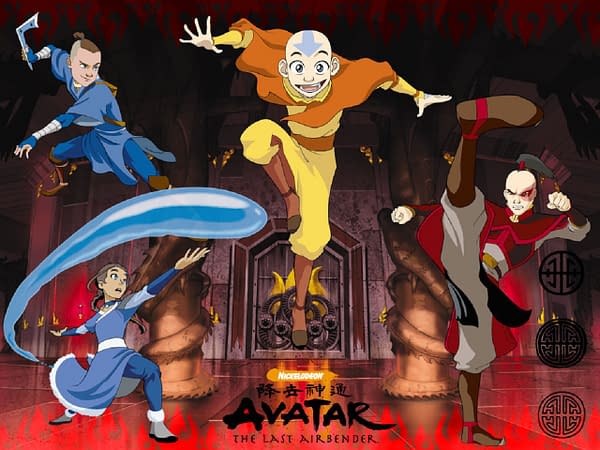 PLEASE NOTE: No copyright infringement intended and we're protective of artists' rights, so this should not be done to make money off of. This is a fun project to do for yourself or a fan in your life or to do with kids for a little evening fun. Remember to make it yours, change it up, do not trace. Enjoy the little mistakes, and change them for the better.
For this DIY, make sure to get your materials set, something to cover the floors or tables, and get ready to get messy and have some fun. The materials I will be using today:
Mixed media paper (I am using Moleskin, a big sheet, and then folded it as a card. Fabriano is my favorite as it absorbs better and does not tend to warp as much if you are using mixed media. If you use regular paper, I would recommend using pencils instead. Make sure to have an extra sheet nearby where you can test materials first.)
Pencil(s)
Eraser
Micron Pen (but you can use your favorite inking pens)
Watercolors
Acrylic paint
Brushes
Tacky Glue
Cotton
Old toothbrush
Container for water
Rag to clean brushes
A flat surface where you can mix colors
Find a comfortable spot where you can work and be messy without fear of ruining something or getting it dirty.
STEP 1: Lay your design. I looked for multiple pictures of Appa where I could get an idea of his body and get a good perspective of how he would look flying toward you ready to lick your face. Maybe because I really wish I could give him a big hug. Make sure to sketch it out with pencil first, so you can tweak to your heart's content until you are happy with the design. Make it fun, make it yours. Do not be scared of making mistakes as it can often lead to new ideas.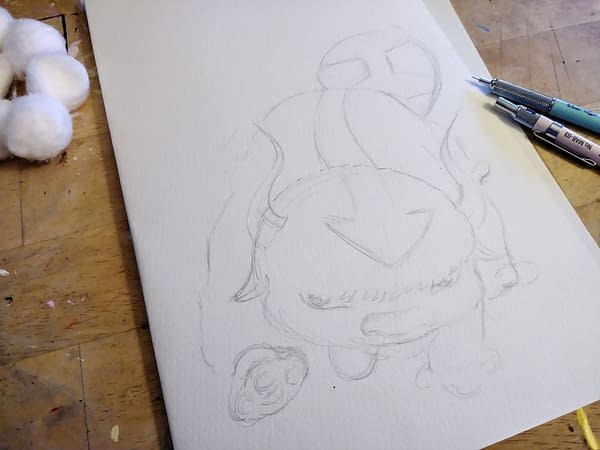 STEP 2: Ink the drawing.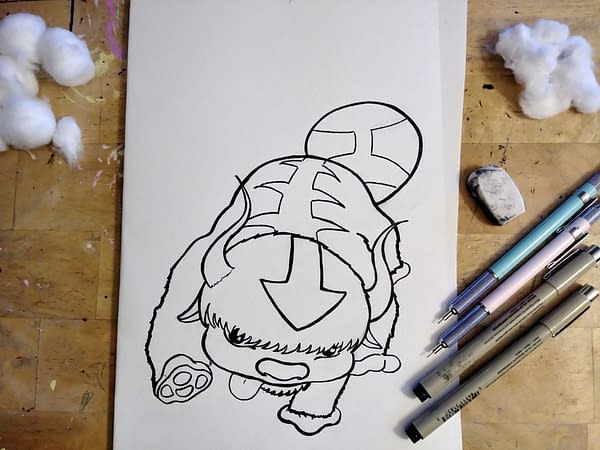 STEP 3: Paint it. Make sure to have the extra paper nearby to test the colors you want to use before you try it on your drawing. Try different methods or color saturation to see which you like better. If you are using watercolors remember you can get different colors depending on how much water you use. Do not be me, try painting the background first– if you make any mistakes you can always get some white acrylic and paint over Appa's fur. I used watercolor for Appa and acrylics for the background. I was going for more of a dawn color palette (soft pink, purple, and blues), but it turned out a bit darker than expected as I did not use as much white on the paining itself. Make sure to wash your brushes thoroughly after.
Little advice: try taping your drawing to a flat surface before applying paint, as it warps.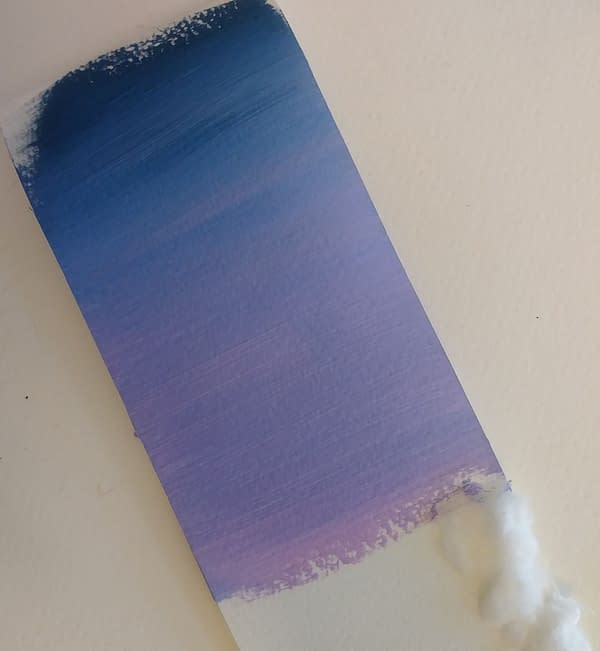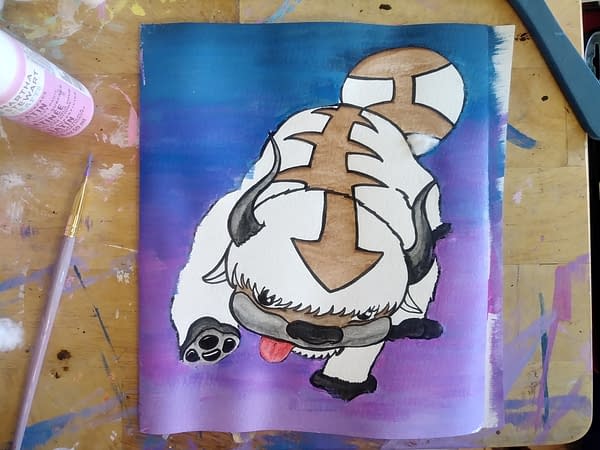 STEP 4: If you were like me and did not have tape, the paper probably warped a bit. You can put it under a few books for a couple of hours to flatten it out after it dries. Go over the edges with some ink afterward if the paint dripped over.
STEP 5: Get the cotton balls and tacky glue, and be ready to feel like a kid again. Try ripping bits of cotton and applying it little by little. Make sure to wash your hands well before this step as any bit of dirt will stay stuck on the glue/cotton. You can get gloves as well. Like with the pain, make sure to try it out on a different piece of paper before trying it on your main card.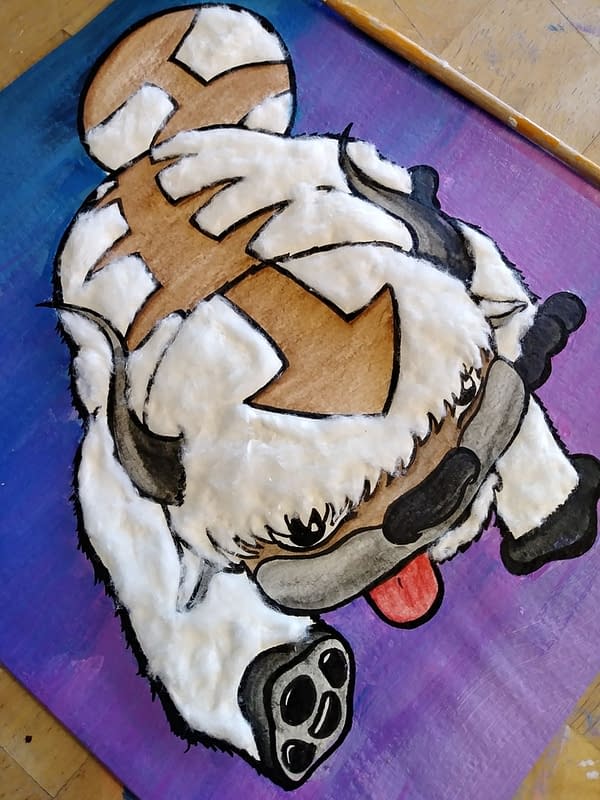 STEP 6: You remember the toothbrush? I think those skies are in desperate need for stars, how about we sprinkle some. Lightly tap your toothbrush over some white acrylic paint. Cover Appa to make sure the paint does not fall over him and flick the bristles to your heart's content. I love seeing different sizes and clutters of starts here and there.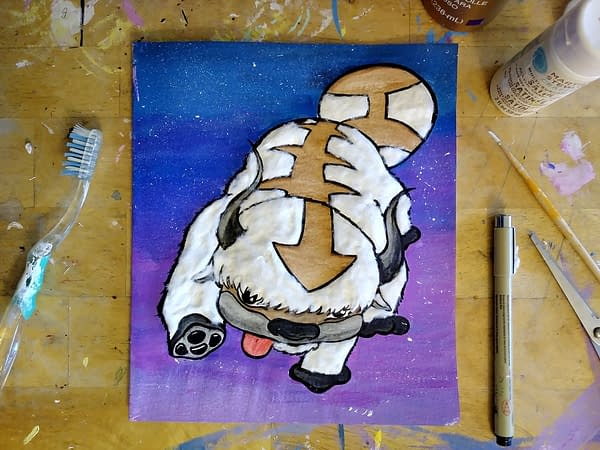 STEP 7: Customize! Since this card will be a Birthday theme, I am adding little cut-out balloons I did out of construction paper. You can paint them as well. I will be using double-sided tape to give it some volume from the paper and make them pop out more.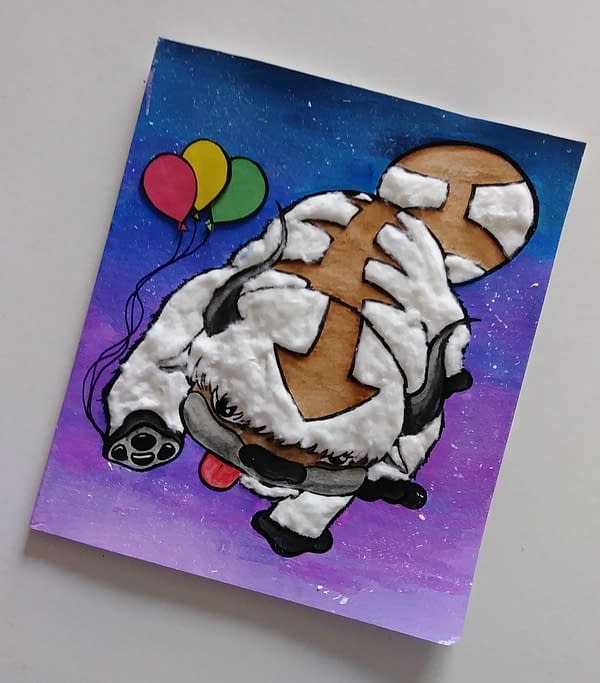 And ta-da! You got your DIY Appa card. A little fun craft to keep your mind and body distracted, and have some fun in the meantime while also bringing a smile to someone who needs it.