Bad Bunny and Damian Priest Debut on Raw Roster
Bad Bunny once again made an impact in a WWE match. The multi-platinum recording artist got Miz eliminated from the Royal Rumble last night, and tonight he cost Miz a match against Damian Priest. Oh yeah, Damian Priest made his main roster debut too. It's been quite a night.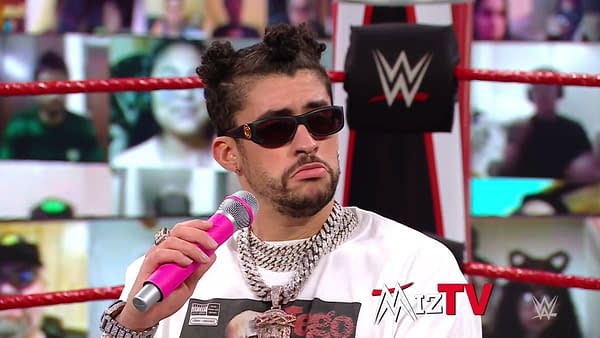 From our full Raw report, which will be published after the show, here's what happened:
Miz TV

Miz and Morrison head to the ring for one of their stupid talk shows. They blather on for a while and then bring out multi-platinum recording artist and wrestling fan Bad Bunny. Tom Phillips nearly ejaculates while talking about how many YouTube views Bad Bunny's hit song Booker T has.

Miz plays a video recapping Bad Bunny's part in the Royal Rumble last night, which, if you missed it, was to perform Booker T live. Then, after he rejected Miz and Morrison's offer to team up with him, Miz smashed his DJ equipment, so Bad Bunny came out during the Rumble and got him eliminated and then hit a splash off the top rope on both Miz and Morrison.

Miz says they were both wrong and should apologize. Miz goes first. Bad Bunny doesn't reciprocate. Miz says he can help Bad Bunny achieve his dream of becoming a WWE Superstar. In exchange, Miz and Morrison want Bad Bunny to help them record an album. They sing a Spanish version of one of their dumb songs. Bad Bunny is unimpressed and not interested in the deal.

Now Miz is mad, but Bad Bunny says the reason he came here was because a good friend of his wanted to be on Miz TV. Damian Priest, who was in the Rumble last night is apparently now on the Raw roster, comes out. Now that's how you make a main roster debut! Priest levels Miz, and Raw takes a commercial break.
And that segment turned into a match between Miz and Priest, in which Bad Bunny played a role in the outcome again. Once more, from our Raw report in progress:
Miz vs. Damian Priest

When it returns, it's Priest vs. Miz, which is cool, but not as cool as if it was Priest and Bad Bunny vs. Miz and Morrison. Priest is great. And his arrival is very welcome on the Raw roster. But I wonder if the NXT call-ups have kind of lost their luster with WWE's sinking ratings. At this point, it's not a small portion of the audience that watches NXT. It's at least half the audience.

Anyway, Miz and Priest have a match, in which Priest shows off his moves. For the finish, Morrison tries to help Miz cheat with the Money in the Bank Briefcase but Bad Bunny stops him then clocks Morrison with his microphone. Priest hits The Reckoning and it's over.

Winner: Damian Priest
So Damian Priest is officially on Raw, it seems. As for Bad Bunny, he's getting more TV time than some full time roster members, so I hope WWE has signed him to a contract. Check back after 11 for the full Raw report on Bleeding Cool.