Batwoman S02E09 "Rule #1" Review: Black Mask vs Defund the Police
We all know Batman has "One Rule"– and Kate Kane in her time as Batwoman did her best to not violate that one rule. But this week's episode of Batwoman has Ryan Wilder (Javicia Leslie) and the rest of Team Batwoman rewriting the rules in order to get at the root problems of what truly ails Gotham. And in this episode, we find out that part of what is truly ailing Gotham is the new big bad Black Mask aka Roman Sionis (Peter Outerbridge– check out Bleeding Cool's interview here). Publicly as a cosmetics magnate Sionis has one agenda, but we also find out more about his plans and the False Face Society. It's fun to watch as Outerbridge really makes a meal of his scenes.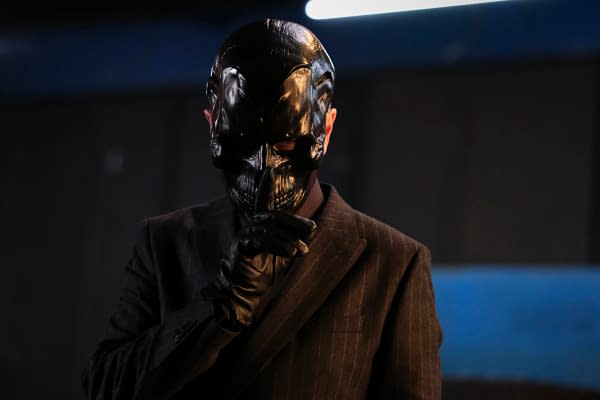 The show also really leans into social commentary in this episode as well, as we meet Sophie's (Meagan Tandy) little sister Jordan (Keeya King) who happens to be a pretty determined political activist. Her top priority? Defund the police, and she faces off against Gotham's police commissioner, telling him exactly what those words mean (investing in social programs, not payouts for police violence) and he pushes right back: it's an elected office– you run for it! Well, before she can, she ends up witnessing his assassination by the False Face Gang.
As she's on the run, she accepts help from both her sister and Batwoman, but not before condemning both of them as being part of the same corrupt system the police are part of. It's really well-done, and you can almost see the clockwork turning in Javicia Leslie's head: Batwoman can and should be more than just vengeance. Hit me with this all season long, every episode. This is where Batwoman can really live apart from a lot of the other CW shows and a place that Arrow always should have gone but never did.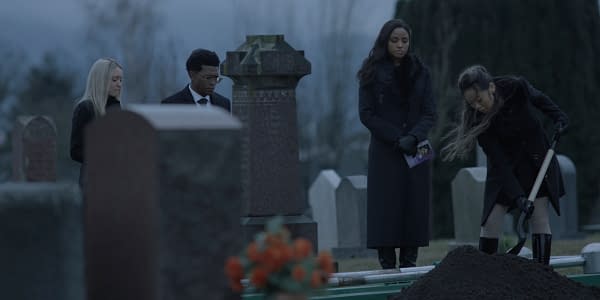 The episode also starts with a major emotional moment. The established trope from Season 1 of Kate Kane writing letters to Bruce Wayne, then transitioning to Season 2 characters writing to Kate likely ends this week as everyone writes a farewell letter to Kate and attends her funeral. This is a big moment for everyone to say goodbye, but of course, we as the audience learn more about Kate's actual fate than the rest of our protagonists.
We also get some other fun moments as Alice (Rachel Skarsten) has a dissociative event dealing with the life or death conundrum of her sister and, like most things dealing with her fragile psyche, are absolutely amazing to watch. Skarsten is uniquely tuned in to the energy of this show and you could set your thermostat by how perfectly she matches the tone the show is trying to go for.
Batwoman will be back in two weeks, April 11, with "Time Off For Good Behavior" airing at 8/7 CT on The CW.
Batwoman Season 2, Episode 10 "Time Off For Good Behavior":CAN'T GET YOU OUT OF MY HEAD – As Batwoman (Javicia Leslie) focuses even more effort on taking down Black Mask (guest star Peter Outerbridge), a new foe emerges, diverting the Bat team's attention to a distressing issue in Gotham. Continually haunted by the mistakes of his past, Jacob (Dougray Scott) travels down a dangerous path in an attempt to eradicate them. Alice (Rachel Skarsten) and Julia (guest star Christina Wolfe) discover they have an enemy in common. Also starring Meagan Tandy, Nicole Kang and Camrus Johnson. Eric Dean Seaton directed the episode written by James Stoteraux and Chad Fiveash.