The BC Long Read: Talking With Susan Wokoma About Crazyhead, Abortion Comedy and The Year Of The Rabbit.
Tonight sees the debut of Susan Wokoma's new comedy thriller, The Year Of The Rabbit, alongside Matt Berry and Freddie Fox. It's been a long time coming. I got to see the first couple of episodes at the BAFTA theatre a couple of weeks ago, and to talk to Susan on Friday.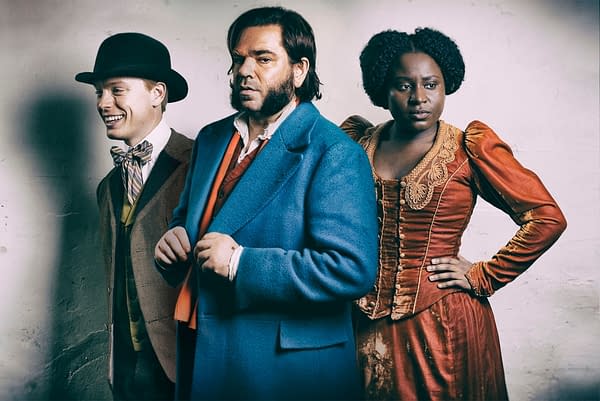 Wokoma may also be well known for her turns as Michaela Coel's sister, Cynthia in Chewing Gum, one of the leads' co-worker, Jessica in Phoebe Waller Bridge's Crashing and most significantly as Raquel, the lead in E4/Netflix's Crazyhead, as well as turns on Misfits, Bluestone 42, Zapped, Hotel Trubble and the recent Porters over the years.
I clearly had a lot to cover and ran out of time with so much more to ask – her first forays into television with early kids reality shows, her drama schooling and her extensive stage work – I went to see her in Labour Of Love with Martin Freeman and Tamsin Grieg a couple of years ago – but it was her recent stage work where we began, as that's what she'd been up to this week.
She had a day off (hence, why she could talk to me, even if just for half an hour) but she is currently in rehearsals for A Midsummer Night's Dream, for the Open Air Theatre, opening in Regents Park on June 28th.
It's not her first Shakespeare, it follows her joining the cast of Phyllida Lloyd's all-female Donmar Warehouse productions of Henry IV and Julius Caesar, when they played in New York's St. Ann's Warehouse back in 2017. Those were intentionally non-traditional productions, plays within plays, set in a prison, while Midsummer is her first Shakespeare on home turf, with a local flavour but that brings its own problems. She told me,
"This is the birthplace of the bard, so there's a lot of people with knowledge and opinion out there on how it should be performed, whereas in the States they were ready to see it done in whatever way we wanted to present it. You're always going to deal with more 'purity' here in England, but I'm not worrying about that and having a lot of fun. It won't be like the ones that have come before…"
Playing the classic role of Bottom, I asked how she felt being cast in this role because of her demonstrable comedy skills. It's something she embraced – and has been encouraged to do so by director Dominic Hill. "Dominic asked me to go with my gut, as it were, to what I think is funny, comic timing and dare I say it, a little bit of improv."
The year that wasn't.
Improvising Shakespeare? I can see how that might upset some… which got me right onto what else happened to Susan in 2017. Because while 2019 seems to be looking like Susan Wokoma's year, that also seemed to be true of 2017. That was the year she was playing Shakespeare (twice) in New York, got a BAFTA Breakthrough Award, was on the Forbes 30 Under 30 list, had a major role in the critically acclaimed Chewing Gun, and Crazyhead was released – not just in Britain on E4 but also on Netflix.
But when Crazyhead did not get a second season, Susan Wokoma's promising career seemed to fade away. After 2017, she got little other work, and to an outside viewer like myself, it felt like a bit of a letdown. She disappeared.
Now, after two years, it all seemed to be happening for her again. I asked her how she herself saw that period
"I think that's pretty much bang on. Lots of things were set up in 2017, which were lovely, great and unexpected, then the following year… in a way I kind of loved this is what happened, it's the nature of the beast, the big thing in 2018 was writing, and in a way, you start again." 2017 opened lots of doors for her, to take control of her work and career, but these changes in what she can do in her career have taken time to coalesce. Pretty much, a couple of years."
"BAFTA were great for that, lots of meetings I had with them were about this change, they put me in touch with a lot of writers and producers, ultimately led to commissions. We filmed the pilot of Year Of The Rabbit in 2017. We were meant to shoot it in 2018, but that was postponed with Matt doing What We Do In The Shadows. So actually I had a chunk of time when I was meant to be committed to Year Of The Rabbit where I was like, oh what do I do now? Another film that I did fell through… this is a side of things you don't really hear about. So I'd say that the end of last year everything just went on acid. Straight out of the gate, Year Of The Rabbit filming on the 2nd of January, my birthday on New Year's Eve, I didn't even have time for a hangover. We started the year running, and I haven't stopped since."
As for the letdowns, "When things come together, it feels really good, and also you can enjoy it more, if everything always falls into your lap, you don't appreciate it. There was a play I was meant to do last year, in my year of really strange things not working out, at the Young Vic, and then the dates for Year of The Rabbit completely clashed. But that's what happens when you get involved in projects a lot earlier. You're more privy to when things don't work out and things having to change, whereas before, when I left drama school, you're cast and you're the last person to get involved in it. You start in a couple of weeks."
"How do I say this without sounding like a complete knobhead? That's the downside of doing really well. You get involved in projects a lot earlier. And earlier is good, you see a different formation. The movie I was talking about, I was signed up for super early – and then it lost funding and you could see it fall apart, and you're like, oh my God, but this happens all the time."
I am going to confess, this is something that never really hit me before. Success sees actors involved in projects at an earlier date meaning they are more likely to suffer from projects falling apart, so the more successful you are, the fewer projects make it to the public, something I hadn't considered. It's always good when an interview like this makes you realise aspects of the trade that you simply hadn't twigged before. I was on a role, and giddy with this realisation, I took the opportunity to share my children's love for her as Daisy in Hotel Trubble – several years ago, but still fresh in their minds.
"That's hilarious, a very fun job, to leave the Royal Academy of Dramatic arts to be in this very silly CBBC comedy about totally inept hoteliers, it was awesome, I'm glad I contributed to people's childhoods."
The oh-so-common experience that no one jokes about.
From there, it felt a natural jump to talk about the project that took up so much of 2018, was helped by BAFTA and was only recently announced, writing a movie, Three Weeks which Wokoma describes as a romantic comedy about abortion. I asked her about that choice of subject.
"I'm always interested in life to the things that happen in life that are difficult, and the humanity that surrounds it. Something like abortion happens to one in four women, it's so common, of course, you are going to have stories about abortion with humour, that's inevitable. I've spoken to so many women, family members, and every so often someone will go, 'oh yeah, this happened, that happened as well on top of that, I had a termination, and then I had had to go for this really weird job', life doesn't stop for a breath." Though she wanted to clarify she wasn't using other people's stories to do so. "What inspired me was speaking to other women, I take a lot of care and responsibility in not including other people's stories because that's not very nice."
As to presenting a comedic side of what for so many is a very serious subject, "I wasn't trying to think of a very difficult situation and then try and slap humour onto it. This was my experience as well. Writing anything about abortion… it's too common, it should be spoken about. And everybody else seemed really ridiculously keen." I noted that did seem to be back in the news again in a way that it just hadn't in recent years and asked if that was an inspiration. It seems not.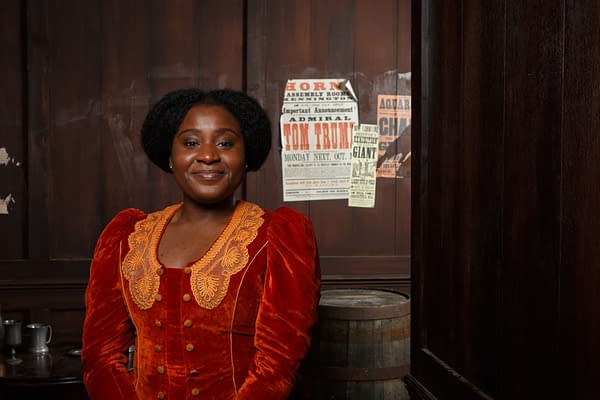 "I had this idea for quite a few years, say, three years, and then it was in the New Year whilst I was shooting Year Of The Rabbit that BBC Films got on board. The announcement was in conjunction with the Cannes Film Foundation, and at the same time, we learned what was going on in Alabama. So it gained a lot of traction in a way. It's good that we're talking about it, making a film about it, but fact that it's still happening on the other side of the world and we still have problems in Northern Ireland, it highlighted how free I feel about talking about it where there are places in the world where it doesn't have that attitude and how sad that is."
I also asked about a new CBS comedy pilot she co-starred in, Super Simple Love Story. "I shot that a couple of months ago, and that was really my first big experience of you know the US TV network system. Which will make a lovely chapter in the memoir, because it's as big and as bonkers as you'd think it is. The amount of budget, scale, amount of people, all the rewrites, all of that but I was landed with a really gorgeous lovely team, Mike Royce, showrunner, really generous man and really looked after us all. But it was a brilliant experience. You know this idea of Hollywood being where your soul dies, but I actually had a super pleasant time. It's a really sweet story. Haven't heard yet, but fingers crossed…"
Whatever happened to Crazyhead?
I told Susan that I thought the thing that would have made her big stateside was Crazyhead, the demon-hunting comedy-drama of the Angel/Buffy school from Howard Overman she starred in, in 2017 from E4 and Netflix – that everyone I knew who watched it seemed to love. Bleeding Cool went full behind it and Susan was, without doubt, the utter standout of the show. But Crazyhead disappeared without a second series. So… what happened?
"It's been a good few years now, I can talk about it. We absolutely loved the show and put our all into it, filming was a ball and I absolutely love those guys. What happened was timing. So. It was a co-production, Channel 4 and Netflix, Channel 4 had the rights to the show, by the time the show aired there, the worst luck, there was no one left at Channel 4 who worked on it."
"It was hard, you have these heartbreaks, we were all really gutted, we found out early in before it finished airing, we knew. The thing is on Netflix, it continues to live on and I'm so unbelievably proud of it and I'm so glad people are still discovering it because there was a time when you'd do a TV show and it disappears and no one knows what it is. But I am so proud of it, and it opened so many doors for me, I have nothing but gratitude to that show."
I asked if there were other comparable heartbreaks she's had in her career.
"Crazyhead was the biggest heartbreak. In terms of Chewing Gum not going ahead, I was an actor on that job and in the UK we don't do the American thing when they sign you up for seven years, you've got to have the mentality of when a job is finished, it's finished , you can't sit around waiting, even on Year Of The Rabbit, we haven't been optioned… but on Crazyhead we were signed up for three years, I think that was the Netflix element for a co-production, they wanted to know you'd be able to do it again."
"After I got Chewing Gum, I got Crazyhead and that was filming at the same time. So there was a month I was doing both, had to film Crazyhead in Bristol and then drive to London to film Chewing Gum and that's because we weren't optioned for Chewing Gum, you can't as an actor as a freelancer to hang around waiting for jobs that aren't concrete, but it does make a logistical nightmare. Though my agent was really thrilled."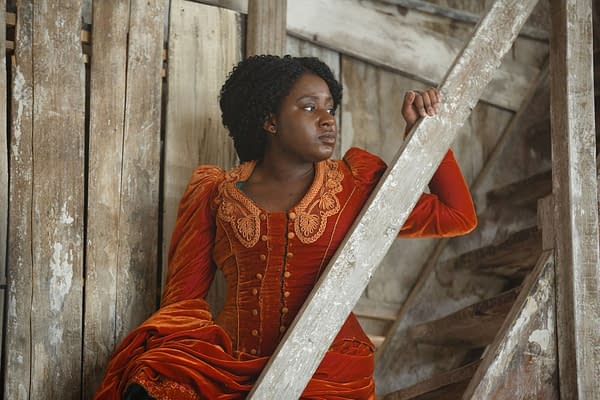 The time was ticking, and we'd only just touched on The Year of The Rabbit, the reason I was getting to have this conversation. A Victorian police procedural comedy directed by Sex Education, Cuckoo and Catastrophe's Ben Taylor, written by Veep, Tracey Ullman and Harry Enfield writers Kevin Cecil and Andy Riley. starting on Channel 4 tonight and coming to IFC in the US. And it is glorious. I'd seen the first two episodes at BAFTA a few weeks ago and was most taken with them, especially Wokoma's performance as Mabel, the daughter of the police chief, wanting to join the gang. That no woman had ever been a member of this Victoria East End police force – or any police force anywhere, ever, doesn't seem to faze her, as she joins hard-as-nails long-in-the-tooth alcoholic bruiser negotiating the politics of the street and the police HQ, Inspector Rabbit, played by Matt Berry, and fresh-out-of-university, optimistic and prissy Strauss, played by Freddie Fox. With Wokoma making the threesome and cursing up the joint to match Berry. Indeed, with a quota of one C-word in the two episodes, she's the one who gets it rather than Matt.
Set dynamics.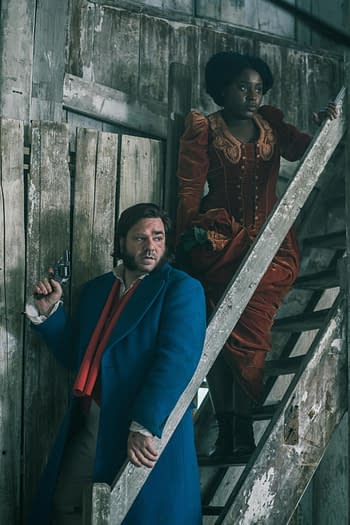 With Matt and Susan both having the most forceful voices on the show, I wondered if she felt there was any competition on the show. She put me right, fast.
"None whatsoever. I only knew Matt from Darkplace and Toast, I didn't know him personally at all, but we really got on, I do think he's a genius. Oh God, now he's going to bloody love this. He's amazing, he's really nurturing of me and Freddy, he was so set on the three of them being friends. You know you have those setups where the main characters are a bit in competition with each other. You've got the initial setting-up-the-wrong-way in episode one but then they get on with it and they're a team and a unit. And I really felt that while filming it, I felt that afterwards, and since seeing him last night. Lovely. No competition."
"I had a lot to learn and I love learning. I never turn up thinking that I'm the finished product, you can always learn. But I think he learned a lot from me and Freddie too, Freddie coming from a largely TV drama background, and me dealing with all the crazy stuff I've done. He was working with two people that ordinarily his path wouldn't cross, and that brought out a lot of great stuff in him. It was an absolute dream working with them, I wish there was a fight story someone."
Gestation period of a rabbit.
There's still time. But with such a long gestation period – rabbits themselves only get a month – I asked her how she felt about the show now.
"We actually had another cast and crew screening which I love to get to see the gang again and we actually watch episodes 4 and 5 which I'd not seen before but I got to see Dill's stuff, Craig Parkinson's stuff, and Sally's stuff which I hadn't seen before, testament to the script, Matt, the producers that we all had a massive gap and still all wanted to make it work and all come back and it all worked out, it's as brilliant as we thought it would be. Of course, that means nothing when you give it out to the public. That you can never, never predict."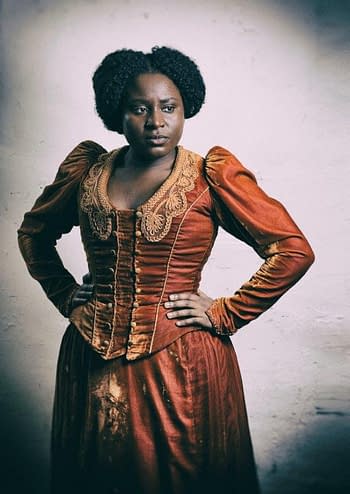 "I'm quite hyper-critical of myself but I do look at at the whole thing. I think I don't know how you could've done that. Big big props to Ben Taylor. I mean it couldn't be more different to Sex Education or Catastrophe if I tried and it's a work of genius. I'm thrilled, I hope people like it, but I was laughing so hard and that's all that mattered. I hope people like it and get a second series. But I'll keep doing what I've always done."
As to making the show itself, her first period drama, the corsets were a bit much.
"It was hard, I'd never done period before, I spoke to a few of my mates, one of the actors in Derry Girls is in Harlot, and she was like 'good luck with it, gooood luck with it'. In the pilot, it was hard to be funny and run and pick people up in this. And in January it was freezing cold… but it looks great, and ultimately that's the most important thing. I do like that me, Freddy and Matt all wear the same clothes, evokes that superhero thing."
Black Panther 2 time?
Well, that brought me onto something else. Susan played the voice of Black Panther's sister Shuri in the Lego Marvel Super-Heroes 2 animation, I wondered if, like so many other British actors, she had any more Marvel roles in mind?
"Everybody in their right minds knows there's going to be a Black Panther 2 and I want to be in it. There I've said it."
She did. 2021 will come around sooner than you think. And by then, Susan Wakoma should be very well known, a big new production of Shakespeare, a new CBS sitcom, Year Of The Rabbit, starting tonight in the UK and then moving to IFC, the romantic comedy about abortion – and no doubt much more she can't talk about.
Marvel Studios, your move.
Here's a trailer for The Year Of The Rabbit, on tonight at 10pm on Channel 4, available for streaming on All4 after that, and IFC in the US sometime soon. There's also the first ten minutes of the first episode below that. Crazyhead is also still on All4 and on Netflix and I'll run a trailer for that too…