Benedict Cumberbatch Has Issues As Patrick Melrose
Showtime has released the first trialer for Patrick Melrose, a five-part series starring Benedict Cumberbatch, Jennifer Jason Leigh, Hugo Weaving and Anna Madeley. The series is based on the semi-autobiographical novels by Edward St. Aubyn.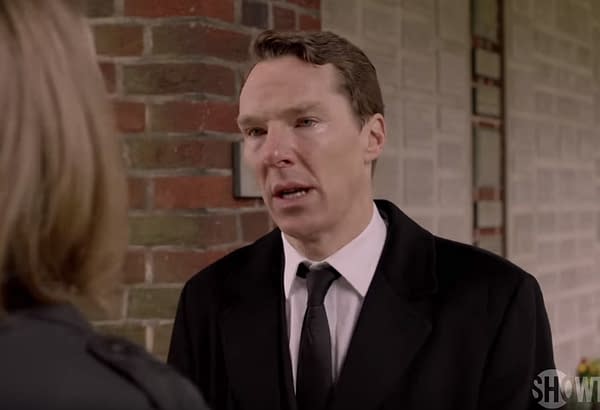 The books show Aubyn's life growing up in a highly dysfunctional upper-class English family, dealing with both of his parents death, his alcoholism, heroin addiction and recovery, and finally marriage and parenthood. The Melrose books are known for being stories of decadent aristocracy while showing the futility and triviality of people with inherited wealth. The books are considered a powerful exploration of how emotional health can be carved out of childhood adversity.
The series is five novels: Never Mind, Bad News, Some Hope, Mother's Milk, and At Last with each episode tackling one. They will be written by David Nicholls and directed by Edward Berger. Leigh and Weaving will star as the parents of Patrick Melrose (Cumberbatch). Madeley will play Melrose's wife.
The series will cover all of Patrick Melrose's life, starting with his horribly abusive youth at the hands of his father (Weaving) and his mother who condoned the behavior (Leigh), moving on to the outrageous playboy Melrose becomes and the struggles he endures to defy the damage of his own past.
https://youtu.be/JQh36eStMqk