"Big Little Lies" Season 2 Episode 5 "Kill Me": Quit Playing Games with Our Hearts! [SPOILER REVIEW]
HBO's Big Little Lies episode "Kill Me" left us reeling with nail-biting cliffhangers. We've been so focused on Mary Lousie's (Meryl Streep) sabotage and haven't paid enough attention to the other newcomers this season. Turns out MJ isn't the only cunning bad mutha- shut-your-mouth in town. There's quite a bit to process. It is hard to believe we only have two episodes left this season!
First of all, let's take a moment to give Adam Scott a shout-out for the amazing work he's doing this season. We all know these ladies are crushing it, but Scott has delivered an understated standout performance each week. Ed is a good guy, an everyman, the Tom Hanks of Monterey, if you will. He's the perfect husband, an adoring father, and a supportive friend. Everybody likes Ed and finds him amiable – except for Maddie's (Reese Witherspoon) jerk of an ex, Nathan (James Tupper).
With that said, this is what happens to a good guy scorned:
He's done playing games and wants to live honestly. Maddie made a fool out of him and he's had enough. What's the point in pretending? Ed and Nathan don't like each other and there really is no reason to exchange empty pleasantries. Maddie is the middle-woman anyway. Each father figure has his own relationship with Abigail (Kathryn Newton). Ed obviously put up with Nathan's douchery for Maddie's sake and that doesn't really matter to him anymore.
Honestly, I'm totally on Team Ed. It hurts him to be this cold because he has such an instinctively caring nature. We've seen it in the way he's treated his family and friends – especially his girls. I mean the hug and man tears, it is all too sweet…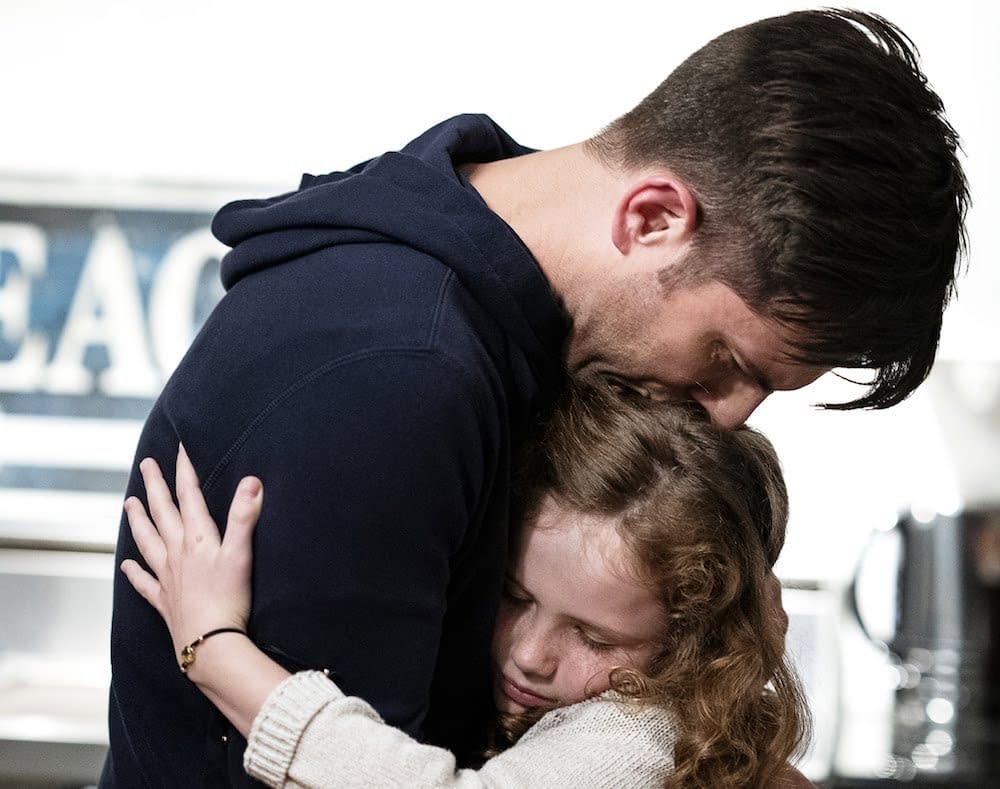 That's what makes his confrontation with Maddie so heartbreaking. Their first date was like a job interview and she never wanted him in the same way he wanted her. She was with him because he provided stability, but then she causes chaos by having an affair. Now the best she can do is promise never to cheat again. Really?!?
Well, Maddie may not lust after Ed, but "Boobs MGee" clearly has the hots for him. Will he level the playing field by having an affair? Would that help him reconcile with Maddie or break up their marriage for good? Does he even have it in him to cheat?
Then there's the somewhat "hidden mama drama." Cecelia (Jeryl Prescott) physically and psychologically abused young Bonnie (Zoe Kravtiz). Was she violent because of her visions? Does Bonnie avoid her abilities for fear of becoming like her mother? How accurate are their premonitions? Glimpses of their ominous visions and heart-breaking flashbacks are upsetting and only prompt more questions.
As if all of that isn't bad enough, Cecelia asks Bonnie to kill her. What?!? Does Cecelia assume Bonnie could easily kill her own mother because she shoved Perry (Alexander Skarsgård) to his death? You'd think matricide would push her over the edge even more. If she already sees Bonnie drowning, then why the hell would she ask this of her? This episode jumps from one bad motha to the next…
Damn you Streep for so being so effin' fantastic. I even love to hate her. The stoicism with which she portrays Mary Louise is spellbinding. We can see where Perry inherited his calculated aggression. She is pushing Celeste (Nicole Kidman) so close to the edge that Kidman can't even keep a handle on her Aussie accent.
This custody battle is brutal! ML knows how to push all the right buttons. It is impossible to stay calm on the receiving end of such blatant cruelty. Perry used his fists, but ML packs an equally severe punch with her strategic head games. She is screwing with everyone and it is so deliciously villainous. All I can do is throw my hands up and praise the brilliance of Ms. Streep.
Reneta's attempt to spend quality mother-daughter time with Amabella is hilarious. But she probably would not have bothered if ML did shame her maternal choices and overall priorities in life.
It'll be interesting to see what kind of long-term effect ML's influence has on the Monterey Five. For now, Maddie expresses what we're all thinking.
At this rate, Jane (Shailene Woodley) should also be worried about ML's intentions. The way she keeps talking about how she needs to protect the children, you know she means all three of Perry's sons. Gotta give Jane kudos for standing her ground. She confronts Mary Louise whenever necessary, but avoids getting on her bad side by playing nice-ish. She's also trying to move on from the past.
On of the most heartbreaking moments of the episode was watching Jane desperately try to push past her PTSD and be intimate with Corey (Douglas Smith). When she bursts into tears, he insists on taking it slowly. What a sweetie! The kids love him, she feels safe with him, everything about Corey seems too good to be true… and maybe it is.
Dun, dun dun!!!
This final montage shakes everything up. Is Corey an undercover cop working with Detective Quinlan (Merrin Dungey)?!? Is Bonnie going to confess to killing Perry??? It was self-defense and an accident! Will Ed bang "Boobs McGee"? Is she working some sort of angle, too?
Geesh it feels like no one can be trusted. I'm on edge until the next episode of HBO's Big Little Lies, which promises more conflict and hopefully provides some highly anticipated answers.
Big Little Lies season 2, episode 6 "The Bad Mother": Celeste is blindsided by Mary Louise; Bonnie contemplates a solution to her mother's suffering and her own ongoing guilt; Ed entertains an unusual proposition; The Monterey Five feel the pressure of increased scrutiny of Perry's death.
Big Little Lies airs Sundays at 9 p.m. on HBO.