[Breaking] Pilot Script Reportedly Finished for 'Mega City One' Series [SDCC 2018]
Photo and Info courtesy of Bleeding Cool's Marcos Salinas:
The long-awaited and feared limbo-bound Judge Dredd television series, Mega City One, reportedly has finished pilot script and is currently seeking out a United Kingdom filming location. All of this was announced at the 2000 AD Thrill Hour in San Diego Comic-Con today by 2000 AD writer Michael Molcher.
Mega City One has been in the air for a while, with some believing that the series was going to be perpetually stuck in development hell. Molcher arguably put those fears to rest with this announcement of a script and scouting locations.
They are currently keeping it all on the side of a soft announcement while they get some of the finer details in line. They want to keep filming domestic, so in the UK. They plan to make a more substantive announcement in a few months, and they hope to have a streaming service for the show by then.
Below is a photo of the panelists joined by a pair of Judge Dredd cosplayers. Among their number is none other than Dave Gibbons, artist and frequent Alan Moore collaborator who worked on Watchmen itself.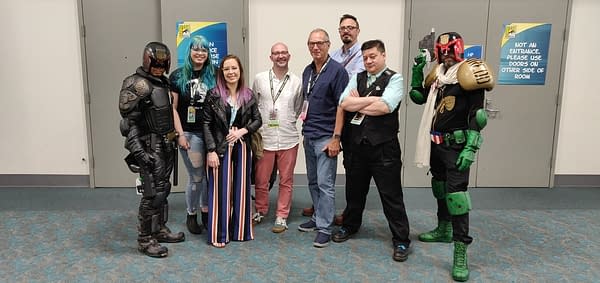 We'll deliver more details as we receive them, so remember to check back to Bleeding Cool later. See you then.