Frightening to think how long it's been since there was a Stargate series on television, and how long it's been since the film was released.  Looks like fans of the all encompassing universe will want to attend San Diego Comic Con this year, as there is a landmark panel planned.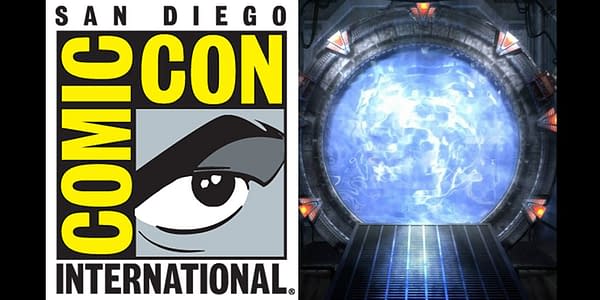 On Thursday July 20th badged attendees will want to head to the Marriott Marquis Grand Room 1 & 2 for a special panel set to start at 6pm and run til 7pm:
It's been 20 years since Stargate SG-1 premiered and almost 25 years since viewers took the first interstellar trip to an ancient world with the original film. Join Damian Beurer (Host, Legion M co-founder), David Read (Gateworld), and special guests as the gateway reopens to celebrate the fandom, and explore the next chapter in the Stargate Universe. With exclusive news, sneak peeks, and giveaways, devoted Stargate fans and new fans alike will prepare to embark on a new journey.
The panel will be hosted by Damian Beurer (Legion M) and GateWorld's David Read. Sam Toles, who is Senior Vice President of Digital & New Platforms at MGM, and Kieran Dickson, Stargate Consultant & Editorial Director are on hand to join the discussion.
Many rumors abound as to what the panel might announce, the most popular being news of the canceled reboot of the Stargate universe.  We were supposed to get a franchise restart, but the failure of Independence Day: Resurgence is probably to blame for Roland Emmerich and producer Dean Devlin's plans being halted.
It could also be an announcement about an upcoming TV series, although that seems unlikely as there hasn't been any current realistic chatter about it.
Sources close to the panel haven't been forthcoming with any information, but urge all true Stargate fans to "REALLY, be there".
San Diego Comic Con (SDCC) takes place July 20th-23rd 2017.
Enjoyed this article? Share it!