'Deadly Class' Review: "Mirror People" Makes For a Bloody 'Breakfast Club' [SPOILERS]
Deadly Class just introduced us to their version of a "Red Shirt" in "Mirror People," the fourth episode of SYFY's quite excellent teen assassin drama.
First, though… we get an homage to Risky Business through Brian Posehn's slubby drug dealer Shandy, who is still lounging about in Shabnam's parent's house. Posehn is elegant and ephemeral as he dances around in his underwear, guzzling booze and trashing the house. It's a daring scene, and Posehn should win every award ever created for how he applied his trade-craft here.
The Hooded Monks have summoned a group of Kings Dominion students to the library. Each has done something wrong, but the main reason they are there is for breaking the cardinal rule at Kings: they got caught. Saya (Lana Condor) is distraught, isolated for so long without her sword. Marcus (Benjamin Wadsworth) tries to cheer her up, but is having little success. Petra (Taylor Hickson) finally brings everyone together to break into Master Lin's (Benedict Wong) confiscation room.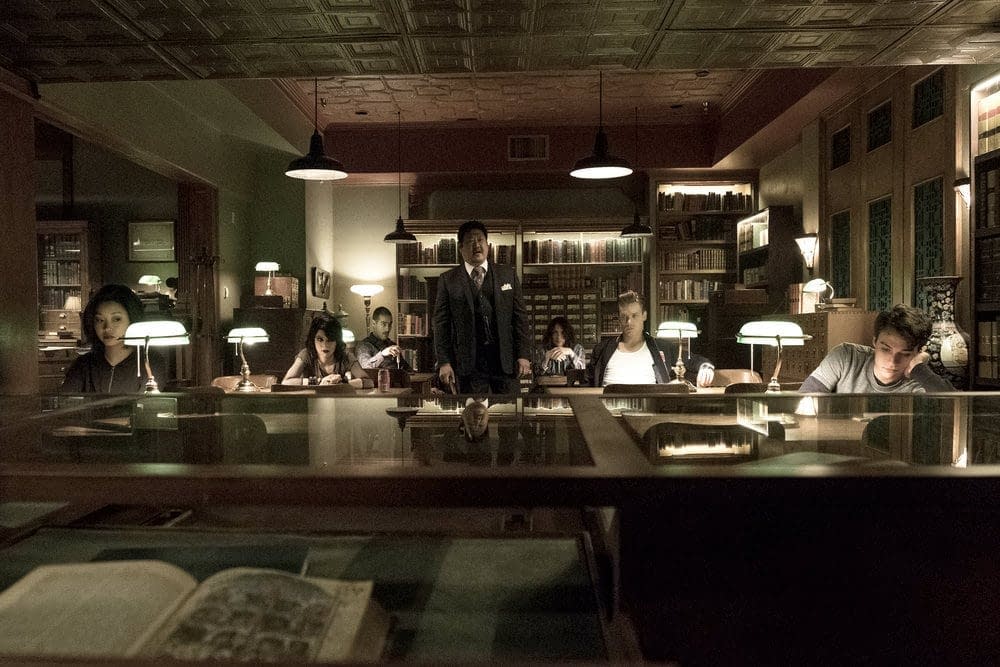 The kids succeed in sneaking into the horde of contraband, mostly due to Marcus' lock-picking skills. Everyone is having a blast- even Marcus and Chico (Michel Duval) are getting along. Suddenly, a pair of assassins enter the fray, and the students are immediately thrown into a pitched battle for survival.
We get to see Petra's animated back story, which is more jarringly tragic than expected. Hickson wins runner-up for this episode, wading through epic emotional currents – from menacing to comforting a Kings student who is bleeding out. In an episode filled with great acting turns, her performance was aces.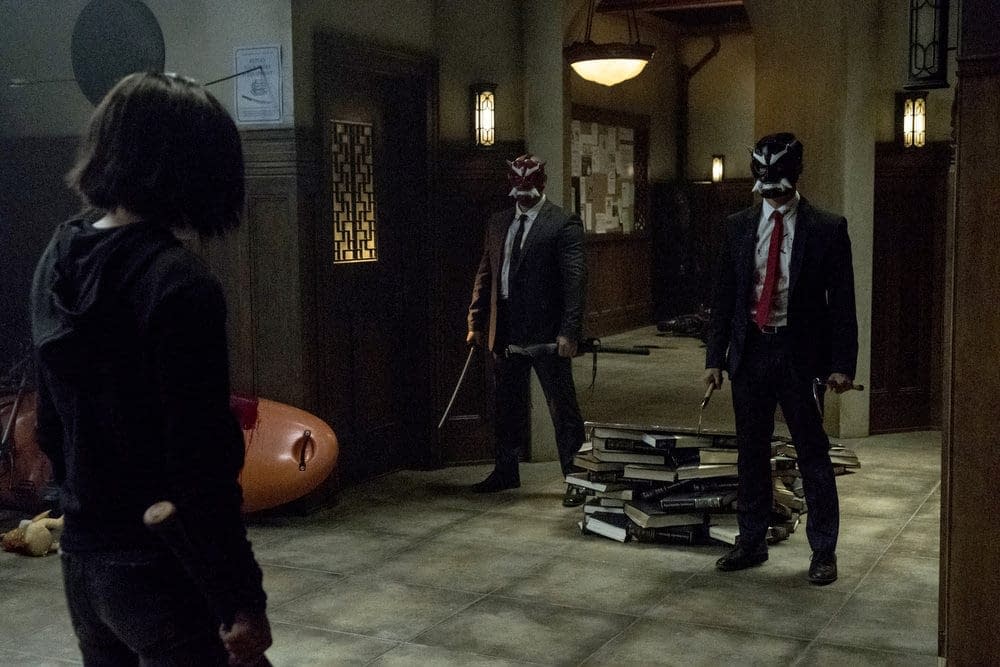 The big MVP was Liam James, though. We all knew kids like Billy in high school: probably abused, lashing out at authority, bright, charismatic, but so very broken. James has a moment that is brutal and raw, and he brings an emotional vulnerability to bear here that is so hard to watch.
The fight coreography in "Mirror People" was excellent, especially during the climactic showdown towards the end of the episode. We'll get more into that fight in the spoiler section below! This week's soundtrack included "Wasted Years" from Iron Maiden, "In Between Days" from The Cure, and "Did You Wanna Die" from Youth Brigade. Oddly enough, "Mirror People" from Love and Rockets did not feature in this episodes soundtrack.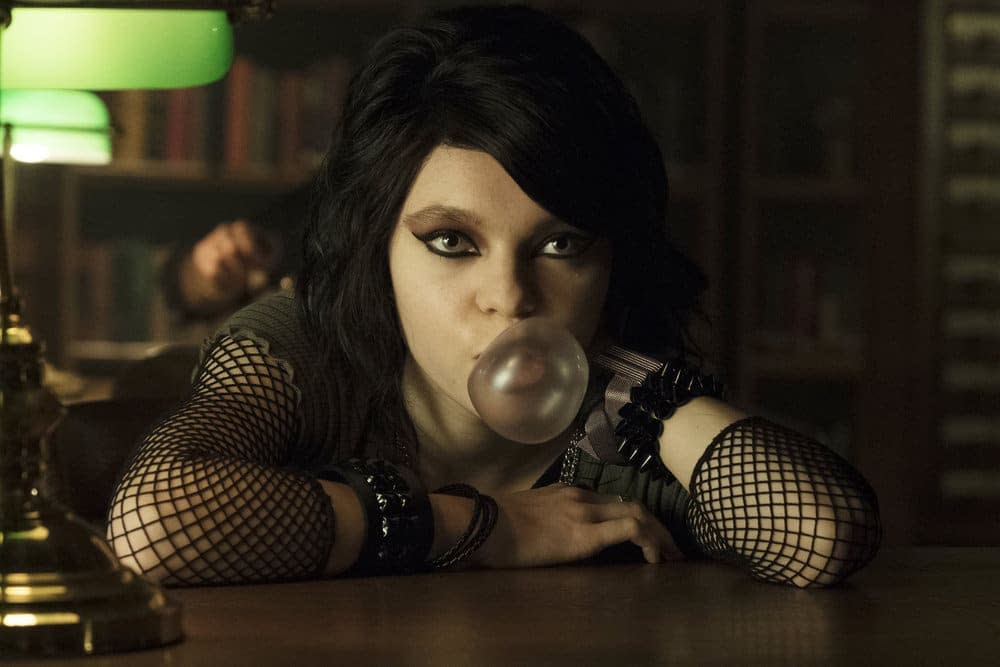 Petra's decision to stay with Viktor (Sean Depnor) while they nearly bleed to death was so tragically Goth. Hickson and Depner both give that scene everything they have, and it's hard to tell if she was staying with Viktor out of compassion – or some sort of macabre revenge for betraying her earlier.
The showdown between the Yakuza assassins and Master Lin and Saya was brutal, with the stakes clearly established with the corpses of the Kings' guards littering the restaurant. And then Marcus comes barreling in, doing his best to help his friend. It's a defining moment for Marcus: he's fearless when he's helping someone he cares about. The synth track that played during the fight was perfectly relentless, too.
We also learned that kids we haven't seen before have a life expectancy of about half an episode.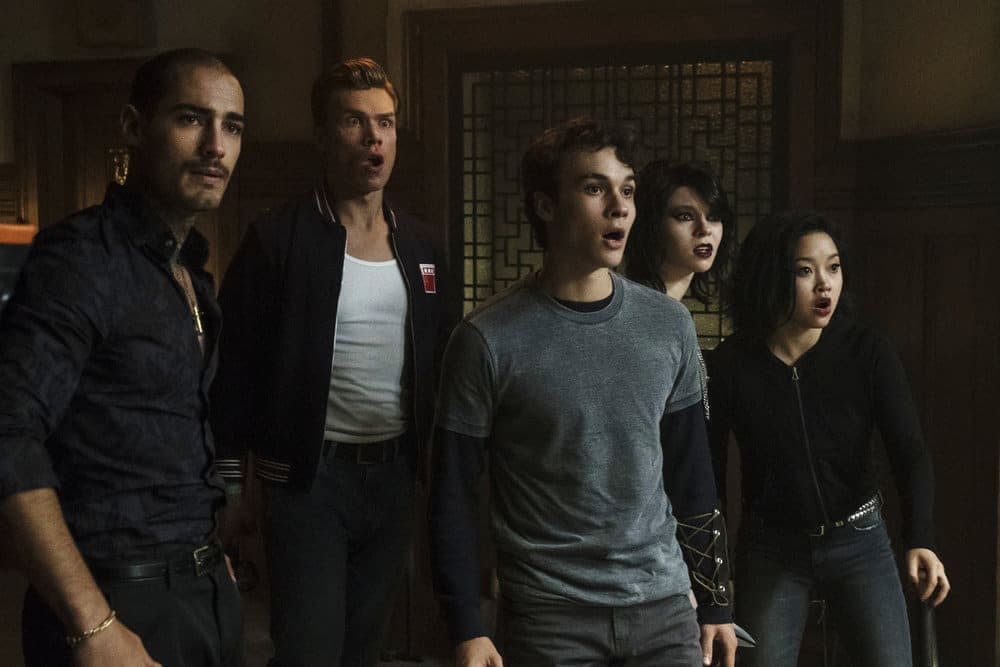 On next week's episode of SYFY's Deadly Class "Saudade," the Kings Dominion kids are taking a trip to Las Vegas – what could go wrong?
From Sony Pictures Television and Universal Cable Productions, Deadly Class was adapted for television by original comic book series writer Rick Remender and Miles Orion Feldsott, who will serve as executive producers alongside Joe Russo and Anthony Russo (Avengers: Infinity War, Captain America: Civil War), Mike Larocca (Spy) and Mick Betancourt (USA's The Purge, Shots Fired). Remender, Feldsott, and Betancourt will also share showrunner duties on the series.