"Doctor Who": BBC's "How to Destroy a Dalek" Clip Helpful Reminder That Show Isn't Cancelled
The 2019 Doctor Who drought continues, the show's next season won't be back till next year. For marketing and brand awareness, the BBC needs to keep the fans reminded and engaged. Today, they released a clip from "Resolution" (the most recent that aired) from the start of the climactic scene.
This clip is interesting for many reasons. It contains just about everything we now expect from the show.
The Doctor fights a Dalek. Check.
The Doctor gathers her friends and allies together to fight. Check.
The Dalek makes an evil speech. Check.
The Doctor makes a speech about the power of friendship and good guys. Check.
The Doctor pulls off an hat-trick and fools the baddie. Check.
The clip contains everything good and not-so-good about the show. It's efficiently directed and acted, but… we've seen this all before too many times. There's no surprise, and lack of surprise is Doctor Who's greatest enemy… not the Daleks.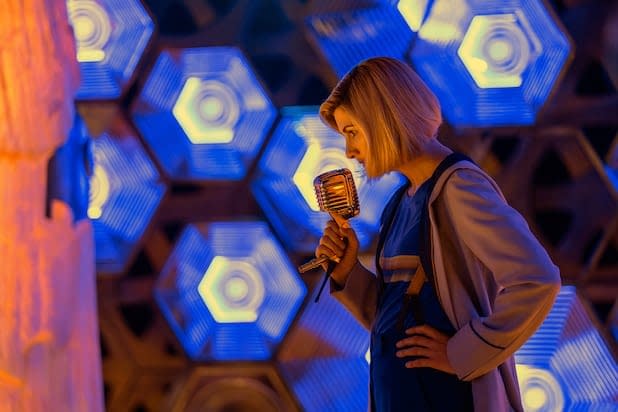 "Doctor Who": Not Enough Old or New?
As I look back on Series 11, I realise we watched it in the hopes of the show taking off and soaring. It had a few moments, but those were fleeting as the show was still finding its feet. The cast was fine. The writing felt less certain. It was still Doctor Who, but it was almost a completely new show. New showrunner, new cast, new writers.
There were attempts to try things completely new. No old enemies, no references to old continuity (if possible)… until the rollout of the Dalek in the final episode of the season. That felt a bit like a reward for viewers who stuck with the season to the end.
The Doctor is still the show's centre of gravity, and the moments where Jodie Whittaker takes charge in "Resolution" are the ones that stand out. We were treated to the tiresome soap opera plot of Ryan confronting his father for being absent. Come on, we all knew they would be reconciled at the end. Yaz still has no real personality or reason to be around, so there's that.
Let's hope that when the show comes back, it's actually about the Doctor and what the Doctor is about: wonder and surprise… not mid-afternoon soap opera drama.