Doctor Who's Lucky Number Thirteen: U.S. Ratings Rise 20% Over Previous Series
The only thing in Doctor Who news more controversial than the casting of Jodie Whittaker as the Thirteenth Doctor are opinions on the quality of the show's Series 11. While the press has been busy writing reviews and opinion pieces, the fans have let their viewing habits do the talking – and the news is really positive for BBC America and Whittaker's Doctor.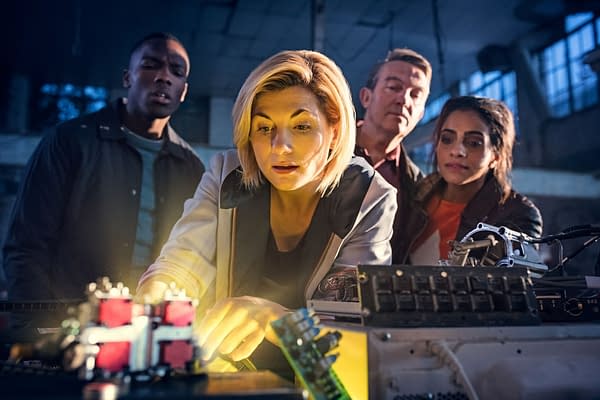 Based on figures reported on by Vulture, Doctor Who Series 11 averaged 1.6 million U.S viewers per episode over the first eight episodes of this season (including recorded and on-demand replays), a 20% increase over the same period for Series 10 with Peter Capaldi's Twelfth Doctor. These excellent U.S ratings rank Whittaker's Doctor ahead of previous Doctors Matt Smith, David Tennant, and Christopher Eccleston's debut seasons.
Part of this ratings rise can be attributed to BBC America's decision to move Doctor Who from Saturday to Sunday nights, as the overnight ratings skyrocketed to an almost fifty percent increse while same-day viewing numbers have doubled for millennial women. The rise in female viewers is also likely a result of both the draw of the first female Doctor and women-centric historical stories such as 'Rosa' and 'The Witchfinders.' Despite a fall in viewers after the first episode (that initial curiosity people have to see what all the fuss was about), ratings have remained stable over the course of the season: indicating that not only is Doctor Who bringing in more viewers, it's also keeping them once it has them.
All of this is great news for BBC America and BBC Studios, who officially confirmed over the weekend that Whittaker was on board for Series 12. That same weekend, there came the "fine print": BBC also officially announced that the new series of Doctor Who episodes won't get to fans until 2020 (though Bleeding Cool's own Rich Johnston had the scoop prior).
The question now is: will these new viewers still be interested after a year of no new Who? Without a TARDIS, only time will tell…