Fanboy Wrampage: Maria Kanellis vs the WWE Universe Over Babymaking
Former WWE star Maria Kanellis found herself thrown into an impromptu gauntlet match on Twitter Thursday when she cut a babyface promo about WWE firing her and her husband, Mike Bennett, in the middle of a pandemic, two months after they had a child. Maria tweeted, "Did you ever hear the one about the woman that was released from WWE during a pandemic 2 months postpartum after being told having another baby wasn't an issue…? #milkmoney #moreonthatlater #onlywrestlingcompanythatreleasedpeople #NonEssentialFamily"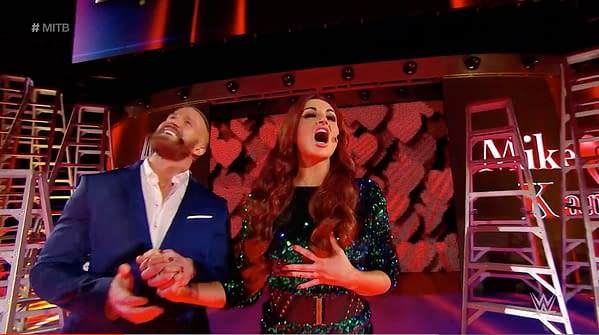 That criticism of The Fed went over poorly with certain members of the esteemed WWE Universe. They took issue with Maria's statement and sprung into action to defend the company's honor. Some defended the company's decision to cut dozens of workers in the middle of a deadly pandemic to "cut costs," even though the company is on track to make record profits this year. When a fan tweeted at Maria, "They had to cut people to save money," she quickly responded, "There record numbers say differently. P.S. no other wrestling company released anyone!!" and added, to ward off grammar Nazis, "Their. (For the assholes) "
Another approach used by Maria's opponents was to point out that Kanellis had two children while working for WWE, both right after signing contracts with the company, and that Mike went to rehab on WWE's time as well. Maria replied, "Are you a child? Because there are so many things falsehoods in this, it isn't even worth my time. Please, let the grownups talk."
Another competitor tried, "Did u hear the one where a woman tells her employer she's pregnant AFTER she signs a new contract," but Maria reversed the move, saying, "How about the one where I told them I wanted to have another baby within the next two years so maybe we should change the type of contract I sign either to a part-time or switch me to me to the other side of the camera? And they still signed me. FYI it is none of your business."
When another opponent demanded evidence that Maria and Mike hadn't duped WWE into some kind of babymaking contract scam, she tweeted, "I have set the record straight. I have proof that Mike never left the road for rehab. There are photos from house shows. I had Carver February third, meaning I was only a few weeks pregnant when I signed with WWE and didn't know I was pregnant. I could go on and on."
"But people believe what they want to believe," she continued. "I can't do anything about that. I am not some gossip lover, I don't like fighting on Twitter (I find it childish), but most importantly, it's private. Problem is a limited few press their own narrative. It's unprofessional and sad."
One competitor even went for the low blow, tweeting, "Of course you try blaming it on you having a baby and not the fact that you are both completely talentless." But Maria had a counter, responding. "That's your opinion. Perhaps we should see if that plays out in real-time. Also, blocked child."
Surviving the gauntlet, Maria had this to say in the post-match interview: "I often forget that there are a lot of children, teens, and immature 20-year-olds on social media and they don't have the mental capacity to understand a complex adult world. Or have the intellectual fortitude to process abstract concepts. Such as balancing a family and a career."
It looks like Maria Kanellis has been keeping in fighting shape. Could we see a return to the ring for Mike and Maria at Slammiversary? How about at Fyter Fest tonight?