'The Flash' Season 5, Episode 15 "King Shark vs. Gorilla Grodd": A Much Needed Slice of "Cheese" [SPOILER REVIEW]
Welcome back to Bleeding Cool's continuing coverage of the CW's The Flash season 5.
Boys and girls? This is the episode we've all been waiting for.
This is "Hail to the King Shark, baby" versus Gorilla mutha–lovin' Grodd.
First, a little reminder…
https://youtu.be/T0vR6t3mL68
The Flash s05e15 "King Shark vs. Gorilla Grodd": THE ULTIMATE SHOWDOWN — When Gorilla Grodd (voiced by David Sobolov) attacks Central City, Barry (Grant Gustin) and Team Flash find themselves teaming up with an unexpected ally to defeat — King Shark (voiced by David Hayter). However, when they hit a snag, they bring in Dr. Tanya Lamden (guest star Zibby Allen) to try to reach the man behind the shark, Shay Lamden (guest star Dan Payne). Stefan Pleszczynski directed the episode written by Eric Wallace & Lauren Certo.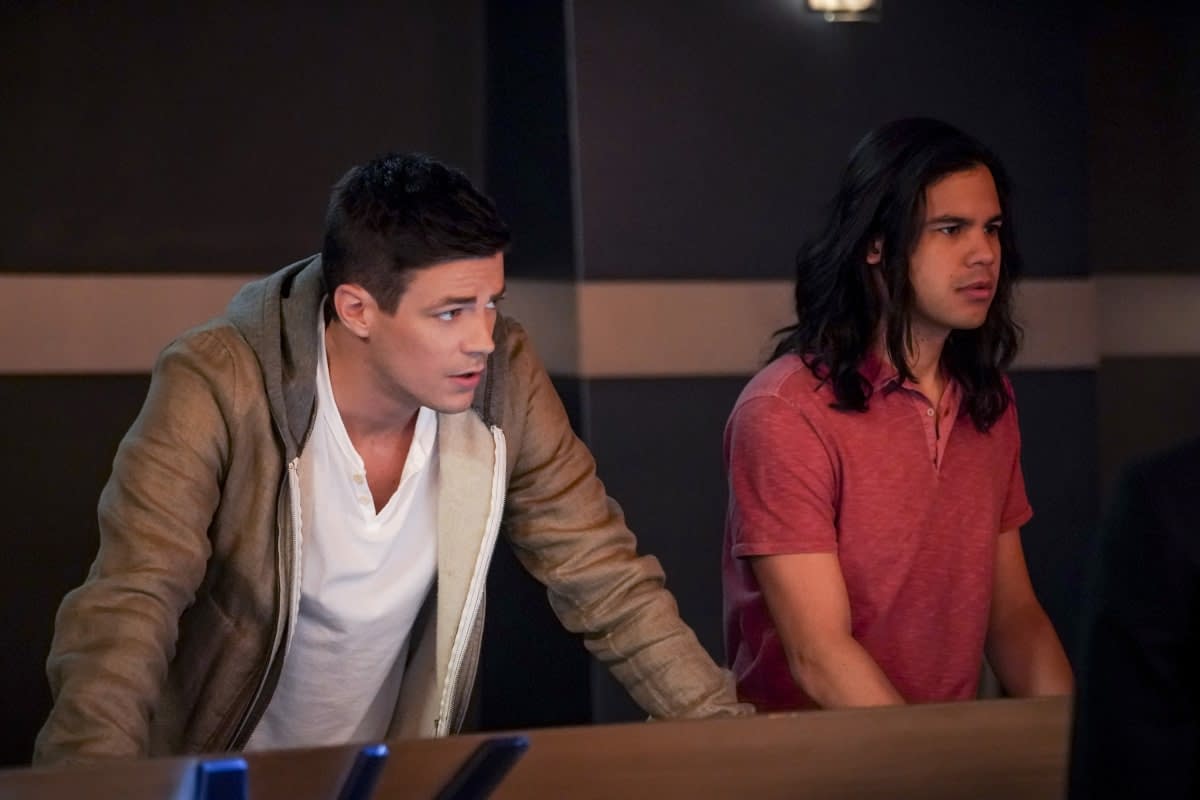 Alright, let's do the plot stuff. The metahuman cure is ready for testing, but Team Flash can't think of a single person to test it on. So, they decide to test it on a shark instead. And yes, King Shark is a shark.

The internal conflict in this episode is that the team agreed that a metahuman must give consent to have the cure administered. It is never to be used as a weapon. The team heads to ARGUS, where Dr. Lamden has developed a way to communicate with King Shark… and not at all because he's her dead husband's Earth-2 doppleganger – because that would be sorta icky (or is that "ichthy" – I'll be here all night folks, be sure to tip your waitress).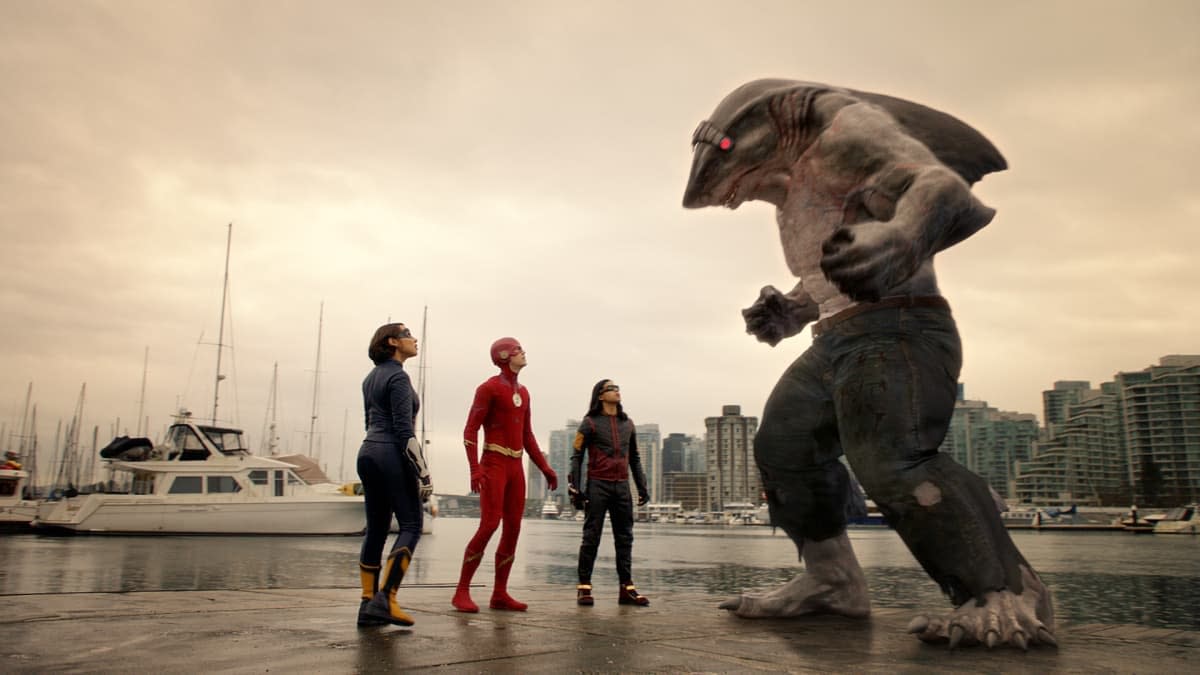 King Shark seems to be about to agree to the test when a psychic blast causes him to go full shark. The team boosts the communication device's signal and Barry and Cisco try again. King Shark is still thinking like a shark, about to take a bite out of Cisco when Barry jabs him with the cure.
So much for gaining consent. Further proof that Barry Allen is the worst superhero.
The cure seems to work. Mostly. They need another dose tailored to the shark part of Shay that still exists in his brain, but otherwise he's right as rain.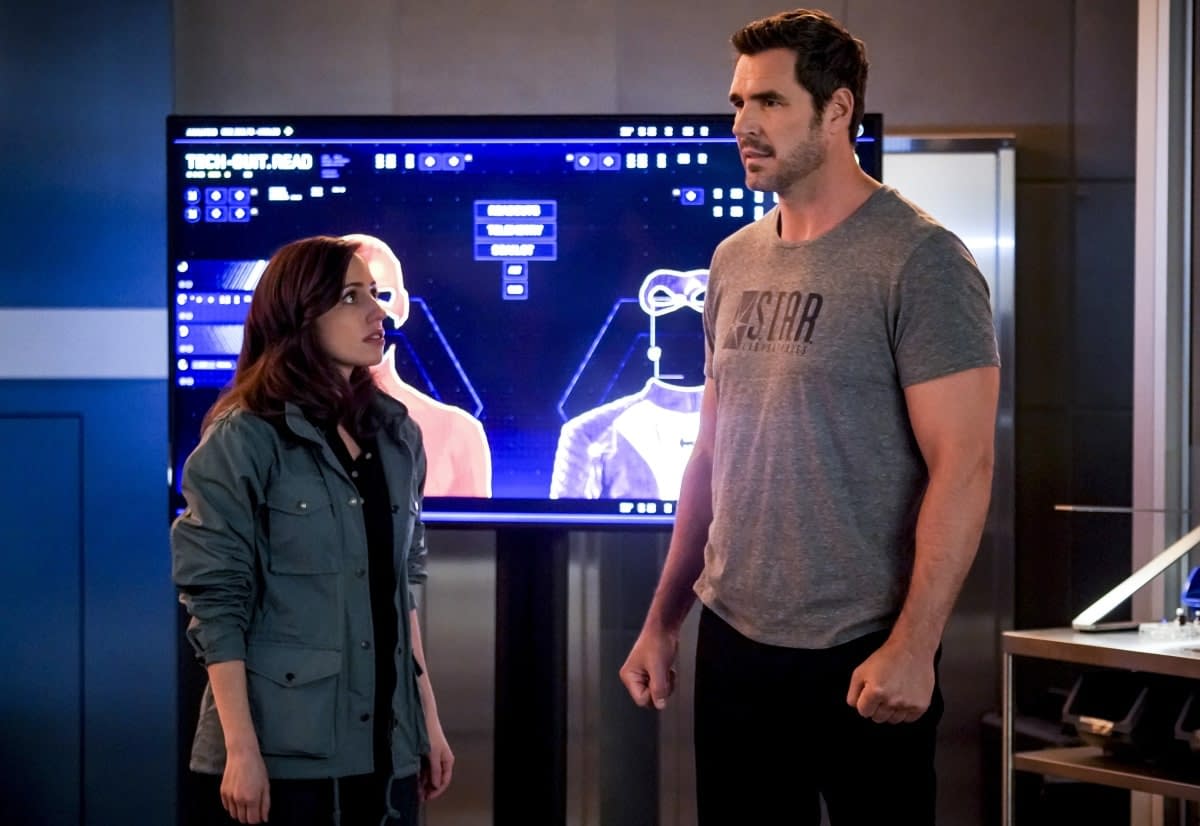 Sherloque correctly notices that Lamden is afraid of her feelings for Shay. He convinces her that there's nothing at all creepy about messing around with dopplegangers of your lover from other worlds. Me? I'm still not convinced. There's something just not right about the whole thing, but Sherloque doesn't have to convince me, I guess. All that matters is that Lamden and Shay are together.
Awwww… I wonder how long that'll last.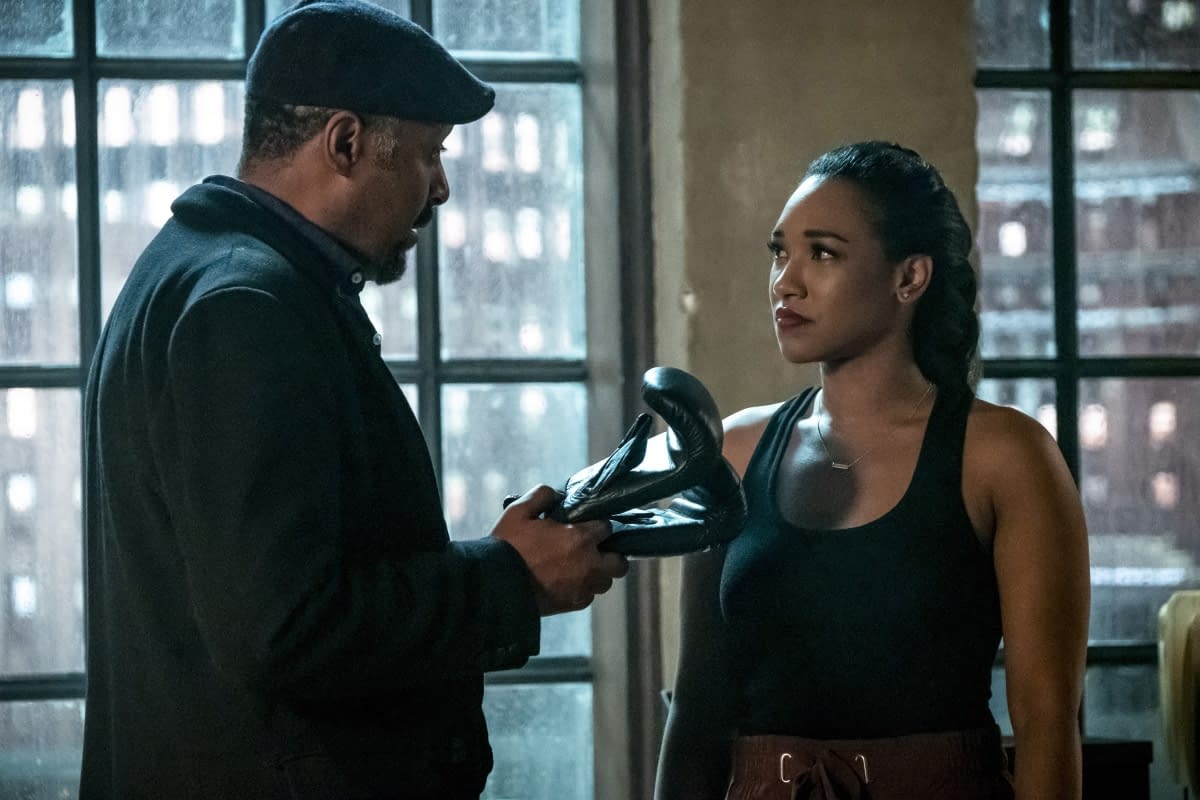 Meanwhile, Iris is still reeling from her confrontation(s) with Cicada. Joe's back – thank goodness, as Jesse L. Martin has been sorely missed – and he uses some of that zen stuff he picked up in Tibet to try and help Iris feel empowered. He drags Iris to a warehouse with a heavy bag – that's a thing? – and yells at her to "Break him!" while she pummels the bag. If this doesn't result in Iris staring down Cicada and going all Rocky 4 "I must break him" at some point this season, I'm going to be so very disappointed.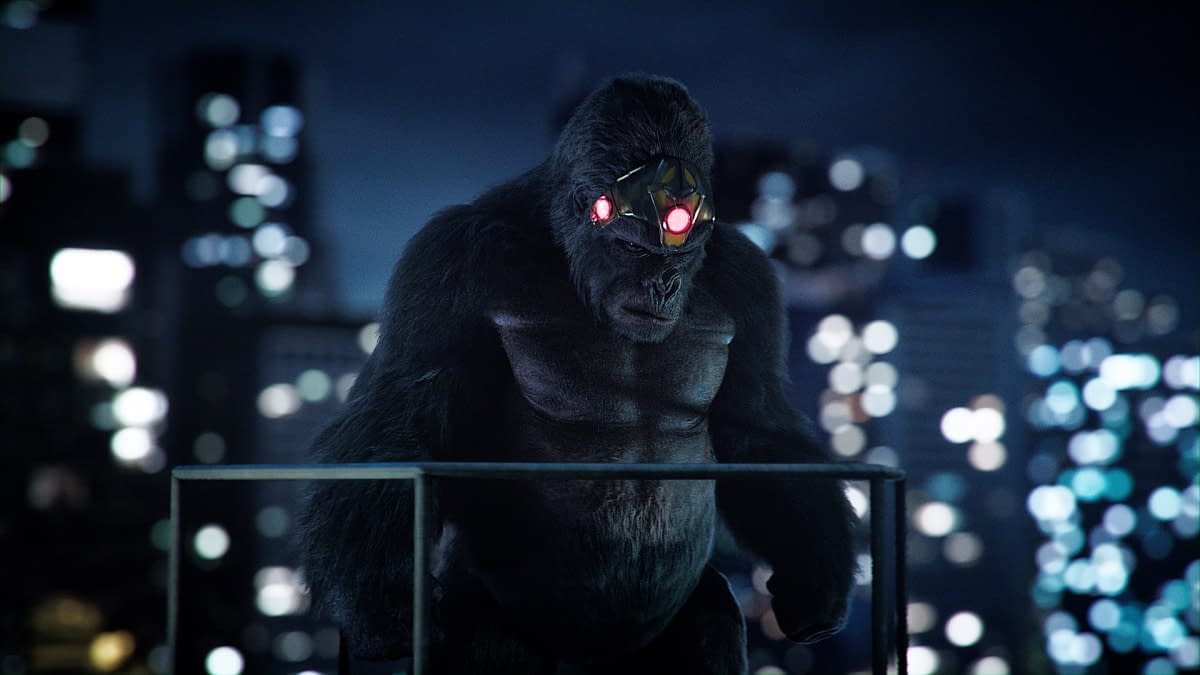 Grodd has broken out of ARGUS containment, biding his time until the communication crown was ready for him to swipe. While Barry lamely tries to convince Cisco and Caitlin that he did the right thing by injecting King Shark without his consent, Grodd mind controls the two of them to deal with Barry and hand over the crown. He's headed to the tower in the center of Central City to mind control everyone. Barry and Nora try to stop him, but Grodd's psychic abilities paired with the crown are just too much.
Finally…
IT'S ON!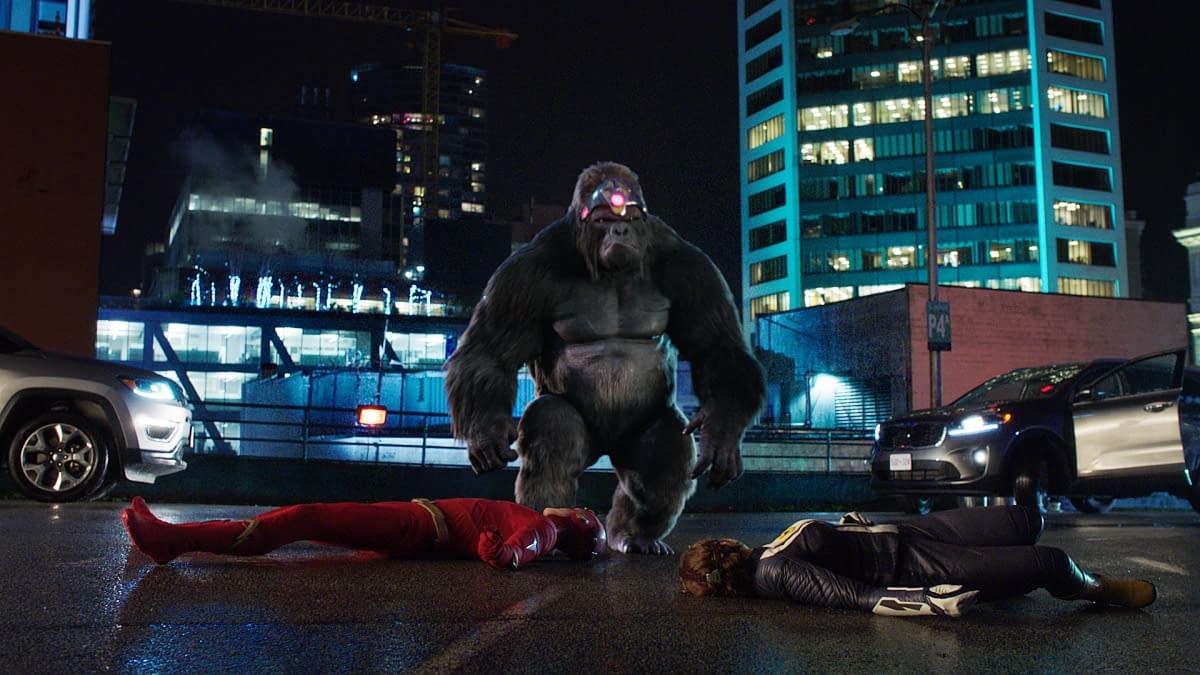 Shay knows that Grodd can't control King Shark – because science – so he asks to be changed back, even though it means he'll likely never be human again. Cisco gives Shay a blast, then opens a portal and drops him in for a monster versus monster melee. The two behemoths battle it out, with Grodd incapacitating King Shark by hanging him upside down.
Seriously? That's all it takes to incapacitate King Shark? Feels a bit anti-climactic, no?
What King Shark needs is a hard reset to his electro-physiology. Barry and Nora pair up for a double lightning throw power move (just go with it), waking up King Shark, who delivers…
ELECTRIC SHARK PUNCH!!!
8… 9… 10! Grodd's out! King Shark takes his crown back!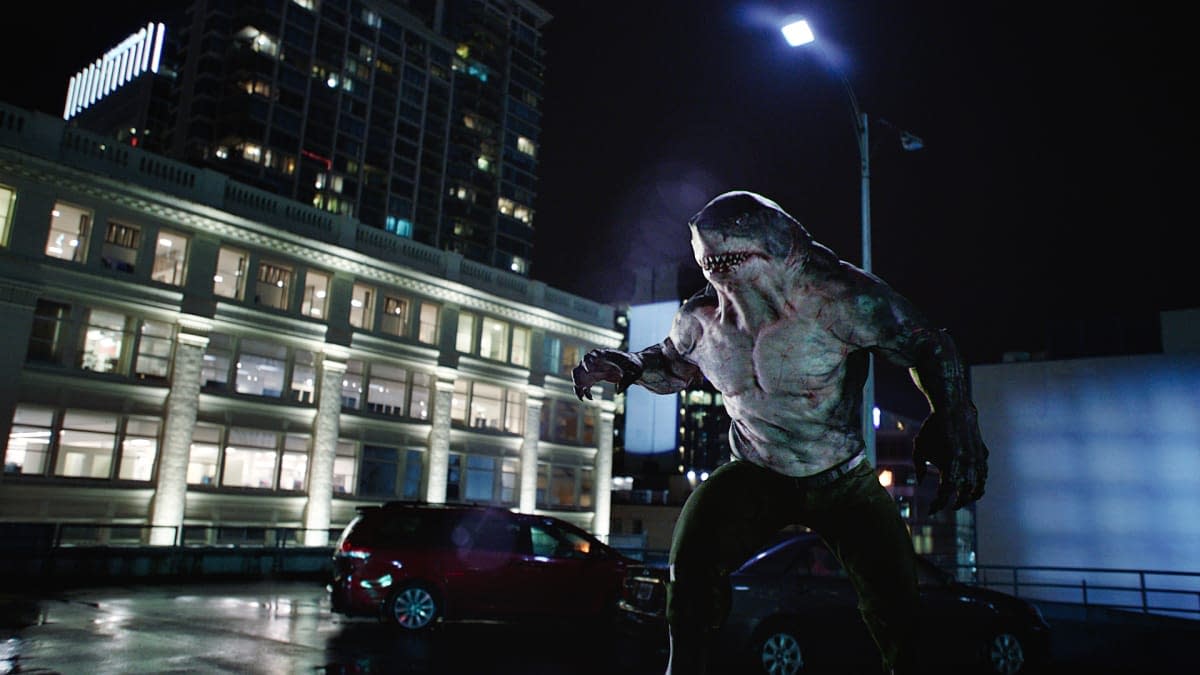 This is what The Flash is supposed to be: a goofy, bombastic spectacle on the outside, gooey nougat of "Barry learns a lesson" in the middle. Barry learned that consent is required… which should have been painfully obvious for a superhero… especially one that's been doing this for five seasons now – but whatevs.
We got King Shark versus Gorilla Grodd, so I ain't even mad.
Up next, Barry and the team are going to give Cicada the choice to take the metahuman cure or not when The Flash airs next Tuesday at 8 p.m. ET/ 7 p.m. CT on CW with our next episode "Failure Is An Orphan":
https://youtu.be/YQx5gJSOheY
The Flash s05e16 "Failure Is An Orphan": THE META-CURE IS READY TO USE ON CICADA — With the meta-human cure ready to use, Barry (Grant Gustin) and Team Flash must figure out a way to subdue Cicada (Chris Klein) long enough to take it. Killer Frost (Danielle Panabaker) steps in to help with the plan. Meanwhile, Joe (Jesse L. Martin) eases back into work, and Nora (Jessica Parker Kennedy) isn't happy about the way her dad plans to stop Cicada. Viet Nguyen directed the episode written by Zack Stentz (#516). Original airdate 3/12/2019.
CW's The Flash stars Grant Gustin as Barry Allen/The Flash, Candice Patton as Iris West-Allen, Danielle Panabaker as Caitlin Snow/Killer Frost, Carlos Valdes as Cisco Ramon/Vibe, Hartley Sawyer as Ralph Dibny/Elongated Man, Danielle Nicolet as Cecile Horton, Jessica Parker Kennedy as Nora West-Allen/XS, and Chris Klein as Orlyn Dwyer/Cicada; with Tom Cavanagh as Harrison Wells and Jesse L. Martin as Detective Joe West. Greg Berlanti, Sarah Schechter, and Todd Helbing serve as executive producers.