'The Flash' Season 5, Episode 15 "King Shark vs. Gorilla Grodd": Shark Fights Gorilla? We're There! [PREVIEW]
Look, we're sure there are a whole bunch of Crisis-worthy things that are going to come out of this week's episode of CW's The Flash, "King Shark vs. Gorilla Grodd." Questions will be answered… only to raise more questions. Mysteries will deepen… as will the dramatic glares. Clues will be dropped, eggs will be Easter'd, and we're sure that more then enough good stuff will drop to keep the intertubes burning with speculation.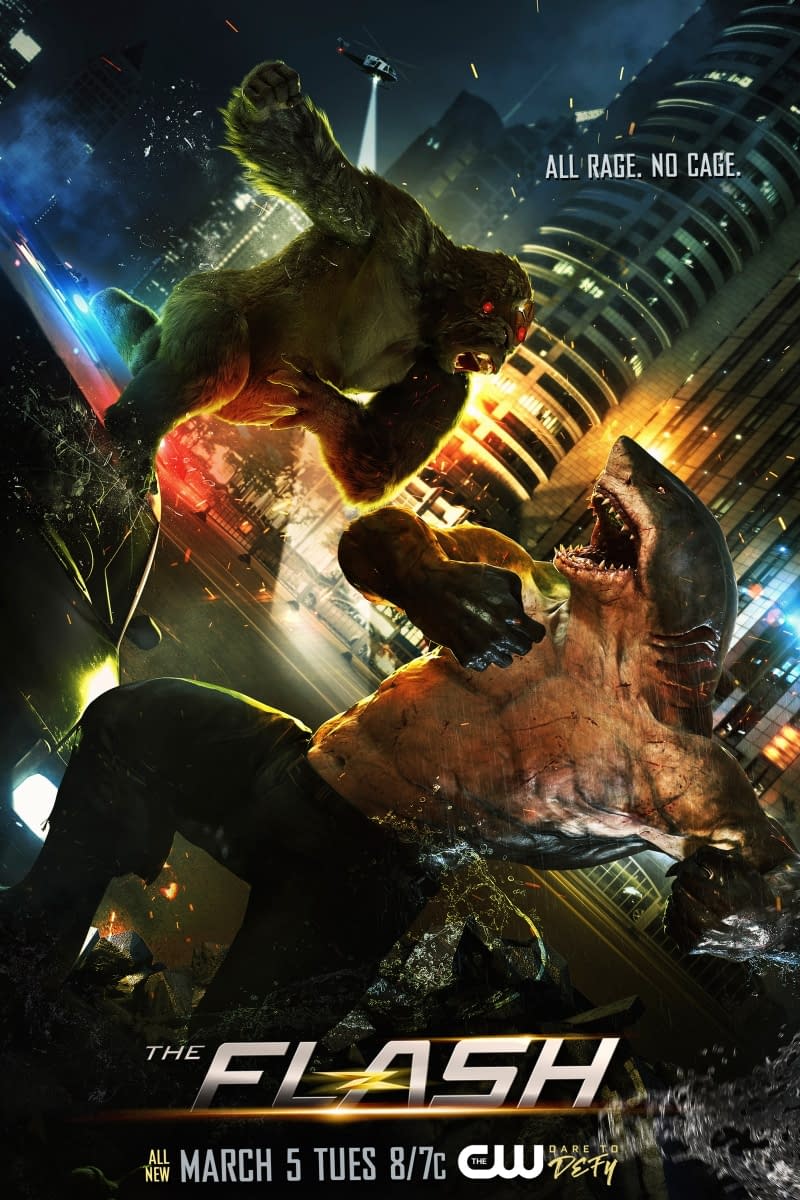 Now that we got that out of the way? It's a giant gorilla fighting a giant shark. We're pretty sure the masterminds behind The Flash would be okay with you putting your brains on hold at least a little this week:
https://youtu.be/2T__3ZsBIyQ
The Flash s05e15 "King Shark vs. Gorilla Grodd": THE ULTIMATE SHOWDOWN — When Gorilla Grodd (voiced by David Sobolov) attacks Central City, Barry (Grant Gustin) and Team Flash find themselves teaming up with an unexpected ally to defeat him — King Shark (voiced by David Hayter). However, when they hit a snag, they bring in Dr. Tanya Lamden (guest star Zibby Allen) to try to reach the man behind the shark, Shay Lamden (guest star Dan Payne). Stefan Pleszczynski directed the episode written by Eric Wallace & Lauren Certo
Still not sold? Then treat your eyeballs to the following preview images for this week's episode of CW's The Flash "King Shark vs. Gorilla Grodd" and see for yourselves why fans of SYFY's Sharknado franchise/debacle should feel honored:
And here's a look at images released by the CW earlier:
CW's The Flash stars Grant Gustin as Barry Allen/The Flash, Candice Patton as Iris West-Allen, Danielle Panabaker as Caitlin Snow/Killer Frost, Carlos Valdes as Cisco Ramon/Vibe, Hartley Sawyer as Ralph Dibny/Elongated Man, Danielle Nicolet as Cecile Horton, Jessica Parker Kennedy as Nora West-Allen/XS, and Chris Klein as Orlyn Dwyer/Cicada; with Tom Cavanagh as Harrison Wells and Jesse L. Martin as Detective Joe West. Greg Berlanti, Sarah Schechter, and Todd Helbing serve as executive producers.
CW's The Flash airs on Tuesday nights at 8 p.m. ET.