The CW has released a clip for tonight's new episode of The Flash and there is something really interesting in it. The episode features Iris West-Allen (Candice Patton) becoming a speedster when a new Meta gives her the power from Barry (Grant Gustin). And we're also supposed to meet a meta human with flame powers named Jacon Birch (Max Adler). Which means we might be getting two different bus metas this week, taking out total up to eleven and leaving only one more.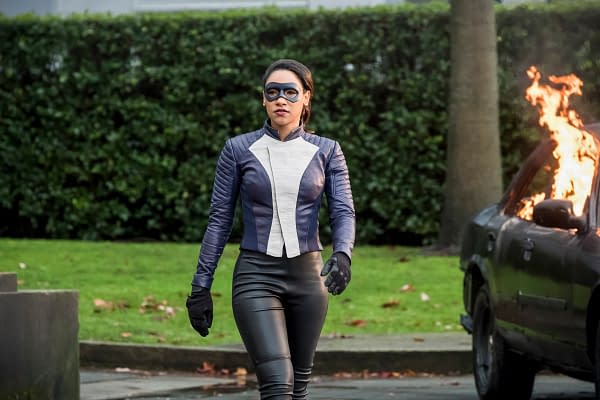 In the clip Caitlin (Danielle Panabaker) explains how this new meta, Matthew Kim, was able to extra the Dark Matter elements from Barry and put them into Iris. This cues Cisco (Carlos Valdes) to call the new meta Melting Point (Leonard Nam). But it sounds like Birch didn't start off with the flame powers, but rather they were given to him by Melting Point from a different person. They talk about how bad it would be if DeVoe got his/her hands on the new meta, but if they could convince him to work with them, they could get Melting Pot to take away all the extra powers DeVoe now has.
The real interesting thing here is that when the character was announced, it was said to be Melting Pot, which didn't really match up to anyone in the comics. But there has been a Melting Point before, a woman named Wangari Holloway who was turned into quantum energy and could melt down organic materials and absorb the energy. She was someone Caitlin new at school. The thing is, this story comes from Flash: Season Zero, the comics DC made to go with the television series. This is the first time that I can recall that the television series contradicted the comics that were written by former showrunner Andrew Kreisberg.
The Flash airs tonight at 8 PM on the CW.
https://youtu.be/l0ltzWgsih8
Enjoyed this article? Share it!