"Halloween Baking Championship" Episode 5 "Gravely Delicious Desserts": Where's the "Halloween" in Their "Baking"? [SPOILER REVIEW]
This week's episode of Food Network's Halloween Baking Championship offered up one of my favorite themes, Grave Robbing. "Gravely Delicious Desserts" had the contestants digging through dirt for… vegetables? Not exactly where I thought that was going: limbs, insects possibly, but not carrots, fennel, beats and sweet potatoes. Were they grave robbing or digging in my grandmother's garden?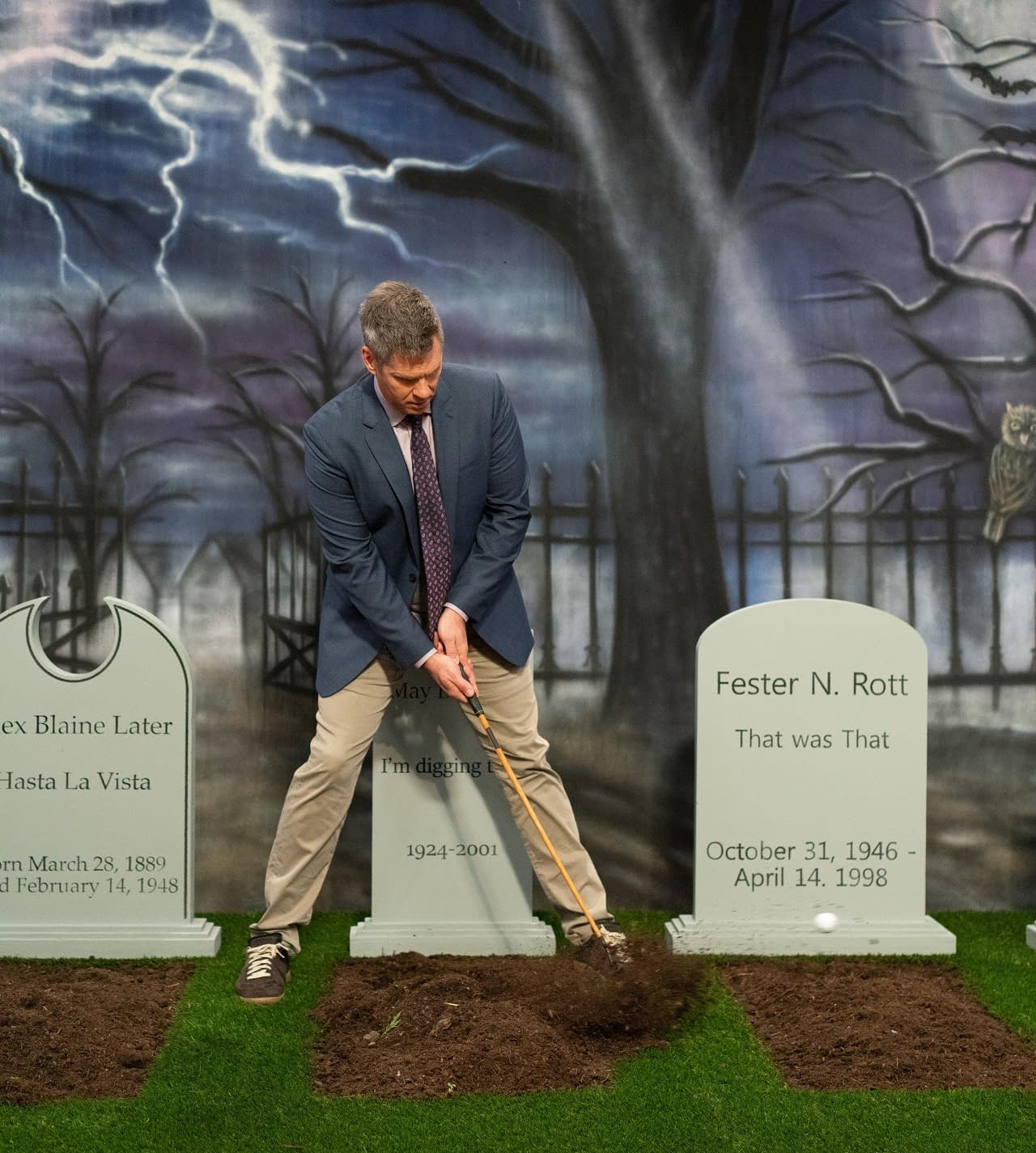 John Henson entertained us yet again with his bizarre one-liners and dry humor, to my utter delight. From golfing on tombstones to hanging out with the undead, he truly offers a wonderful compliment to the show. Judges Carla Hall, Katie Lee and Zac Young dressed up as an Ice Queen, a Nanny Vampire, and a Romance Novel Character. I'm starting to think that Young enjoys the role plays, possibly even more than the cakes. The contestants wowed the judges with their veggie and marble desserts.
Halloween Baking Championship consists of two rounds:
● Round #1 – Pre Heat: Contestants are given up to two hours to create a small tasty treat. No eliminations this round, but the winner gets an advantage going in to round two.
● Round #2 – Main Heat: Competitors are asked to create a cake to tell a creepy interpretation of a concept. The tastiest and most inspired creation wins the challenge, the loser gets to write their own obituary.
Each episode a losing contestant gets to go 6ft under. The contestant with his/her heart still pumping at the end of the season wins $25,000.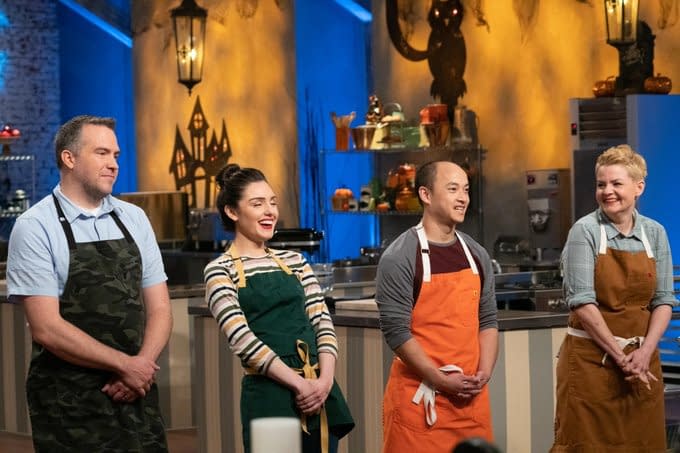 Here are some of highlights from episode 5 "Gravely Delicious Desserts":
● Round 1 'Grave Robber Dessert" – contestants had to be inspired by vegetables to create their best grave dessert. Fennel as an inspiration proved to be the most challenging.
● A carrot cake although an uninspiring use of the ingredient rocked in décor, between fences, spiders, and ghosts, the cemetery was definitely worth breaking in to.
● The sweet potato cheesecake was delicious and adorably decorated with a gravestone, but the judges felt "Repeat Pete" is staying too safe round after round, he showed them in Round two just exactly what he thinks of the nickname.
● Beat cake with chocolate mousse won the Pre Heat. The seance shaped candle tasted amazing and clearly highlighted the ingredient. It was unfortunate that the contestant only gave her 100% in the first round.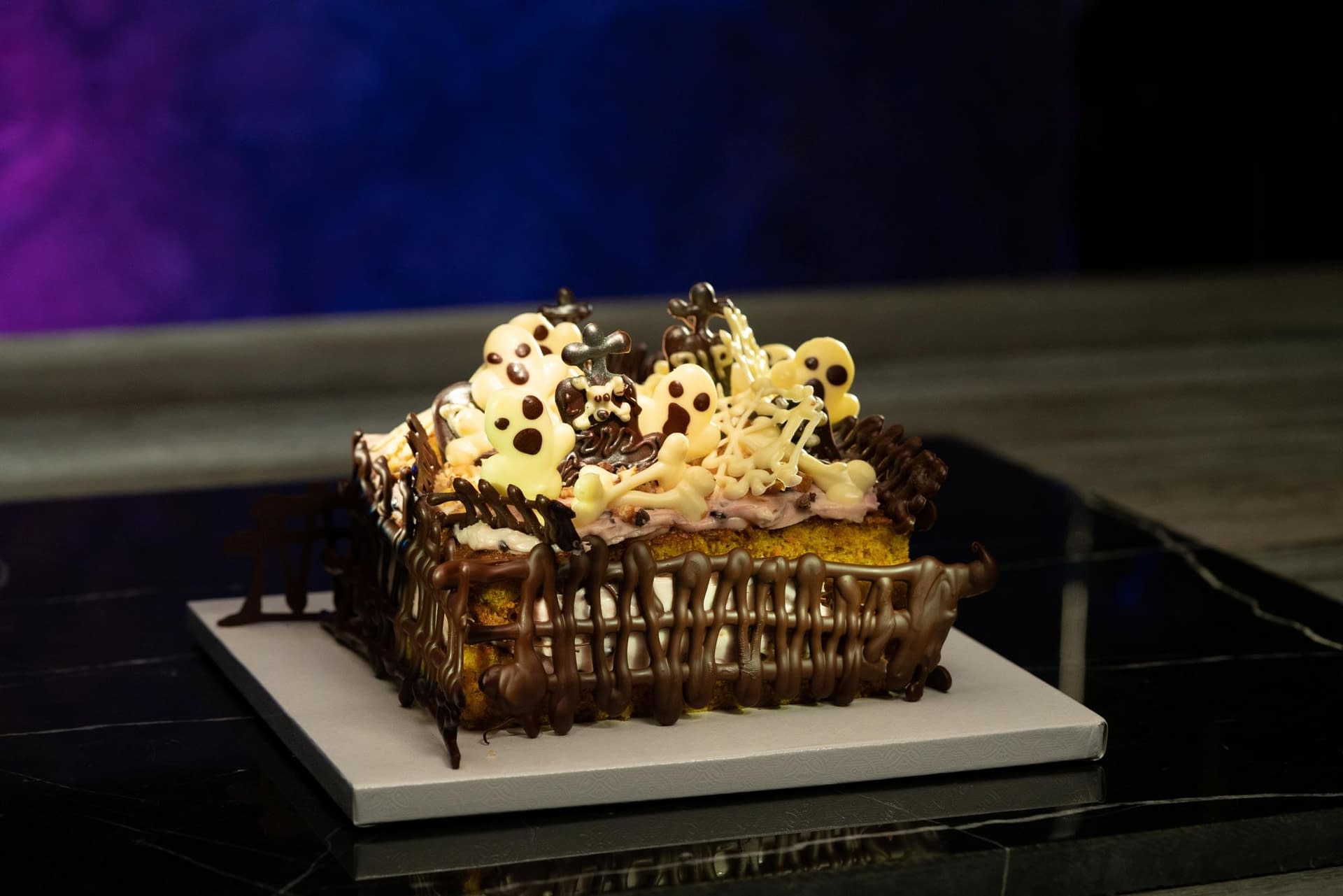 ● Round 2 "Marble Cake Challenge" – contestants had to visit "Eternity Estates" and include an obituary in their marble cake creation. Maple, cardamom, cinnamon and ginger had to serve as their filling.
● Most of the competitors struggled with marbling and their cakes resembled versions of one another.
● The contestant who got cardamom, an ingredient I actually had to look up because I've never heard of it before, seems to really be the most talented and gave us an exceptionally intricate design with skeletons and even a treasure map – not sure why he didn't win.
● The maple syrup spice cake looked unfinished and was too heavy on the maple (was eliminated), the cinnamon cake was pretty on the outside, but dry on the inside, and Mr. Repeat Pete took home the win with his ginger cake.
A light hearted fun episode, but overall with the exception of one contestant who is constantly pushing himself out of his comfort zone, I just don't feel like some of the contestants understand they are on a Halloween-themed baking competition. I'd like to see more blood, gore, give me a spleen and some intestines, throw in a ghoul and some goblins. Next week's theme "Bloody Zombies" will hopefully deliver on that holiday "WOW" factor to wrap up the season,