Impact Wrestling Preview: Is the World Championship Pregnant?
Impact Wrestling airs tonight on AXS TV, and a preview of the show has led to speculation (which we're creating right now) that the Impact World Championship may be pregnant and about to announce its retirement! How did we come to this conclusion? Allow us to explain.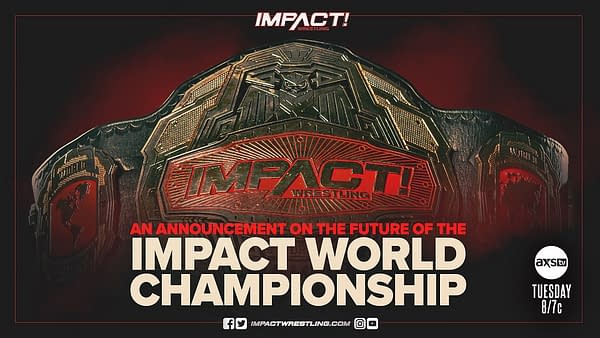 A preview for the show has revealed that we will get "an announcement on the future of the Impact World Championship." The last time we got an important announcement advertised for a pro wrestling show, Becky Lynch announced she was pregnant and would relinquish her title. Now, we're not sure exactly how a World Championship itself could become pregnant — well, unless it's a like a Brad Maddox situation or something — but Impact has a history of doing some really out-there stories.
Of course, it's more likely that the announcement will have to do with the status of current Impact World Champion Tessa Blanchard, who has been absent from the show since winning the title due to the coronavirus pandemic. Impact has largely punted on the issue by having Moose reintroduce the TNA World Championship, but eventually, the main belt is going to have to come home to Impact. Whether it's coming with Blanchard attached remains to be seen.
Here's what Impact's preview has to say about the situation:
Last week, Trey was attacked backstage by an unknown assailant, preventing him from competing against Ace Austin in the Finals of the #1 Contenders Tournament. The suspect at the top of everyone's list – Ace Austin himself. The former X-Division Champion and his goons in Reno Scum certainly have a history of doing whatever it takes to win, no matter how heinous their actions may be. Meanwhile, there are also those who believe the suspect could be a jealous member of Trey's own group, the Rascalz. After all, Wentz did end up replacing Trey in the tournament finals, but ultimately suffered defeat. There is no shortage of potential suspects as the mystery continues to unravel this Tuesday on IMPACT!

Attacker or not, Ace Austin won the #1 Contenders Tournament and is next in line for a shot at Tessa Blanchard's IMPACT World Championship. Speaking of the Title, an announcement on its future will take place this Tuesday night.
Here's what else to expect from Impact Wrestling tonight: