Jimmy Fallon: "Different" Show in Light of Protests, SNL Backlash
A week after Jimmy Fallon was called out on social media for a 2000 Saturday Night Live sketch that featured him in blackface and the late-night host posted an apology on social media, Fallon returned to The Tonight Show on Monday to address the matter further as well as to promise "a different kind of show" coming out of the global protests over the killing of George Floyd by Minnesota police officers. Fallon began his opening monologue discussing the need to "start personally and expand out," and that meant addressing the SNL matter.
Fallon impersonated comedian and Saturday Night Live alum Chris Rock in the original sketch, which also featured Darrell Hammond as Live with Regis & Kathie Lee host Regis Philbin. Fallon said the backlash to the sketch has him questioning his past perspectives and working to be better: "I had to really examine myself in the mirror this week because a story came out about me on 'SNL' doing an impression of Chris Rock in blackface and I was horrified. Not of people trying to cancel me or cancel this show, which is scary enough. But the thing that haunted me the most was, 'How do I say I love this person?'. I respect this guy more than I respect most humans. I'm not a racist. I don't feel this way."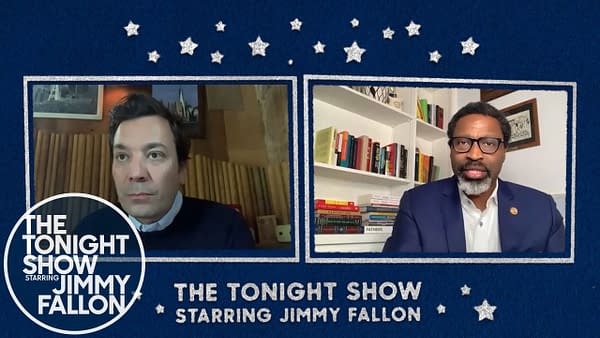 When the online pushback first began, Fallon says he "kept getting advised to just stay quiet and not say anything" and that the reason for the advice came down to one reason: "We're all afraid." It was that very fear of saying anything that would make matters worse that led to Fallon tweeting an apology on May 26 that some felt didn't go nearly far enough in addressing the matter. After a week's worth of global protests over Floyd's killing, Fallon said he realized that more had to be one on his part: "I realized that the silence is the biggest crime that white guys like me and the rest of us are doing, staying silent. We need to say something. We need to keep saying something. And we need to stop saying 'That's not OK' more than just one day on Twitter." For Fallon, the issues of racial injustice and inequality that have stormed their way onto the national mindset need to remain front-and-center: "We cannot try to bury this again. It's not going to get buried, it's not going away. You can't just hope everyone loves each other. We can't say 'be the change' and just sit around tweeting 'be the change, be the change.'"
NAACP President Derrick Johnson was then introduced to address some of the issues that Fallon raised, and offering Fallon praise for the efforts started through his monologue: "In this time, many people are searching for answers and display of anger and hopelessness and wandering, more people need to speak about where they are with an authentic voice. I think you did that." CNN host and reporter Don Lemon joined the show to discuss his experiences doing live reports from protests against racial police violence, forgiveness, and why it's so essential for those in the media spotlight to use their influence for good. You can view Fallon's monologue and Johnson's comments in the first clip, followed by Lemon' thoughts in the clip that follows: