Jinder Mahal Talks About His Comeback, Recalls WWE Championship Win
Just a few weeks ago, the wrestling world was on the brink of a badly-needed comeback by one of WWE's greatest superstars, the Modern Day Maharaja, Jinder Mahal. Unfortunately, that comeback was shortlived as Mahal required knee surgery after just a single match, hindering the era of Jinder Mahal for now. Mahal appeared on WWE talk show The Bump ahead of Sunday's Backlash PPV, and he talked about the short-lived come back and when he'll be back in the ring.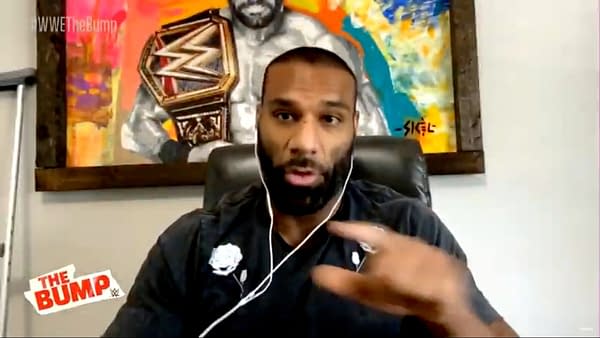 "Unfortunately, I had to have another knee surgery," said Mahal. "It's on the same knee that I had surgery on last year. But this one is not as bad. I'm hoping to make a quick recovery, hopefully within a couple of months, if there's no complications. I actually just came from rehab right now. I'm super focused on rehab every day, just rebuilding my leg so I can come back. I got a little taste of coming back, and seeing myself, where I can fit into the mix, and unfortunately had another surgery. So I'm excited to come back and recapture the WWE Championship at some point."
Speaking of that WWE Championship, Mahal also reminisced about his first Championship win back in 2017. Mahal beat Randy Orton for the title at Backlash, and it was a victory that nobody saw coming. Mahal had only recently returned to WWE and still wasn't really taken seriously as a WWE Championship contender. But Mahal proved everyone wrong.
"I was very nervous going in," Mahal said in the interview. "It was my first-ever main event. Just main eventing is a-whole-nother level of stress. Essentially, all these people that are in the audience and the millions that are watching at home, that's what gonna end the show and it's very stressful. It's very nerve-wracking, but, up to that point, I had very good preparation and I felt motivated. I was in the right mindset. And that's why I became WWE Champion. It was not an accident. It was because I had dreamt it and I had spoke it into existence in a way. All my activities and everything, my delay ritual, my routine was geared toward becoming a WWE Champion. So at the same time while I was nervous I also felt prepared."
Mahal recalled heading backstage after winning the belt and meeting with Vince McMahon. Another person there to greet Mahal and congratulate him on his victory was Drew McIntyre, who currently holds the WWE Championship after successfully defending it against Bobby Lashley at Backlash.
"Coming back, it's all a big blur," Mahal said. "The whole match is a big blur. I remember coming back, I actually have a picture and I posted it on my Instagram, the moment where I come back through the curtain and I'm holding the WWE Championship, and I'm just like 'gaaaah.' There's also another picture too. It's me being congratulated by Mr. Vince McMahon. those two moments I remember. And then the rest of it was kinda like a normal day. I just went back to the locker room, showered, my bag was a little heavier. But I didn't do this big celebration or anything. We just went out and ate. Actually, Drew McIntyre was with me because he was in town for NXT. And some of my family were there. My cousins had came down, and we just had a dinner, ate super healthy, and went to sleep, and that was about it."
After winning the championship, Mahal relied on fellow WWE Superstars with experience holding the title for guidance. Mahal says he received a lot of guidance from JBL, whose character he compares to his own.
"I asked JBL for advice because he was kinda put in a similar situation where he kinda reinvented himself and became WWE Champion very quickly," Mahal said. "His character, his gimmick, was almost like mine in a way, very similar. So I spoke to him about getting some advice. He was a really good heel champion. People genuinely hated him when he came out. So I asked JBL for some advice, got advice from him. Randy [Orton], one of the greatest WWE Champions of all time, I had the opportunity to compete with him a couple more times, a couple more PPVs after that. The next one we went to was Money in the Bank, in St Louis, in his hometown. And then we had the Punjabi Prison match in Philadelphia. So that was cool, but JBL was the main guy that I kinda molded myself after in a way or got advice from."
Hopefully, Jinder Mahal will make his return to WWE soon after recovering from his injury. I know The Chadster would love to see another Jinder Mahal title run. Would you?