Kit Harington on Possible MCU Reunion with Game of Thrones Co-Star
It's pretty safe to say that fans of HBO's Game of Thrones will probably debate the global phenomenon's finale for either (A) the rest of their lives, or (B) until George R.R. Martin finally finishes the books series & then HBO Max (or whoever the higher bidder is at that time) adapts that version of "Game of Thrones " (creating the potential for two finales for fans to love/loathe). Whatever ends up happening, it's also pretty safe to say that we won't be seeing Kit Harington's Jon Snow and Emilia Clarke's Daenerys Targaryen spring the fur and dragons together on screen any time soon, either. But could we be seeing Harington and Clarke reuniting on the big or small screen for the MCU?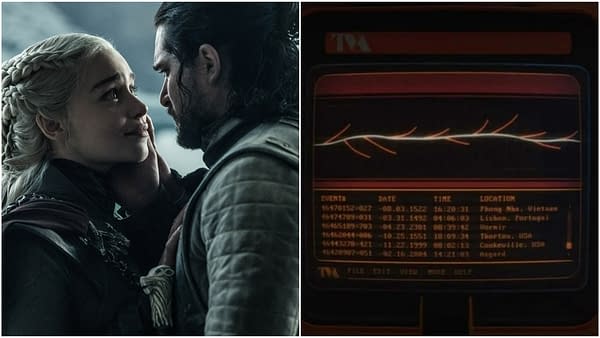 Harington portrays Dane Whitman in Marvel Studios' upcoming The Eternals– a role that has a long of long-term potential based on the character's comics past (a role that sees Harington reunite with GOT co-star Richard Madden). To be clear, this is based on spoiler-free, in-the-moment details so keep that in mind. As for Clarke, it's pretty much a given that she's appearing in the upcoming Samuel L. Jackson & Ben Mendelsohn-starring Disney+ series Secret Invasion (currently in early production). So have the two discussed the possibility that their on-screen paths might end up crossing over?
In an interview with The Hollywood Reporter, Harington was asked if he and Clarke had discussed the possibility. "[Laughs] No, we haven't. That would slightly blow my mind, I think, because me and Emilia had a lot together. So if we ended up crossing paths in a different franchise, I think we'd have a good old giggle about that." As for what may happen with his character post-The Eternals, Harington is honest in saying that "there is no roadmap that I know of at the moment." That said, Harington says that playing the type of character as Dane Whitman is described online from the comics side of things "intrigues" him.