Krypton Season 1: Kneel Before the House of Zod
Krypton is more than just the story of the House of El and of Superman's grandfather. It is the story of all of Krypton including the other houses, like the House of Zod, and Syfy has released a new teaser video for the House of Zod.
Georgina Campbell plays Lyta Zod, the grandmother of the infamous General Zod. The comics have done quite a bit with the House of El, but they have not done much with the ancestors of Zod or of other famous Kryptonians like Faora. There really is a lot of un-mined story territory here.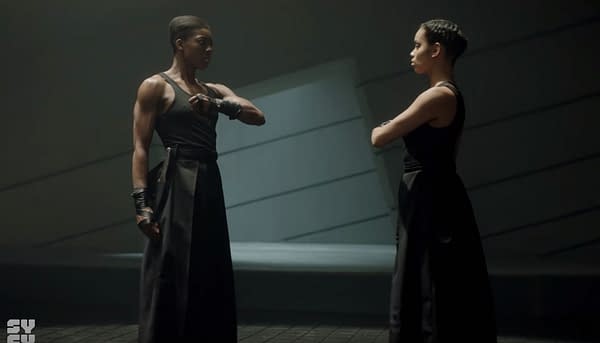 Set two generations before the destruction of the legendary Man of Steel's home planet, Krypton follows Superman's grandfather (Cameron Cuffe) — whose House of El was ostracized and shamed — as he fights to redeem his family's honor and save his beloved world from chaos. He's also made aware of who his grandson becomes and why it is crucial that Kal-El goes to Earth.
Based on DC characters, Krypton is executive produced by David S. Goyer (Man of Steel, Batman v Superman: Dawn of Justice, The Dark Knight trilogy). Cameron Welsh (Ash vs Evil Dead) will serve as executive producer and showrunner.
Krypton premieres March 21st on Syfy.