Matt Smith, Claire Foy Set for Socially-Distanced London Play Lungs
Matt Smith and Claire Foy will be performing Duncan MacMillan's play Lungs at the Old Vic in London this June. The play has been adapted so the performers can observe social distancing and stay apart at two meters, which is approximately 8 feet. They would be playing to an empty house as theatres are still officially closed in the UK, but the production will be streamed live over the internet. Lungs is a two-hander about a young couple thinking about starting a family together and start to examine their lives and the world around them before they make their decision. They discuss Climate Change, the uncertain state of the world, the melting Polar ice caps, political unrest, and whether it's worth bringing a kid into this world.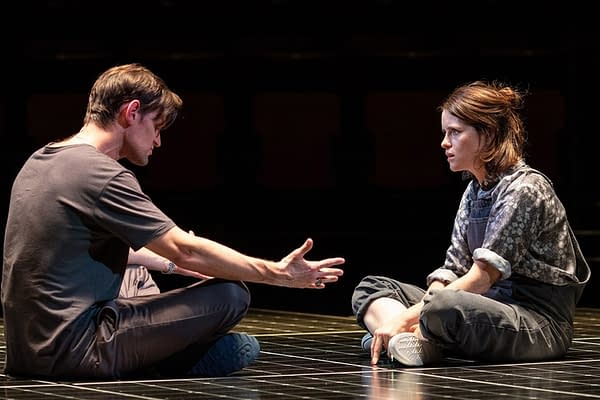 Live Theatre in the Lockdown
This will be the first live theatre performance in London since the lockdown began. The Old Vic is selling 1,000 tickets online to audiences per night, which reflects the full capacity for the theatre's seats. Ticket prices currently range from £10 to £65, which is around $12 to $80 in US dollars. The Old Vic is encouraging audiences to donate as much as they can to help support the theatre, which is facing financial peril during the lockdown and could end up closing forever.
Foy and Smith of course became internationally renowned for starring as Queen Elizabeth and her consort Prince Philip on the Netflix series The Crown. Before that, Smith was already famous for having played the 11th Doctor in Doctor Who. They were in the original production of Lungs back in 2019. That run at the Old Vic was sold out. They were originally scheduled to reprise the production at New York's Brooklyn Academy of Music (BAM) in March this year, but the lockdown hit and theatres across America remain closed.
Theatres in London are facing hardship during the Pandemic and there's talk of the entire theatre scene dying off completely due to lack of funds and rising rents. The Old Vic and the Globe Theatre have both declare they could be closed permanently unless there's a major cash injection or government help. The UK government has been cutting spending on the Arts for years and major arts education programs have been facing cutbacks.