Midnight, Texas: Why NBC's "Popcorn" Series is Resurrection-Worthy (BC Rewind)
NBC's Midnight, Texas is a fun supernatural drama full of enchanting, bizarre, unnerving and sometimes hilarious twists. The bold series – based on Charlaine Harris' novels – caters to an audience that appreciates nuanced and outlandish tales told in an unguarded and spectacular fashion. An enigmatic ensemble of Midnighters – an angel, demon, vampire, were-tiger, witch, medium, assassin, and "normal" locals – team up to fight evil forces, so of course romance, magic, violence, and chaos ensues!
Surprisingly, this delightful and naughty guilty pleasure aired on NBC, though SYFY (NBC's sister network) would have been a better fit. Midnight combines the brash thrills and chills of The Magicians with Wynonna Earp's righteous responsibility of ensuring Good prevails over Evil. It's no shock that NBC canceled the show ahead of its open-ended Season 2 finale (which garnered steady ratings).
Between the lack of advertising and seasonal/time-slot changes, NBC set it up for failure…but there is still hope. According to TVLine, Universal intends to "shop the show to other outlets" – meaning a rebirth at a service like Netflix is quite possible. Like many of Netflix's other supernatural sagas, Midnight, Texas encourages viewers to come along on a wild ride and maintains a healthy sense of humor in the midst of apocalyptic doom.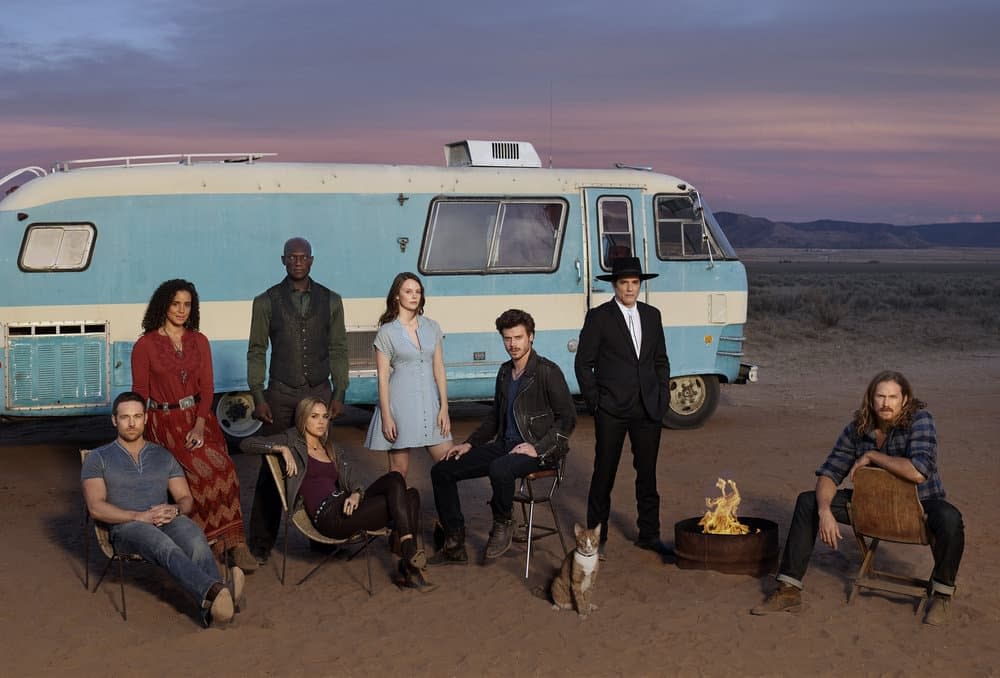 A small collection of supernatural misfits bond and form an unconventional family in the mysterious small town of Midnight. In Season 1, Manfred (François Arnaud), a medium who sees and speaks with the dead, follows his dearly departed Aunt Xylda's (Joanne Camp) advice and travels to Midnight. While overcoming a series of mystifying obstacles – which includes sending a ruthless demon back to Hell – he befriends the alluring Midnighters.
https://youtu.be/tdYk1KLMP5M
Here's a quick introduction:
Joe (Jason Lewis) is a fallen angel who spent millennia fighting demons until he fell in love with one. Chuy (Bernardo Saracino) is a rare demon who painstakingly resists his evil instincts and lives a peaceful life with his doting husband. We love seeing Joe spread his wings and protectively fly over the town. Midnight has its own guardian angel!
Rev. Emilio (Yul Vazquez) tries redeeming himself by serving as their priest, friend, and confidant. He also happens to be a were-tiger. That's right – tiger! Don't worry, he's responsible and takes great precaution for his monthly transformations.
Olivia (Arielle Kebbel) is a kickass assassin with daddy issues. She finds a soulmate in Lem (Peter Mensah), a remorseful vampire with an equal amount of baggage. We see Olivia's softer side in Season 2 – caring for a sought-after young were-tiger trigger her maternal instincts.
Good Witch Fiji (Parisa Fitz-Henley) pines after a civilian with a dark past – turns out her beloved Bobo (Dylan Bruce) descends from crazy Nazis. Fear not, Bobo is one of the good guys and denounces his twisted family. They make a super cute couple with some supernatural challenges. Also, Fiji has some pretty cool mojo to show off throughout the series.
Manfred offers fascinating insights as the town's newcomer and veteran medium. He hails from a line of gypsy psychics and knows how to get answers from the other realm. He falls for Creek (Sarah Ramos), a local who understands and accepts her supernatural friends.
Season 2 brings on heavy-hitters who shake things up for everyone in town: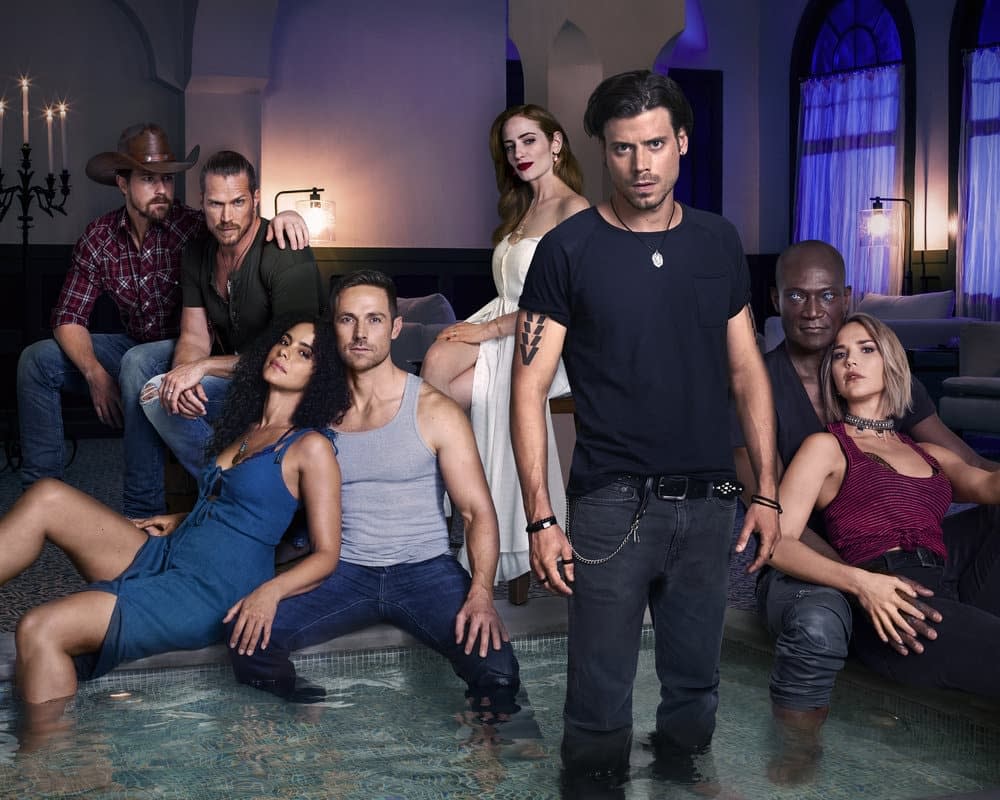 Kai (Nestor Carbonell) and his wife Patience (Jaime Ray Newman) turn the haunted hotel into a spa-resort where he can practice his art of healing. Kai can suck the evil or supernatural out of people and it is pretty awesome.
https://youtu.be/cYW73ZATi90
We also meet a hunky demon hunter, Walker (Josh Kelly), who takes a shine to Joe. They team up to take down demons together. Throughout the season we can't help but wonder if our resident angel will fall into temptation.
https://youtu.be/30EgPeszYjU
An over-the-top sophomore season took the show to a new level as the unimaginable came to pass. Relationships are tested, friends are lost and epic battles are valiantly fought. Good never cowers to Evil – but triumph comes at a great cost. Midnighters makes surprising sacrifices to save the ones they love.
Midnight, Texas is the TV equivalent of a popcorn movie. You don't need/want to overthink the mind-blowing moments on this show. You embrace the ridiculousness and relish in the silliness that unfolds. You expect viscerally shocking (or predictable) twists. In the midst of madness, there are poignant commentaries made on society, politics, and the importance of acceptance. Midnight is a place where outcasts go to find family and a sense of belonging.
The cast and fans are fighting to find the show a new home:
The number of cliffhangers in the second season finale prove there are still many more stories left to tell, so we'll see if any network swoops in for a big save.
Stay tuned…