Nia Jax Fires Back at Fans Who Says She's Dangerous in the Ring
Nia Jax has come under a lot of criticism recently for her in-ring work, particularly when it comes to protecting her opponents from serious injury. In particular, Jax has been criticized for two recent matches with Kairi Sane. In one, Jax tossed Sane into the corner for a turnbuckle powerbomb but seemed to do so too soon, resulting in Sane taking a nasty bump against the bottom two turnbuckles rather than the top. In response, WWE banned the use of the turnbuckle powerbomb. In the second match a few weeks ago, Jax threw Sane into the steel stairs without enough room for Sane to control her bump, causing her to bust her head open on the stairs. The match was pre-taped, and so the results were able to be edited out, though the taping had to be stopped so officials could check out Sane's injury.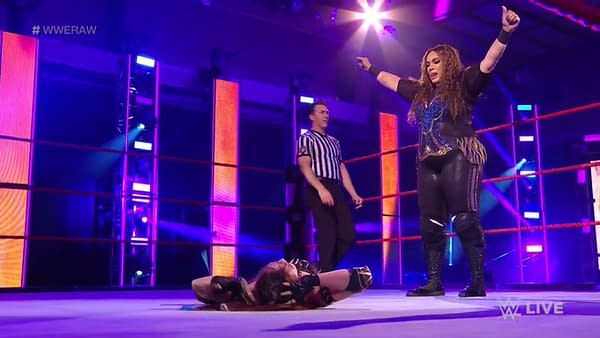 In an interview with TalkSports, Jax addressed the criticism… sort of. The question asked on TalkSport was ambiguous enough to allow Jax to pivot to a general tirade against haters rather than explicitly addressing in-ring safety. TalkSport asked, "You say you like being booed and hated, but that can get a little toxic on Twitter. You've come under some criticism since your return with some of your work with Kairi Sane, how do you feel about the fan backlash?"
To that, Jax responded, "I feel like every person or character who would say 'oh, whatever they say doesn't bother me' are kind of lying. Because I am working for the approval of an audience. Whether it be hating or loving, I want their reaction. So when you're on Twitter and you see it constantly, it can definitely get to you a little bit. It's like 'wow, all I'm seeing is negativity.' But when I step back and I actually immerse myself into the WWE Universe – like when I get to see the crowd and fans – I know that's just a small percentage on Twitter who have nothing better to do than hate on somebody."
"The fans in real life are so welcoming, so giving and so understanding, I've had nothing but positive feedback from them and I'm super grateful for that," Jax concluded. With Jax set to face Asuka at the Backlash PPV on Sunday, one wonders whether Kairi Sane will be at ringside, and if so, what punishment she might be subjected to this time around.