Better Late Than Never, WWE Reportedly Bans Turnbuckle Powerbomb
In a move that many will view as long overdue, WWE has finally banned the turnbuckle powerbomb, removing it from the list of authorized moves for company talent. The decision was reported by PWInsider and comes just a few weeks after a botched buckle bomb by Nia Jax against Kairi Sane garnered an adverse reaction online. WWE still hasn't taken the step of banning Nia Jax, but they have to take things one step at a time.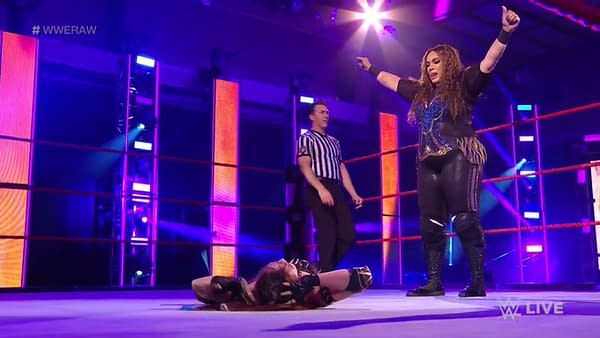 What is a Turnbuckle Powerbomb
The turnbuckle powerbomb involves powerbombing an opponent into the turnbuckle area, which is a far more dangerous way to perform the move than a regular powerbomb onto the mat. A powerbomb to the mat allows a wrestler to spread out the impact of the bump by landing with as much of their body as possible flat. However, in the case of the turnbuckle, there are a few points of impact, and it's not possible to spread it out in the same way. Additionally, it's easier to misjudge the move and potentially put a wrestler in a dangerous situation. To top it all off, the move doesn't even necessarily look more painful than a powerbomb to the mat. In fact, it actually looks less devastating and relies on the viewer's knowledge that the bump is less safe to create a reaction. This is different than, for example, performing a move through a table, where the move looks more devastating but is actually safer since the table helps break the fall.
WWE Made the Right Decision
In addition to the recent incident with Kairi Sane, Sting was forced to retire after receiving the move from Seth Rollins. Finn Balor also suffered a career derailment when he was injured, taking a variation of the move from Rollins, where he was powerbombed into the ringside barrier. Hopefully, that variation is also off the table too. While normally banning moves seems like an overreaction (and sometimes it is), the fact is that WWE is unable to exercise restraint.
Look, if wrestlers want to pull out a more dangerous move once in a while to make a big impact, I think that's fine personally. But it doesn't work that way in WWE, where, if a turnbuckle powerbomb is allowed at all, it will happen in nearly every match (usually at the same point in the match), rather than as an occasional escalation of violence due to WWE's formulaic approach to match production. As such, it's for the best that WWE simply not allow the move at all. And maybe ban Seth Rollins too while they're at it.