Norman Reedus Says Walking Dead Season 10 Finale Goes Game of Thrones
The Walking Dead universe still finds itself stuck in the middle of the production traffic jam caused by the coronavirus pandemic. What that means is that the sixth season of Fear the Walking Dead is still left in a vague, "this summer" status, and spinoff series The Walking Dead: World Beyond being held off until sometime later this year. But if we're being completely honest, it's all about the original series' Greg Nicotero-directed tenth season finale "A Certain Doom" (story by Jim Barnes, Eli Jorné, and Corey Reed; with the teleplay by Reed). It's understandable considering the last time we saw them, Beta (Ryan Hurst) was leading an ungodly wave of walkers directly at our heroes for what looks to be a battle of biblical nature. While we tend to lean more theological in our description, series star Norman Reedus (Daryl) is going bold with the season finale comparison he shared with EW's Dalton Ross: "It's going to be an epic battle. It's like a full-on Game of Thrones super war battle."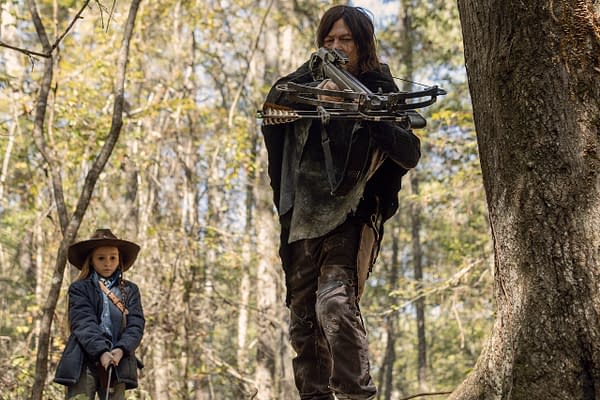 From the way Reedus describes it, readers could take his description and interchange it with a Game of Thrones actor's from the series run. Though to be clear? If Danai Gurira's Michonne left before we got a chance to see her riding a dragon while rocking her sword, there's going to be a riot. "It was a lot of fun to shoot," Reedus explains, "but we really pushed the crew and pushed the actors on that one. Everyone really had to dig deep because… talk about exhausting episodes! There were huge battle scenes until the wee hours of the morning consistently, and it looks so grand on an epic scale. Those battle scenes are going to be legendary." That said, it's nothing that Reedus and anyone who's been on the series for more than one season isn't used to: "They really stick it to us on that show, but it always pays off. This show will go down in history. And I feel like every time we get to a finale or even a mid-season finale, we could be in over our heads, but there's a confidence there and everybody really brings it."