Paige Talks Greatest Wrestling Match Ever, Nia Jax vs. Asuka
WWE Superstar Paige appeared on WWE's The Bump talk show ahead of Sunday's Backlash PPV, and she talked about two matches taking place tonight. One is a match between Edge and Randy Orton being billed as the Greatest Wrestling Match Ever. The other is the WWE Raw Women's Championship match between Asuka and Nia Jax.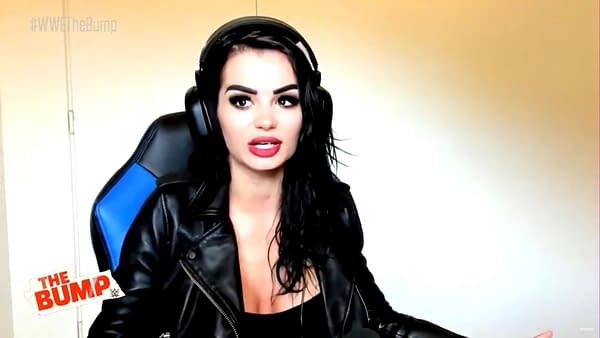 Paige has special connections with superstars from both matches. When it comes to Edge, it's a particularly emotional connection, as Paige referenced Edge during her own retirement speech, saying the WWE legend helped her come to grips with the end of her in-ring career. At the same time, Edge's recent return gives Paige hopes that she can make a comeback of her own.
"He's just wonderful," Paige said of Edge. "I'm truly inspired by him because I was always a massive fan anyway. I was definitely an Edge-head for sure. But the fact that he went through the same as me neck-wise, and then went away for like nine years and then all of a sudden made this miraculous recovery and then made this huge comeback to the ring; I was crying. And then for him to go into this storyline with Randy [Orton] who I'm also a massive fan of too, and his journey is very similar to mine as well. It's definitely going to be the best match ever. It's going to be awesome. They're not going to disappoint. They're amazing. But I'm definitely team Edge on this. It's just inspiring, and it gives me hope that one day, even in nine years, that I could come back at nearly forty and get back in the ring again. I just come in like 'hey guys, I'm back,' and they're just like 'no, turn around!' But yeah, he inspires me that one day I could make a comeback."
Additionally, Paige's relationship with her best friend Nia Jax is well-documented on WWE's Total Divas reality show. Paige also spent some time managing Asuka in the Kabuki Warriors, so she had some thoughts on the Championship match between the two at Backlash tonight.
"She's like Wonder Woman, first of all," Paige said of Jax. "She had double knee surgery and came back in record time. She did an incredible job, and I just feel like she's been working so hard training-wise to perfect the craft, but also she wants to make her in-ring abilities so much better too, and you can see that. I'm really excited, and I know Asuka's one of the best wrestlers of all time too. I love her even though she spit green mist in my face. I forgive you, sis. I do forgive you, because you know what, I'm a big fan of you. But she has to watch out if I come back one day, seriously, me and her, one on one. But her and Nia, I just feel like they will have an amazing match. I feel like they'll do incredible things for sure."
WWE Backlash is happening tonight at 7 PM on the WWE Network. Stay tuned to Bleeding Cool for live coverage of the event.