Ren and Stimpy Finish Out Mondo Nick Week With New Poster and Pins
Ren and Stimpy will be the final Nicktoon honored by Mondo during this week's "Nickweek" on the site. A new poster by artist Florian Bertmer from the episode "Fake Dad" and a pin set will go onsale at 12 CT tomorrow (or today depending on when you read this) Friday, March 2. The poster will be limited to onlt 175 pieces and will ship in April.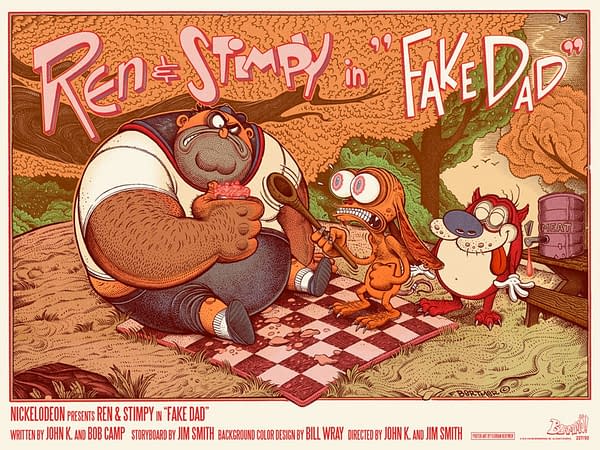 Tomorrow we're wrapping up Nick Week with a stunning new poster and pins for one of the single greatest, and surprising, "kids" shows ever: REN & STIMPY. Following up on his first poster for the series, "Svën Höek," Florian Bertmer has again stepped up and delivered the goods on a poster for the episode "Fake Dad." In the episode Ren and Stimpy become adoptive parents to a seven-year-old Lummox named Kowalski. Florian's style is a perfect compliment to the iconic animated style of the show and we couldn't be happier to have him return to the series. In addition to the poster, we'll also have a handful of new pins designed by Florian celebrating various characters from the show: Ren Höek, Crocostimpy, Kowalski, and Powdered Toast Man!

"I don't think any other post-war era cartoon has come close to REN & STIMPY in terms of amazing animation and utter weirdness to this day. Even by today's standards, the insanity that made it past censorship and onto the screen is just mind-boggling; it makes most other shows seem rather tame. The episode "Fake Dad" has always been a favorite of mine because watching Ren forced into a father role is just darn funny, and Kowalski is a hilarious character to begin with. Fun fact – I often call my best friend Kowalski due to his sheer size and grumpy nature…" – Florian Bertmer

The pin set features Ren Höek, Crocostimpy, Kowalski and Powdered Toast Man all designed by Bertmer as well. Each is $10 or you can get the set for $35.