With fans of Adult Swim's Rick and Morty now having an end month to look forward to after WarnerMedia's 2019 May Upfronts saw Dan Harmon and Justin Roiland announce that their hit animated series would officially return November 2019, the excitement is starting to grow.
From just the Upfronts alone, there was the announcement about season 4 with an accompanying video (see below), and red carpet interviews with Harmon and Roiland that teased (jokingly?) a Rick and Morty future with Daniel Radcliffe and Kanye West in it. In late June, Adult Swim announced a second addition of its two-day festival in Los Angeles – which will be of particular interest to fans (more below).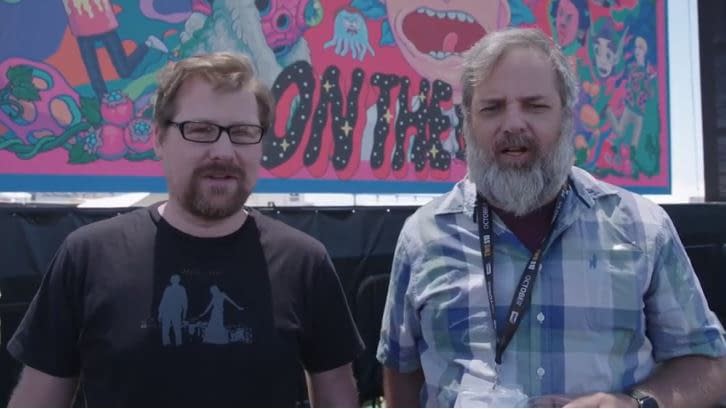 Now, Harmon and Roiland are giving fans the opportunity to literally be in on the action by winning a chance to be drawn into a future Rick and Morty episode, hang out with the creators in studio, and help two great causes in the process. Between now and October 1, 2019, fan can head over to the campaign's Prizeo page (here) to make a $10 donation and enter to win:
● An opportunity to be drawn into a future episode of Rick and Morty as a background character;
● Meet Roiland and Harmon;
● Tour the Rick and Morty production offices in Los Angeles;
● Take home a Rick and Morty merch bundle (so no stealing stuff off the walls!);
● Roundtrip airfare and hotel accommodations for you and a guest.
Here's a look at more of the details, as well as a message from the Rick and Morty team and an overview of the two organizations that are benefitting from the donations: NEXT for AUTISM and Bergen County's United Way.
Wubba lubba dub dub, friends!

At the end of Season 3 of Rick and Morty, there were some important questions left unanswered — Is Evil Morty coming back? Whatever happened to Morty Jr.? How's Mr. Poopybutthole doing? The gag clauses in our contracts prevent us from sharing any details. But let's just say it's really weird and about to get a whole lot weirder. Want to see for yourself?

For only a $10 donation, you and a friend could win a trip to Los Angeles, meet creators Justin Roiland and Dan Harmon, and tour the Rick and Morty production studio. Then, we'll get you drawn into a future episode! You'll also get to take home a Rick and Morty merch bundle! Airfare and hotel are included as well!

Your donation supports NEXT for AUTISM and Bergen County's United Way, helping to transform the national landscape of services for people with autism. If you want to give more, you'll get extra entries and score some cool Rick and Morty rewards!

It's time to get schwifty in here! We can't wait to meet you and a friend!
NEXT for AUTISM (formerly New York Collaborates for Autism) is a non-profit organization that strategically designs, launches and supports innovative programs to improve the lives of people living with Autism Spectrum Disorder (ASD).
Bergen County's United Way builds quality, affordable homes that empower individuals and families to live independently and thrive in the communities of their choice – offering more freedom to choose where to live, more mobility to access decent schools and jobs, and more opportunity to thrive with less income needing to be spent on the basic necessity of shelter.

To coincide with the show's Comic-Con International: San Diego (SDCC) appearance during the summer's ultimate "geekfest" (and only days after two images from the upcoming season were released and the creators discussed the new season), Rick and Morty fans were given their first look at the upcoming 10-episode season – and it involves apps, matching jumpsuits, what looks like a bad start-up, and a ton of slapping around:

Fans of Rick and Morty who plan on being in the Los Angeles area in mid-November have a chance at a very cool opportunity. The Adult Swim Festival (Friday, November 15 and Saturday, November 16 at Banc Of California Stadium in Los Angeles, California) will feature an exclusive, premiere screening of Rick and Morty's fourth season (though no word yet on if Dan Harmon and/or Justin Roiland will make an appearance).
Speaking of "Rick and Morty" Season 4…
In May 2018, Roiland took to Twitter to officially announce that the series had been renewed by Adult Swim – and what a renewal it was! We weren't talking ten… twenty… even fifty episodes. Oh no, this order was for a whopping seventy episodes– which increases the chances of there being a Noob Noob solo episode that much more.
More Rick and Morty coming. Looking forward to all the tweets asking where it is! #theydrawingit pic.twitter.com/KZild3B9rP

— Justin Roiland (@JustinRoiland) May 10, 2018
Not to be left out of the celebration, Harmon released his own shower-themed announcement and offered good tidings to the fans:
If anyone thought Adult Swim had any doubts about their decision, the network cleared that up pretty quickly:
What Justin said #RickandMorty @danharmon @JustinRoiland https://t.co/mU0zFD0iFG

— adultswim (@adultswim) May 10, 2018