Sean Manaea Has Thrown The First No-Hitter of 2018
Sean Manaea has thrown the first no-hitter in baseball for 2018. The A's lefty did it tonight in a 3-0 victory over the Red Sox. The Sox entered the game with an MLB best 17-2 record and had been destroying teams. Not so much on Saturday.
Sean Manaea has been exceptional so far in 2018, posting a 1.23 ERA and allowing one run or less in four starts. Saturday he walked only two and and struck out 10 on his way to the twelfth no-hitter in Oakland A's history. The whole thing was almost broken up in the sixth inning when Andrew Benintendi reached base on what was initially ruled a hit. After conferring on the field, umpires determined he had run out of the baseline and was ruled out. He gave up one walk in the first to the very first batter of the game Mookie Betts, and then one to Benintendi. Hanley Ramirez grounded into the game-ending double play.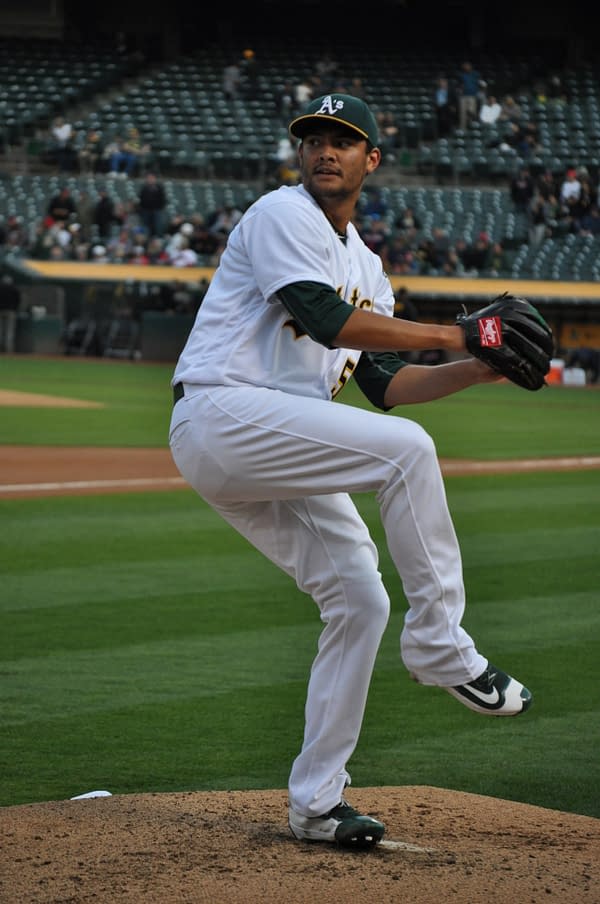 Offensively, the A's took it to Red Sox ace Chris Sale, getting three runs off seven hits. Marcus Semien homered in the fifth, and red-hot Jed Lowrie doubled in a run. Stephen Piscotty added an RBI double as well. The last A's no-hitter/perfect game was on May 9, 2010 and was thrown by Dallas Braden against the Rays. At one point Manaea retired 14 straight batters and looked to be on cruise control. Th eonly other baserunner for the Red Sox reached on an error in the fifth inning when Semien had trouble with a pop-up.
The two teams will finish their weekend series today in Oakland. David Price will take the mound for the Red Sox while Daniel Mengden will try to also hold them hitless for Oakland. Here is the final out of the game.
Congrats to Sean Manaea!