Solar Opposites Introduces Korvo, Terry, and Their Speaceship, Aisha
As psyched as we're sure they are for tonight's midseason return, Rick and Morty duo Justin Roiland and Mike McMahn have more than just the hugely popular Adult Swim series going for them. In less than a week, Roiland and McMahn's animated sci-fi/comedy series Solar Opposites crash lands on Hulu (starting May 8th) so there's still some time to introduce viewers to our visitors from the planet Shlorp. First up, we have Korvo (Roiland): not our planet's biggest fan yet he does his best to fit in. Except when he doesn't. Which is often. Next up, Terry's (Thomas Middleditch) taken to Earth in a big way. Terry's also not much of a "deep thinker". We'll leave it up to you to see if there's any connection. Finally, meet Spaceship. Or as her friends like to call her, Aisha. Our foursome's main mode of space travel, she has to rely on these "great minds" to get her up and running. You might want to start administering late rites now, just to be on the safe side.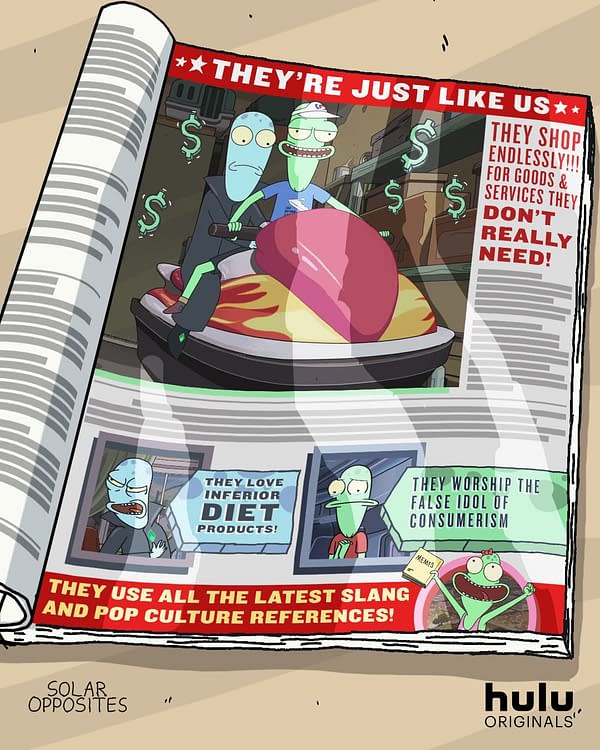 In Roiland and McMahn's adult animated series, a team of four aliens who escape their exploding homeworld only to crash land into a move-in ready home in suburban America. They are evenly split on whether Earth is awful or awesome. Korvo and Yumyulack (Sean Giambrone) only see the pollution, crass consumerism, and human frailty while Terry and Jesse (Mary Mack) love humans and all their TV, junk food, and fun stuff. Their mission: protect the Pupa, a living supercomputer that will one day evolve into its true form, consume them, and terraform the Earth. Here's a look at the official trailer for Solar Opposites, featuring an all-star line-up of voice actors, including Roiland, Giambrone, Middleditch, Mack, Alan Tudyk, Alfred Molina, Christina Hendricks, Jason Mantzoukas, Liam Cunningham, Rainn Wilson, Tiffany Haddish, and more.