Josh McDaniels Snubs the Indianapolis Colts to Stay with the New England Patriots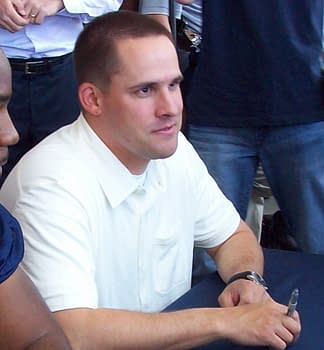 It looked like the perfect head coaching job for Josh McDaniels. The Indianapolis Colts have a young franchise quarterback under contract in Andrew Luck and a back-up, Jacoby Brissett, who has already spent time in McDaniels's system. They have an owner willing to spend money and an extremely loyal fan base. For an offensive coordinator / quarterback guru looking to move up, it's almost too good to pass up. And McDaniels didn't… until he did.
Having initially agreed to a contract with the Colts, McDaniels told them he wanted a couple days to be sure and then last night told them 'no', he was staying in New England Patriots.
The Colts released a statement:
"After agreeing to contract terms to become the Indianapolis Colts' new head coach, New England Patriots assistant coach Josh McDaniels this evening informed us that he would not be joining our team. Although we are surprised and disappointed, we will resume our head-coaching search immediately and find the right fit to lead our team and organization on and off the field."
In the 48 hours after losing the Super Bowl, Patriots owner Bob Kraft started talking with his offensive coordinator and eventually improved McDaniels contract to get him to stay. Though he had agreed to the terms of a deal, he hadn't actually signed and reports say the 41-year-old was still on the fence about the job. Part of his hesitation was picking up and moving his family. Though he still wants to become a head coach again, McDaniels decided that for now it was better to stay in New England.
This leads to the question of whether part of the deal McDaniels received includes a promise to be the next head coach of the Patriots once the 65-year-old Bill Belichick retires. Reports say that it was not a factor in McDaniels decision… but retirement talk has been circling Belichick the last year or two, making it a bit hard to believe McDaniels didn't even think about that.
The team will still be losing defensive coordinator Matt Patricia, who is moving on to the Detroit Lions to be their head coach.
The Colts are now in a tough position as the other candidates they had interviewed have all taken other jobs. Kansas City Chiefs offensive coordinator Matt Nagy is now the Chicago Bears' head coach; Houston Texans defensive coordinator Mike Vrabel is the Tennessee Titans' head coach; Carolina Panthers defensive coordinator Steve Wilks is the Arizona Cardinals' head coach; Baylor head coach Matt Rhule is remaining with the school; and Seattle Seahawks defensive coordinator Kris Richard is now the defensive passing-game coordinator with the Dallas Cowboys. The Colts are literally back at square one, but news came out yesterday that Luck may need additional shoulder surgery… meaning the job may not even be as attractive as it was a week ago.
Source: ESPN