Stephen Amell Says the Green Arrow Goatee is Coming
Stephen Amell was at Motor City Comic Con this past weekend and was quite talkative on his panel. He didn't necessarily give away any big secrets, but he did talk about one thing we will see in season 7 of Arrow, who he'd like Oliver Queen to team up with, and how the Green Arrow would stack up against Marvel's archer Hawkeye.
The big news is what fans have been waiting for: the appearance of the classic Oliver Queen goatee. It's quite a thing of beauty, and where Amell originally said no way to the beard, keeping either clean shaven or stubble through six seasons, he told fans that the goatee will be appearing in season 7. However, it might not be for long. He eventually came around to tell folks that the goatee would appear sometime before the series ended, and it looks like season 7 will be that sometime. As reported by ComicBook.com:
"Just because you've been polite, and just because everyone has been so nice to me today, I can break some news for you and let you know that in Season Seven I am going to debut the goatee. I can't promise that I'm going to keep [the goatee] forever. I can definitely promise that I'm not going to wear the stupid hat."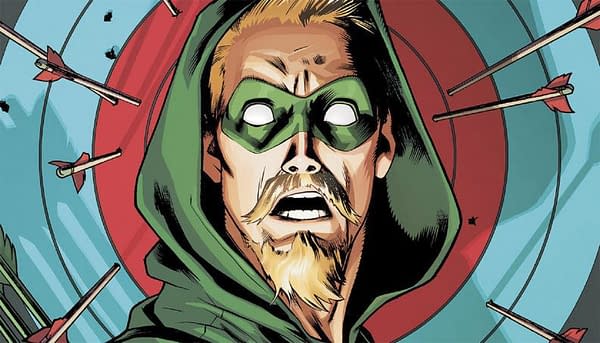 He went on to say that they have been talking a lot about if Oliver gets out of prison and resumes being Green Arrow — now that his secret is out, does he need to hide his face anymore? What would his costume look like going forward?
The actor also mentioned that there will be a new character introduced, and it seems like it's going to be somebody big and important.
"We're also debuting a new character, who, when I heard about it, I just got goosebumps. I'm so excited."
Since this was after the Batwoman announcement, I think it's safe to assume it's someone else — and since it looks like he's going to be spending some time in prison, I think it's a good chance that ht person is going to be a villain he might have to team up with while inside. And if it gave Amell goosebumps, it has to be someone big.
He was asked which Arrowverse character he'd like Green Arrow to cross over with, and his answer was the Big Blue Boy Scout.
"Superman. I thought that Tyler did a great job, and I had an opportunity to fangirl over [Smallville star] Tom Welling. I would love for Oliver and Clark to eventually meet. I think that that would be incredible."
The problem with that is DC has put the character back on the no-fly list for the TV shows, hence him not appearing in Supergirl season 3 after making three appearances in season 2. Other characters that have already been introduced have been restricted since because of the films, Manu Bennett's Deathstroke being another one after his two-episode appearance earlier in Arrow season 6.
And finally, Amell was asked if Green Arrow could beat Hawkeye of the Marvel Universe.
"I think that any iteration of Green Arrow would beat any iteration of Hawkeye just based on the fact he's not weird and left handed."
Amell was joking, of course, and said so immediately after, not wanting to insult left-handed people.