Posted in: Netflix, Review, TV | Tagged: Debra Jo Rupp, Kurtwood Smith, netflix, Review, That '70s Show, That '90s Show
---
That '90s Show Season 1 Review: Familiar Themes Blunt Show's Potential
Netflix's That '90s Show falls short of bringing the charm of That '70s Show as all-too-familiar themes undercut a promising new cast.
---
When Netflix announced That '90s Show, the legacy sequel set 20 years after the start of the events at the start of That '70s Show, it offered an opportunity to provide a fresh start for a new cast while giving fans their cake with most of the holdover cast from the original Fox series. The show's premise is more an ensemble cast by nature despite holdovers Debra Jo Rupp and Kurtwood Smith in the starring roles reprising popular parents Kitty and Red Forman. But hey, someone's name has to go first, right even if the new focus is Callie Haverda's Leia Forman, right? It's just a formality at this point.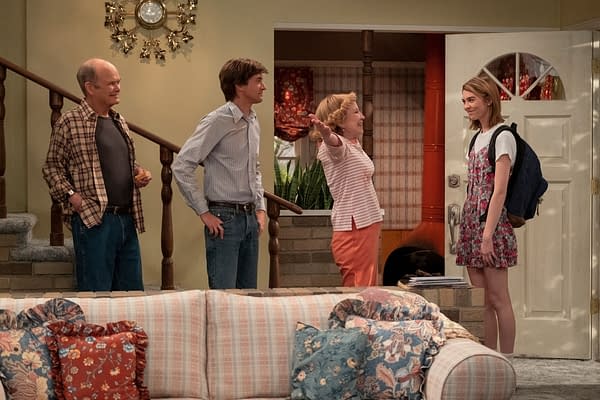 The series focuses on Leia as she and her parents visit her grandparents from Chicago for the summer at their home in Point Place, Wisconsin. When she initially establishes herself, the friends she makes lead her to want to stay for the summer, to which her parents agree. What is Leia like? The phrase, "The apple doesn't fall far from the tree," is an understatement when comparing Haverda's Leia to her father in Topher Grace's Eric Forman. Similar to adolescent awkward quirkiness, but maybe not the same nerd charm. There's not much to reflect Leia's feminist tomboy mother in Laura Prepon's Donna Pinciotti aside from her athletic ability playing basketball.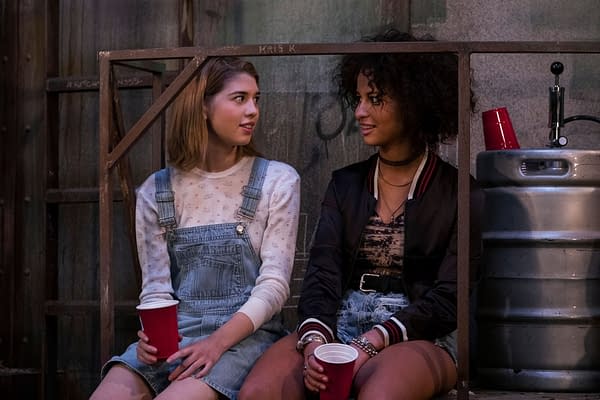 The strength of the series is the relationship between Leia and Ashley Aufderheide's Gwen Runck, her next-door neighbor. While they don't end up falling in love like the original Fox leads in Grace and Prepon, we get to meet the others, which is more or less a hodgepodge of previous archetypes of That '70s Show. Let's start with Mace Coronel's Jay Kelso, who's the son of Michael Kelso (Ashton Kutcher) and Jackie Burkhart (Mila Kunis). Shockingly, he's not self-absorbed, nor is he the resident buffoon. He does develop feelings for Leia and a bit of a bromance with Maxwell Acee Donovan's Nate.
There's not much to Nate other than he does share Michael's alpha male tendencies and "insights," so he's the "resident buffoon." He is seeing Sam Morelos' Nikki, who's there and acts as another body to bond with Gwen when Leia isn't around. I think the series is still trying to figure out what to do with her. The final member of the gang is Reyn Doi's Ozzie, who's given all the sassy gay character quirks. I honestly wish they did more than the bare minimum checklist for what feels like a token character. He did share a great memorable scene with Rupp, however.
Replacing Don Stark's Bob Pinciotti as the "annoying neighbor" is Andrea Anders' Sherri Runck, who's the middle-aged single mother of Gwen and Nate. She's become a welcome addition to add another blue-collar presence to the series, bonding with Red and Kitty. Speaking of Bob, let's go into the cameos and returns. Stark, who's always a joy to watch on the original Fox series, felt like his character went in the wrong direction in the Netflix series, even in a limited guest appearance capacity with his "visiting" character.
Bob's one of three grandparents, and the best you can do is make him a bigger sad sack than he already was? I mean, even Sam Lloyd's Ted from Scrubs was able to find happiness again. It feels like a huge wasted opportunity. I can't complain too much about Kunis and Kutcher's appearance as Michael and Jackie are more or less, one-note characters. The series also manages to recycle the same joke with Tommy Chong's hippie Leo, which is on brand. It would have been nice to see Grace in a bigger role, but understandable given his involvement in ABC's Home Economics. Of the original cast, we see Prepon (who directed two episodes) and Wilmer Valderrama have the most substantive roles in That '90s Show.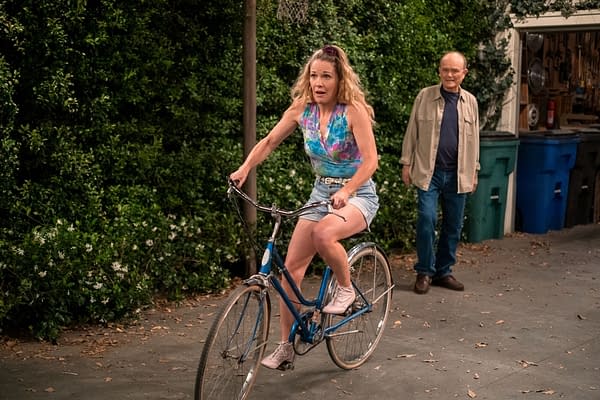 While Valderamma retained his Fez mannerisms and awkwardness, he does shine with one of the new cast members. As far as the main stars, Rupp and Smith, their presence is the same as in the original Fox series. They make their presence known every second that they are on our screens. There is an arc with Rupp's character that starts late into the season, and both pick up where they left off when the original series ended in 2006. I'm also convinced that Grace, Kutcher, and Kunis are vampires as ageless wonders. As far as the premise of the show itself as the 1990s, it felt more like a formality and template than anything.
While That '90s Show's opening sequence felt reminiscent of Malcolm in the Middle, which included an updated cover of Cheap Trick's original theme to '70s, the pop culture references seemed a bit light considering the decade it was representing (aside from video stores and computers). Red and Kitty mentioned Law & Order, and it's a shame we didn't get a related fantasy sequence. The show they did parody in a sequence featured Brian Austin Green if that wasn't a dead giveaway to what it was. I mean, if they're hoping they'll have future seasons, guess we can maybe hope for them to recreate Friends, Twin Peaks, Cheers, or even Seinfeld. There was so much meat on the bone, which is shocking considering the creators of the Netflix series (including Bonnie and Terry Turner) are the same behind the Fox original.
Maybe asking more from a 10-episode debut season of That '90s Show as opposed to the traditional 20+ episode seasons of That '70s Show might be a bit much. While I appreciate the attempt at world-building with the new cast, they did some things right but left too much off the table. Beyond the novelty of seeing most of the original cast again, not all at once, unfortunately, it probably needed another 10 episodes to realize more of its potential. The series is available to stream on Netflix.
---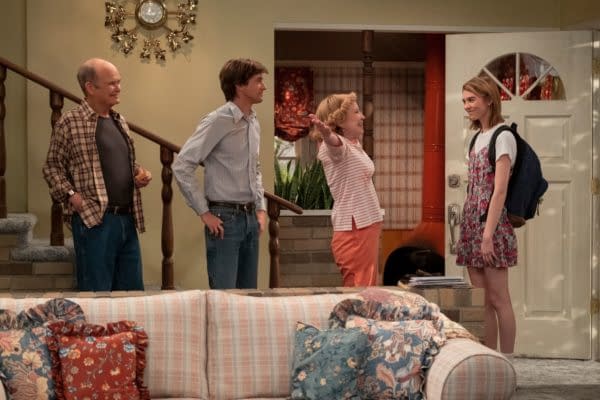 ---
Netflix's That '90s Show tries but falls short of bringing off the charm of Fox's That '70s Show. The new cast is promising, but the premise is undercut. Creators Bonnie and Terry Turner have such a wide sandbox to work with but largely play it safe, sticking to familiar tones and themes recycled from the original show. Original That '70s Show cast members didn't distract from the new cast but could have been utilized better. Callie Haverda and Ashley Aufderheide thrive as leads, but the supporting cast needs more screen time for them to evolve their characters beyond sitcom stereotypes.
Credits
---
Creators
Bonnie Turner and Terry Turner
---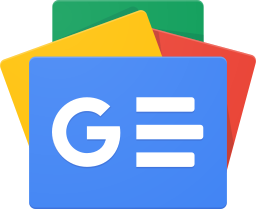 Stay up-to-date and support the site by following Bleeding Cool on Google News today!