"The Good Place" Season 4, Episode 1 "A Girl From Arizona": Strong Opener Finds The Bad Place Playing to Win [SPOILER REVIEW]
Welcome back to NBC's The Good Place, friends! Everything is fine. Well… not really, but we'll get into that with a look at "A Girl From Arizona".
First, there are of course, hella spoilers ahead. If you're not caught up on season 3 and / or haven't seen tonight's episode, you will be exposed to clandestine plot points and otherwise confidential state secrets.
I'm just kidding about the state secrets, NSA. They don't trust me with those anyway. Moving on – in tonight's episode, we see the experiment in full force – you know, the test neighborhood in Mindy St. Clair's The Medium Place backyard, to prove if humans really can change and be better people after death.
And of course, it wouldn't be a totally fair experiment if The Bad Place crew wasn't meddling and cheating – wait, what?
Let's dive in.!
The Bad Place sent Simone (Kirby Howell-Baptiste) to mess with Chidi (William Jackson Harper), who took one for the team and had Michael (Ted Danson) erase his memory so it wouldn't fork with the experiment. Even though Chidi and Eleanor (Kristen Bell) were a thing and now he won't remember her at all. They also sent gossip columnist John to get under Tahani's (Jameela Jamil) skin… and now we meet the next new resident… Linda from Norway?
Linda is quite possibly the most boring person ever. Maybe she was picked to counter Jason's wacky antics? Because oh man, after that we meet Brent.
Brent is completely sent to piss off Eleanor, no doubt about it. Imagine every single creepy middle-aged dude who's into golf and harassing women and intentionally being "not PC". Oh boy.
What could possibly go wrong?
Maybe Simone defaulting to her neuroscience roots and believing that she's been in an accident and this is her brain's response to the real life coma she's in. In other words? According to her, none of this is real.
That definitely puts a kink in things, and since The Bad Place option of mouth fleas isn't really viable here to snap her into the afterlife reality, they need to find another option.
Enter the ethical sleeper agent, Chidi. According to Jason (Manny Jacinto), Chidi looks smart – like an owl who graduated college – so he believes everything he says. Not quite sure about that process, bud, but you got to the correct answer anyway!
Oh, also – Derek (Jason Mantzoukas) is around – instead of staying at Mindy's, like he's supposed to. Oh and he's not just around – he's trying to steal Janet (D'arcy Carden) back from Jason. Even though he was literally created as a rebound just to make Jason jealous. It's still working – and Derek is still at maximum Derek, which is where we needed him to be.
Our fearless soul squad carries on as usual with the formal opening night party… to which Simone wears foam fingers and a cheese head hat and proceeds to push people into the pool, topple cupcake towers, and randomly belt out an off-key rendition of Third Eye Blind's "Semi-Charmed life".
You do you, Simone.
She's clearly a lost case, so they turn their attention to figuring Linda out. She is the most boring person The Bad Place could have drummed up… until she decks everyone right in the face! Bang! Zoom! Right in the kisser!
So why and how did sweet old Linda go absolutely bat-shirt crazy on everyone?
I am so glad you asked…
It turns out that Linda isn't Linda at all – "Linda" is actually Chris – The Bad Place gym-rat demon who never seems to be wearing a shirt… not that you'll hear Eleanor (or me) complaining.
Well, The Judge (Maya Rudolph) is beyond pissed that The Bad Place would try to undermine the experiment on Day 2, and Shawn (Marc Evan Jackson) doesn't really seem that bothered that he was caught. Maybe because he has something else up the sleeves of his skin suit?
Either way, The Judge is ticked that she was pulled away from her new obsession, Deadwood, (because let's face it, we all need our daily fix of Timothy Olyphant) and she will be damned if it happens again. No more The Bad Place shenanigans – or so help her, she will restart this whole experiment.
So they send Bad Janet and a train to collect their demon eye candy, and Chidi is now the fourth human in the experiment.
As the train zooms off, we're promised more with a "To Be Continued…" hanging in the air.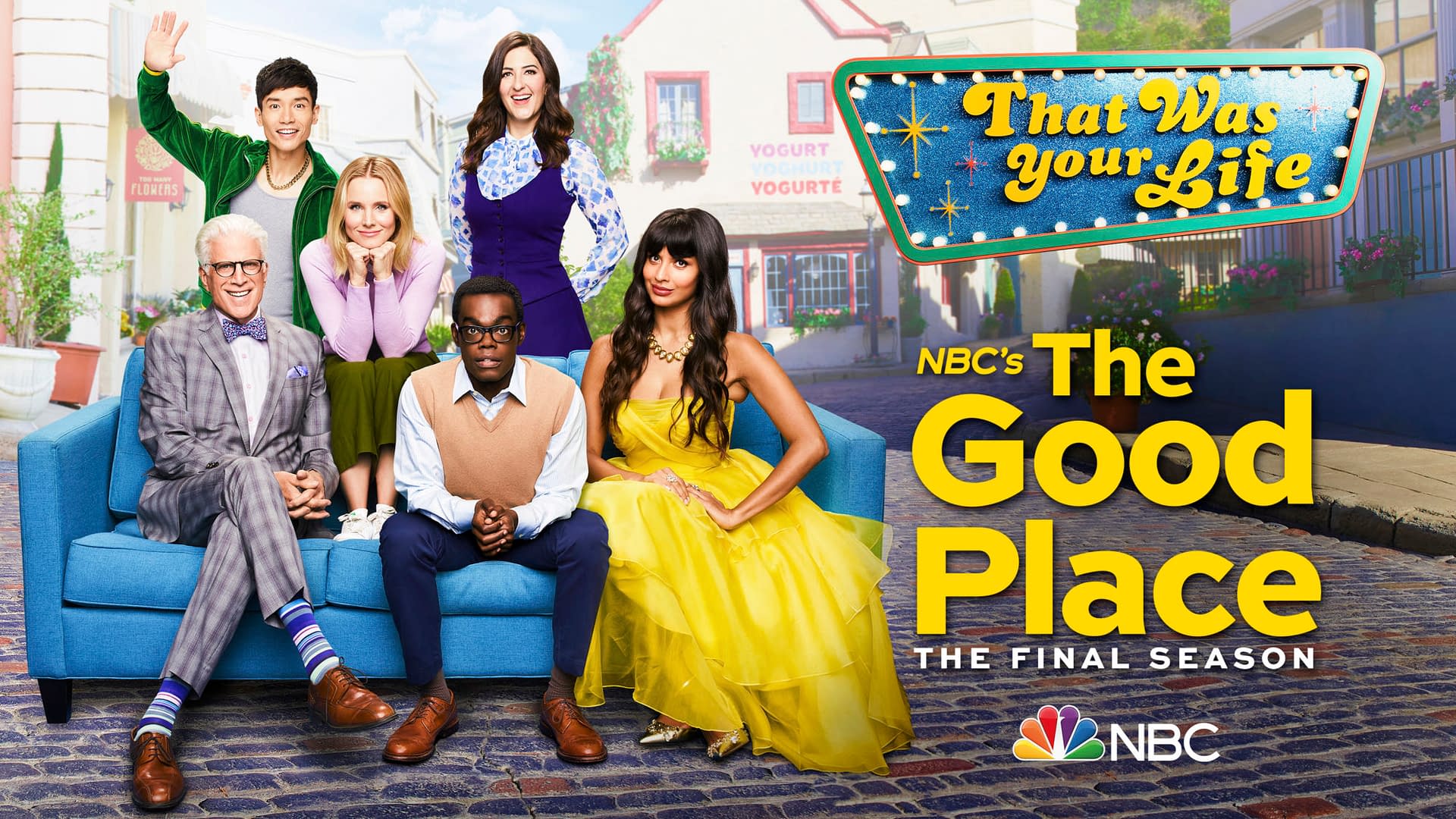 And that's it! That was the beginning of the end for our soul squad and their afterlife antics. I'm sure there are more shenanigans waiting for us in the rest of the season, which I cannot wait for!
Will Chidi make or break the experiment? Will Simone finally realize that this is the afterlife and not a hallucination her brain made up? Will Brent ever get less cringey? Whatever those answers end up being, the season opener did a nice job of setting us up for the season without being too much, too soon.
Perhaps the most important questions are the ones brought up by the baby elephant made of pure light who speaks truths about the universe.
Did Shirley Temple kill JFK?
Was Stonehenge really a sex thing?
Tune in to The Good Place next week… to find out???