The Great North Season 3 Episode 15 Review: Love Boats & Optimism
Gorgeous animation and hilarious yet poetic storytelling filled every moment of the most recent episode of FOX TV's The Great North.
---
FOX's The Great North brought together two characters that fans have been waiting to see finally make the connection that's so obviously there. In the recent episode, "Can't Hardly Date Adventure" of season 3, Beef (Nick Offerman) drives Alyson (Meghan Mullally) to meet a man she met online, and Wolf (Will Forte) confronts his greatest fear: not being liked by a local bartender. Some minor spoilers may be ahead, so consider this your fair warning before reading any further…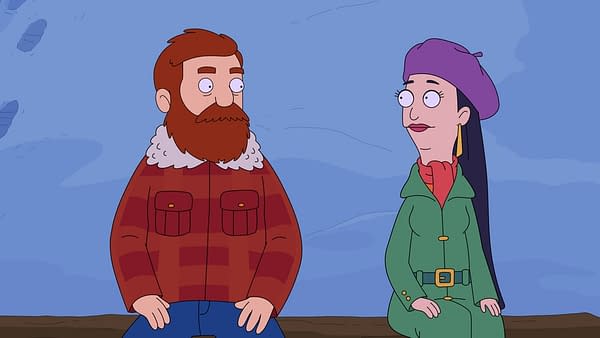 The Tobin household has been rocked by the appearance of Alyson in one of Beef's long flannels in the kitchen one morning, causing Beef to explore his potentially deeper feelings for his friend. The situation of staying with the Tobins that Alyson was put in was a fantastic way to jumpstart this dynamic and discussion we've been waiting for in the series. As Beef struggles to figure out how to navigate his feelings and a potential obstacle between him and Alyson, Wolfe can't seem to get over an old high school classmate who does not evidently like him. This episode worked with this problem in such a great way and incorporated Honeybee's (Dulcé Sloan) advice for her husband/best friend.
There was a great element of addressing the issues that come with people-pleasing in this episode of The Great North. Beef tries to make sure others around him are comfortable and happy, but it's hilariously obvious how he'd rather interact with the situation at hand. His messing up the name of Alyson's online beau was a great theme in their conversations. Jobiathan (Mark McKinney) ending up being the worst potential internet date you could find was icing on the cake of love in this episode.
Wolfe deals with people-pleasing in this episode of The Great North in his own unique way. Seeing him realize the complications that come with someone who just might be the worst was a favorite moment in the episode for me. While many love Wolfe, Honeybee makes sure he realizes that's not always going to be the case, and that should be completely fine with him at some point. Some of my favorite quotes came from Honeybee in this episode, such as "You put a lot of energy into people who don't deserve it" and "Save your energy for people you do like". Everything wrapped up really well with their dialogue during this debacle for Wolfe.
The Great North truly showed its expertise in animation in this episode. The colors and color palettes used were absolutely gorgeous, especially in the scenes on the boat between Alyson and Beef. Fluid and seamless is how I can describe the movements of Wolfe and other characters in this episode. It was fun to watch and showed off how much talent is within the team working on the series. I hate to say that I was trying to find something bad about the episode, but it comes from the feeling that I've been giving too high of praise lately for the series. But in reality, it's well-deserved, and this episode was just another fantastic accomplishment for The Great North.
The Great North Episode Boat Name & Wolf's Shirt:
"Sweet Dreams Are Made of Fish"
"Highway to Smell"
The Great North Season 3 Episode 15 "Can't Hardly Date Adventure"
---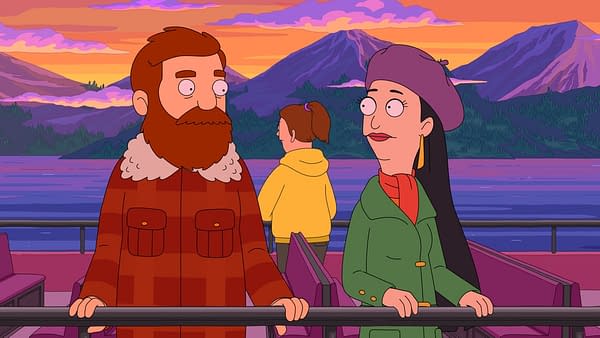 ---
FOX TV's The Great North S03E15 "Can't Hardly Date Adventure" was a beautiful and hilarious exploration of the complications of people-pleasing in friendships and in potential romance. The animation for the episode was gorgeous and brought in a whole other layer of visual brilliance to a sweet story.
Credits
---