The Mandalorian: CASETiFY Announces Disney+ Series Collection
CASETiFY has announced a new collection inspired by the Disney+ series The Mandalorian, just in time to celebrate the third season.
---
Today, the global lifestyle brand CASETiFY announced its first-ever collection inspired by the popular Star Wars series, The Mandalorian, which streams exclusively on Disney+. References to the fan-favorite show will be brought to life on CASETiFY's range of tech accessories. Fans can now sign up for priority access to shop the collection ahead of the launch on March 14. The series' third season premiered on March 1st, and fans are able to catch up on everything from seasons one and two on Disney+.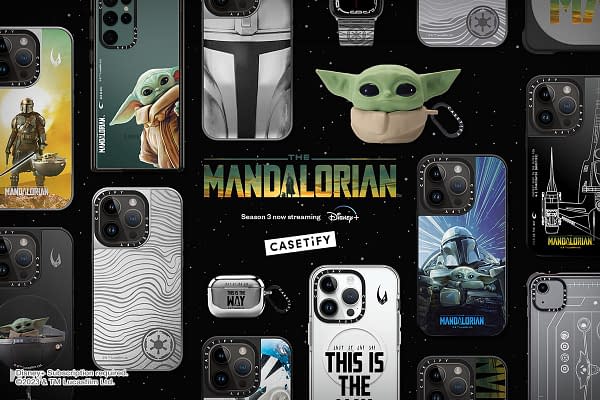 In the third season of The Mandalorian, the journeys of the Mandalorian through the Star Wars galaxy continue. Once a lone bounty hunter, Din Djarin has reunited with Grogu. Meanwhile, the New Republic struggles to lead the galaxy away from its dark history. The Mandalorian will cross paths with old allies and make new enemies as he and Grogu continue their journey together. The series stars Pedro Pascal, Katee Sackhoff, Carl Weathers, Amy Sedaris, Emily Swallow, and Giancarlo Esposito. The directors for this season include Rick Famuyiwa, Rachel Morrison, Lee Isaac Chung, Carl Weathers, Peter Ramsey, and Bryce Dallas Howard.
In celebration of The Mandalorian season 3 premiere, CASETiFY's collection brings viewers a new way to represent their favorite streaming series. Fans are invited to shop Beskar Steel-inspired levels of protection with CASETiFY's signature Impact, Ultra Impact, Mirror, Leather, Clear, and Bounce Case styles. Designs in the collection feature references from the show, such as its iconic logo, The Mandalorian and Bo-Katan helmets Grogu, as well as the Limited Edition Beskar Ingot Case, each made with a laser-engraved metal plate mimicking one of the most coveted materials in the galaxy.
"This seemed like a natural progression in our collaboration with Lucasfilm," said CASETiFY CEO and co-founder Wes Ng. "After the success of our classic Star Wars collaboration, we're excited to see fans rep the newest edition of this franchise with a whole new range of accessories."
Designs in the collection extend to complementary accessories made for AirPods and AirPods Pro, AirTags, Apple Watch bands, wireless chargers, MagSafe wallets, MacBook, and iPad. The collection highlights a special limited edition 3D AirPods Case featuring the adorable Grogu. All products in the collection retail between $38 and $112 USD. The Mandalorian collection by CASETiFY launches worldwide on the website/co-lab, available for purchase online, in the Co-Lab app (available now in the App Store), and at Studio locations. Let us know your favorites in the comments below!